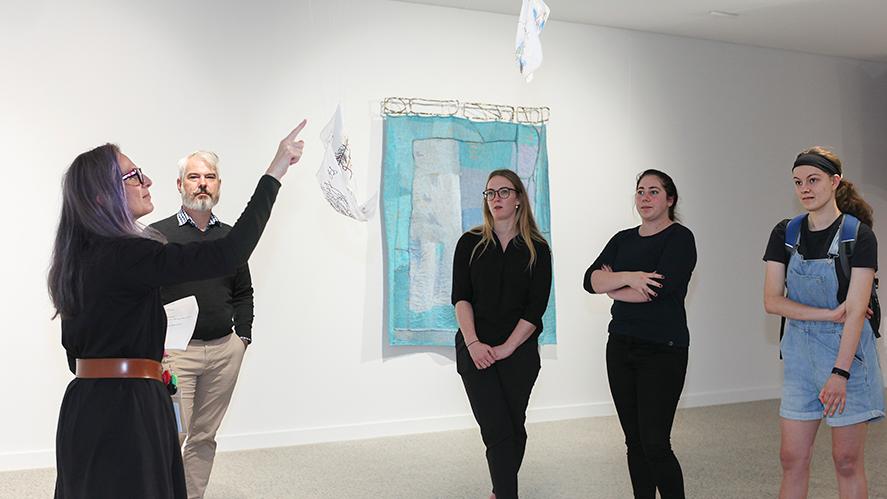 EOI - Arts Facilitator
---
About the role
The Granville Centre Art Gallery is seeking a dynamic Arts Facilitator with disability, or who is d/Deaf or Hard of Hearing (HOH) and/or who identifies as a Disabled Creative, to lead the design and delivery of a pilot 14-week studio based workshop program in collaboration with the gallery team.
The Arts Facilitator will have suitable experience in developing and facilitating visual arts based workshops and will work closely with emerging studio artists, the Arts Support Worker, guest professional artists and gallery staff to facilitate the studio workshop program.
An indicative fee for the Arts Facilitator for participation in this program is $14,000.
Responsibilities
Collaborate on the development of a studio workshop program for emerging studio artists with key stakeholders, including the Arts Support Worker gallery staff and guest artists
Plan, prepare and implement studio workshop program
Provide support for artists to develop new and/or enhance existing skills as identified within their art making process
Facilitate creative individual and/or group-based arts activities
Support artists to make individual choices and decisions about their creative expression
Document and report on studio workshop program
Motivation and flexibility to work in various capacities across the studio workshop program
Develop and maintain positive effective relationships with key artist support networks where needed. For example, service providers, support workers and/or family members
Manage a small budget to facilitate skills development within the studio workshop program. For example, guest artists and studio materials
Respect privacy, dignity and confidentiality
Ensure that relevant Cumberland City Council policies, procedures and code of conduct are followed.
Ideal candidate
Resilient and emotionally intelligent
Has good communication and administrative skills
Has the ability to work effectively independently or as part of a team to achieve studio workshop program goals
Has ability to lead group learning, information sharing, and arts-based workshop sessions suitable for a diverse range of people.
Selection criteria
Proven ability to work independently and effectively in the arts sector and in a complex and sensitive environment
Understanding of arts practice specifically as a creative arts facilitator and/or artist with 5 or more years of experience
Experience in developing creative community-based projects. For example, worked and/or volunteered on creative events, projects and/or programs
Capacity to think constructively around ideas and opportunities
Strong relationship management skills including the ability to develop effective working relationships with a broad range of stakeholders
Sound and demonstrable project management and administration skills
Excellent written and verbal communication skills.
Experience working with people with disability and/or who are d/Deaf or HOH or who identify as a Disabled Creatives (Desirable).
Networks with Western Sydney disability service providers and/or arts/disability community (Desirable).
How to apply
This is a person with disability and/or d/Deaf or HOH identified role.
First Nations people and people from culturally diverse backgrounds who identify as a person with disability and/or d/Deaf or HOH are strongly encouraged to apply.
Your application must consist of a:
Brief cover letter.
Your statement against the Selection Criteria.
Two page CV including names and contact details of two professional referees.
Please email your application as a single PDF with your name and the position title as the document file name.
Please email your application to council@cumberland.nsw.gov.au by 12 noon on Friday, 11 February 2022.
Access and enquiries
If you have any access requirements in regards to the application process or for further information please contact Kristina Tito, Arts and Cultural Projects Producer by phone 02 8757 9405 or email kristina.tito@cumberland.nsw.gov.au.