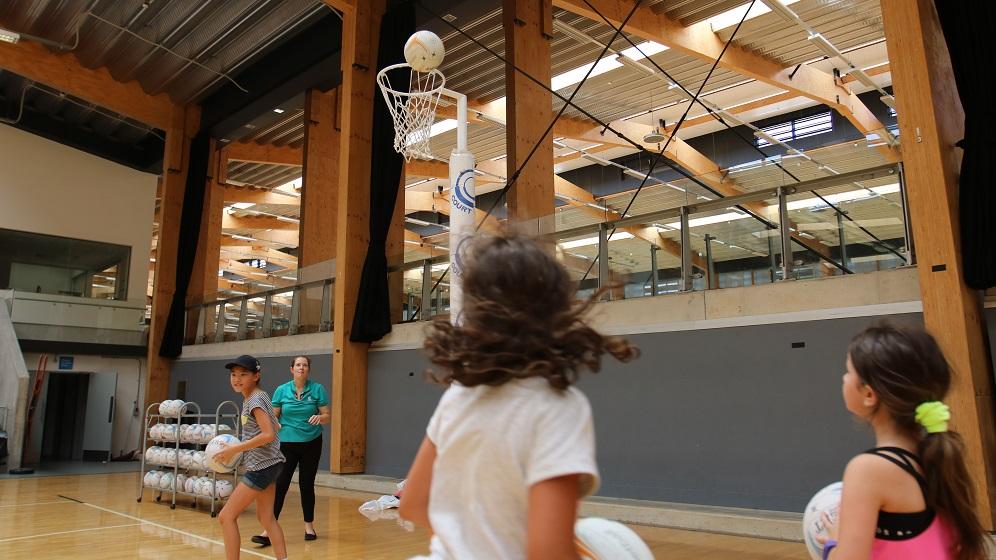 Your school could win $5000
It may surprise you that 80 percent of Australian school kids don't get enough exercise and 2.5 percent of kids don't eat enough fruit and vegetables. 
Your school can turn those statistics around. And Cumberland City Council can help you.
With the Healthy Kids Pitch all local schools in the Local Government Area (LGA) are invited to send us ideas on how to improve the physical activity rates and eating habits of children. In return, schools with the best ideas can win $5000 to help turn their ideas into reality. 
What we want to achieve
Improve the health of children and young people through encouraging physical activity and long-term behaviour change.
Encourage and inspire healthy eating and healthy food choices through education and motivation.
Applications close Wednesday 2 September 2020.
What's involved
The school with the best ideas for implementing a healthy kids program will win $5000 towards putting the ideas in place.
To enter, simply:
Come up with an idea for a Healthy Kids program at your school with the students, teachers or families.
Plan how you would run the project at your school.
Prepare your pitch and present this in a 2 minute video. This can be recorded on a smart phone. The quality of the video will not be judged.
In the video, explain or demonstrate how your idea will encourage healthy eating and increase physical activity of the students at your school.
You must include at least one physical activity or healthy eating initiative.
Fill in the application form, addressing all the key information. 
Submit your application to Council by 4pm, Wednesday 2 September 2020
There are two parts to the application:
A 2 minute pitch video
Completed, signed and approved application form
To submit your application
To enter, you must upload and submit both the video and the application form together using the WeTransfer file
transfer website. You can use WeTransfer on a desktop computer, laptop or mobile device.
When your entry is ready to submit:
1. Go to the WeTransfer website and click 'add your files'.
2. Select and upload your application form and video file.
3. Add cschildrenfamilies@cumberland.nsw.gov.au to 'Email to'.  Note: You can add up to 3 email addresses.
4. Add your email address in the 'Your email' field.
5. In the Message field, include 'Healthy Kids Pitch Entry' followed by the name of your school.
6. Click 'Transfer'.
7. You will receive an email notification that your files have been sent. If you don't receive a notification please contact us.
8. Your 2 files should not be over 2GB in order to use the free, WeTransfer service.
Terms and Conditions of entry
Who can apply
To enter, you must be a primary or high school operating in Cumberland Local Government Area.
Please submit only 1 application per school. In case of schools with both primary and high school, you can submit 1 application for each.
Who can not apply
Individuals, businesses and not for profit organisations cannot apply to enter the competition.
Schools located outside the Cumberland LGA are not eligible.
Winning schools from 2019 who have not submitted a progress report on the status of their project by 4pm Wednesday 2 September 2020.
Application process
All applications are to be submitted online. Please see 'How to submit your application' above. Once you have submitted an application:
You will receive an email confirming receipt of the application from a Council representative.
Your application will be kept confidential and contents will not be disclosed to any person outside the application and assessment process without prior approval.
The list of successful schools will be published on the Council website during October 2020.
Submitted video pitches may be shared on Council's social media channels (with permission) when entries have closed.
Please note: By entering the Healthy Kids Pitch competition, you accept your video may be used by Cumberland City Council for promotional purposes.
Assessment process
Each application will be reviewed to confirm the school's eligibility.
All eligible video entries will be viewed and assessed by a panel comprising of community, sports, health and Council representatives.
Only the content and idea in the video will be judged, not the production quality of the video.
The selection panel will create a shortlist.
If your idea is shortlisted you will be invited to attend a face to face interview and to present your pitch to the selection panel.
There will also be the opportunity to answer additional questions about your project idea, how it will be implemented and how this will contribute to long term change.
The winning schools will then work with Council to finalise the prize agreement and will receive prizes of $5000 value to implement the idea in their school.
Assessment criteria
Applications will be assessed using the following criteria:
Project idea - 50% weighting:
Project has clear aims and objectives
Project has clearly identified activities
Project meets one or more objects of the Healthy Kids Pitch
Children and young people of schools in Cumberland are the primary beneficiaries of the project.
Project idea outcomes - 50% weighting:
Project outcomes relating to physical activity/healthy eating are identified
Project outcomes relating to physical activity/healthy eating are achievable
Demonstrated link between project need, project activities and intended project outcomes
Sustainability of the idea and impact of the project on improving health outcomes
Winner notification and payment of funds
Winning entries will be notified by Wednesday 30 September 2020.
Relevant paperwork will need to be completed by 16 October 2020.
Prize agreement and payments
If you are successful in obtaining a prize, Council will send a prize agreement that must be completed and returned prior to prizes being provided.
Prize agreements will include the following information:
Project title and description
Prize amount provided by Council and/or sponsor
Payment dates
Due date for report
Details of special conditions placed on the project
Conditions and requirements for successful applications
When submitting your application, make sure you understand the requirements and conditions if your pitch is successful.
Successful applicants must:
Ensure continued compliance with these Guidelines.
Deliver the approved project idea and utilise the funds in accordance with the submitted application approved by Council. Council may place conditions of approval for specific projects.
Utilise the funds only for the delivery of the approved project.
Deliver and complete the project within 12 months of signing the Prize Agreement.
Demonstrate the sustainability of the idea and outline staff capacity to deliver the project.
Fully comply with the Terms and Conditions set out in the Prize Agreement (including any special conditions) provided by Council to the successful school.
Provide a brief report on the outcomes to Council in accordance with the Terms and Conditions of the Prize Agreement.
Ensure the appropriate acknowledgement of Cumberland City Council and other sponsors on any collateral or promotional materials. This includes newsletters and annual reports. Draft copies of promotional material must be sent to Council for approval of logo use and placement before printing or publishing.
Agree that all submitted Healthy Kids ideas may be shared with Western Sydney Local Health District who may contact your school to offer support with further Wellbeing initiatives at your school.
Application checklist
Planning your application
Before applying, you must undertake planning for your proposed project and ensure that:
Your school is eligible
Your project aligns with Healthy Kids Pitch objectives
You have considered how the project can be sustained long term and improve health outcomes for children and young people
Preparing your application
Read the Healthy Kids Pitch Guidelines above before writing your applications.
Discuss your project idea with Council's Children's Recreation Officer: Rebecca Reynolds on 02 8757 9619 or email rebecca.reynolds@cumberland.nsw.gov.au
Get approval from your School Principal.
Complete the Healthy Kids Pitch application form.
Record your 2 minute video pitch.
Submit the application form and video via WeTransfer website
For more information please call Cumberland City Council on 02 8757 9000