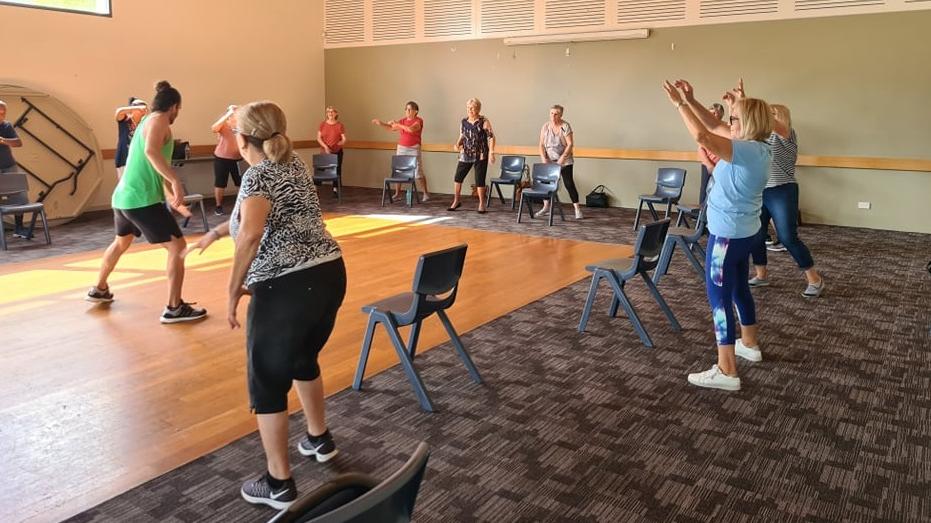 Get active!
Exercise can enhance your energy levels, keep you at a healthy weight, and even possibly reduce some of the symptoms associated with aging. Exercise can be good for your brain and emotional state as well as your body. Whether you're looking to maintain your current weight or to feel more energetic and healthy overall, we offer lots of options to help you remain healthy.
Our programs are offered at many locations:
Online
Greystanes
Regents Park
Merrylands
Pemulwuy
Berala
Granville painting class
Program fees
$46 per term - 2 hour class fortnightly
$46 per term - 1 hour class
$46 per term - 1 hour online class (free for registered over 55s participants attending another class, each term)
Available programs for term 3, 2022
Classes are held at community centres throughout Cumberland during NSW school term days for a 10 week period. Online classes will be held on Zoom.
Book one or more of the classes on offer below.
Over 55s online classes
This is a new FREE program offered to all participants registered with one of the over 55's classes each term.
We understand many people would love an additional exercise class in their local area and so to offer this to as many people as possible we are starting an online class. The classes will be varied with some Zumba Gold, Gentle Exercises, Yoga, Tai Chi and more.
---
General exercise
General Exercise is a combination of standing and sitting exercise movements, sometimes using equipment such as small hand weights and resistance bands. These exercises vary in each class and are all low to medium-intensity.
Monday morning classes at Greystanes
Day: Mondays, starting 18 July 2022
Time: 9am to 10am
Location: Greystanes Community Centre
Monday morning classes in Regents Park
Day: Mondays, starting 18 July 2022
Time: 9:30am to 10:30am
Location: Regents Park Community Centre
Tuesday morning classes in Merrylands
Day: Tuesdays, starting 19 July 2022
Time: 9:30am to 10:30am
Location: Merrylands Community Centre in the Miller Street Room
---
Zumba Gold
Zumba Gold is a fabulously fun fitness program based on exciting Latin and international dance styles. Zumba Gold is intended for active older adults, Zumba beginners, fitness newbies, and other people that may need modified exercises at lower-intensity.
Wednesday morning classes in Pemulwuy
Day: Wednesdays, starting 20 July 2022
Time: 9:30am to 10:30am
Location: Pemulwuy Allan G Ezzy Community Centre
Thursday morning classes in Berala
Day: Thursdays, starting 21 July 2022
Time: 9:30am to 10:30am
Location: Berala Community Centre
---
Painting Class
The Painting class is for participants who are beginners and for those with prior painting experience who would like to further develop their painting skills while developing their own painting style. Participants may use oil or acrylic paints in this relaxing and supportive class.
Thursday morning classes in Granville
Day: Thursdays fortnightly, starting 28 July 2022
Time: 10am to 12pm
Location: The Granville Centre
---
Registrations and payments
Registrations are essential for all programs. Programs with low enrolments may be cancelled.
Contact us
We are here to help you with any enquiries about our programs, program registrations and payments. We also welcome your feedback on program content, participant experience and facilitator expressions of interest.
For enquiries, registrations and payments please phone 8757 9031 and email your feedback to social.inclusion@cumberland.nsw.gov.au.