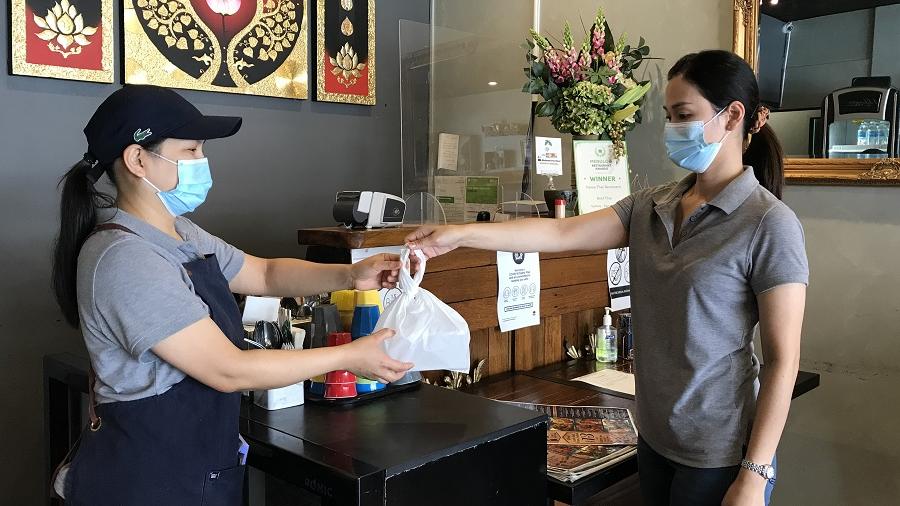 QR code check-in required for all business premises
What to do if customers cannot check-in using a QR code
Service NSW has introduced the COVID-19 check-in card for individuals having difficulty scanning a QR code.
Instead of asking customers to write down their names and contacts on paper, businesses scan the personalised unique QR code shown by the customers with their Service NSW app. After scanning, their customers contact details will be recorded in a digital webform.
Your customer can register for a card at https://apply.service.nsw.gov.au/covid-checkin-card/
For any further inquiries, please visit Service NSW or call 13 77 88.
---
Information for Businesses linked with COVID-19 cases
What do you need to do?
Support public health authorities with contact tracing as directed.
Advise staff, visitors, contractors and customers of the general situation via posters, letters or other communication channels as appropriate and in partnership with health authorities.
Implement infection control measures as directed by public health authorities.
Do I need to close down the premises?
Business don't necessarily need to close following detection of a confirmed case on the premises.
Closure depends on a few things:
Public health risk assessment undertaken by the Public Health Unit.
Premises must be appropriately cleaned following attendance of a confirmed case. This can be done overnight so as not to disrupt normal business hours.
If staff are identified as close contacts and need to self-isolate, the business may not have enough staff to remain operational.
Timing of the notification. If premises are notified during business hours, they may need to close to undertake cleaning.
Guidance on cleaning
All areas that came into contact with a suspected or confirmed case of COVID-19 should be cleaned and disinfected.
For hard surfaces, either:
Use detergent and water for cleaning followed by disinfectant solution (2-step clean).
Use a combined detergent and disinfectant solution (2-in-1 clean).
NSW Health does not require a specialist cleaning company to be used.
For further information on cleaning guidance for small business, visit the SafeWork Australia website.
Disclaimer: the guidance information is provided by NSW government. For full details, please visit the NSW Government website
---
Business initiatives
Employ Local initiative
Cumberland City Council encourages local businesses to take advantage of this service and advertise your vacant positions, free of charge on our Employ Local page to attract local jobseekers.
Please use our easy to fill out Local Employment Opportunity Submission Form to add any vacancies you may have.
If you are looking for work check out our Employ Local page to see jobs on offer from local businesses in the Cumberland Council area.
One-on-one Business Advisory Services
COVID-19 Business Support Grant
Small business fees and charges rebates
If you are a sole trader, the owner of a small business or a not-for-profit organisation in NSW, you may be eligible for a small business fees and charges rebate.
The NSW Government has announced that the small business fees and charges rebate will increase from $1,500 to $2,000. In addition, road user tolls for business vehicles will be added as an eligible fee for businesses to claim.
Test and Isolate Payment
If you need to self-isolate and are unable to work while waiting for your coronavirus (COVID-19) test result, you may be eligible for the NSW Governments, COVID-19 Test and Isolate support payment.
Summer Holiday Stock Guarantee Grant for Small and Medium Enterprises
The NSW Government has announced support for hospitality and retail businesses to manage stock if they are forced to close their doors between 1 December 2021 to 31 January 2022, due to a public health order.
Cash rebates for eligible small businesses – SafeWork NSW
Eligible small businesses can apply for up to $500 cash rebate when they buy and install equipment to make their workplace safer and also attend a SafeWork NSW webinar.
New changes from NSW Planning to respond to COVID-19
The NSW Government is working with councils to support communities across the state in response to COVID-19. There is a list of Ministerial orders currently in force including
Extended days for construction work
Flexibility for food trucks and dark kitchens
Temporary workers accommodation
Retail trading and operating hours and waste disposal
Home businesses operating hours
Supermarkets and other retail outlets can receive deliveries 24 hours a day
The list will be updated progressively. For details please visit https://www.planning.nsw.gov.au/Policy-and-Legislation/COVID19-response
COVID safe check for NSW businesses
NSW Government has put together COVID-19 Safety Plans help to protect the staff, customers and visitors of your business.
Some businesses will need to complete a COVID-19 Safety Plan under the public health orders, but you can also voluntarily complete one. To find out if you need to complete a COVID-19 Safety Plan, visit the Service NSW website.
Free mediation for small businesses with commercial disputes
Mediation help with rent, retail leases and talking to your agent or landlord.
The Mediation Services of NSW Office of Small Business Commissioner offers mediation services, along with negotiation and procedural advice, to assist in the resolution of small business and retail lease disputes.
Businesses are encouraged to speak frankly with the landlord/contractor about rent and retail lease matters. If after discussion you require further advice, you can contact the NSW Office of Small Business Commissioner's regarding their mediation services on 1300 795 534 or submit an online inquiry via www.smallbusiness.nsw.gov.au/contact
The mediation service is provided to small businesses experiencing commercial disputes, assisting at any stage of a dispute, helping those involved to address key issues and find solutions.
Mental health at work in English Arabic, Chinese, Farsi, Hindi, Korean, Thai, Turkish and Vietnamese.
Control and reduce the energy cost of your small business
Maintain your utility bills under control finding the most money-saving energy providers and by understanding the plans, bills and rights.
Other supporting resources
COVID-19 customer relief offered by Australian banks
Cyber security for business
Look after your mental health
Resources to use and share to stay mentally healthy during the COVID-19 Pandemic.