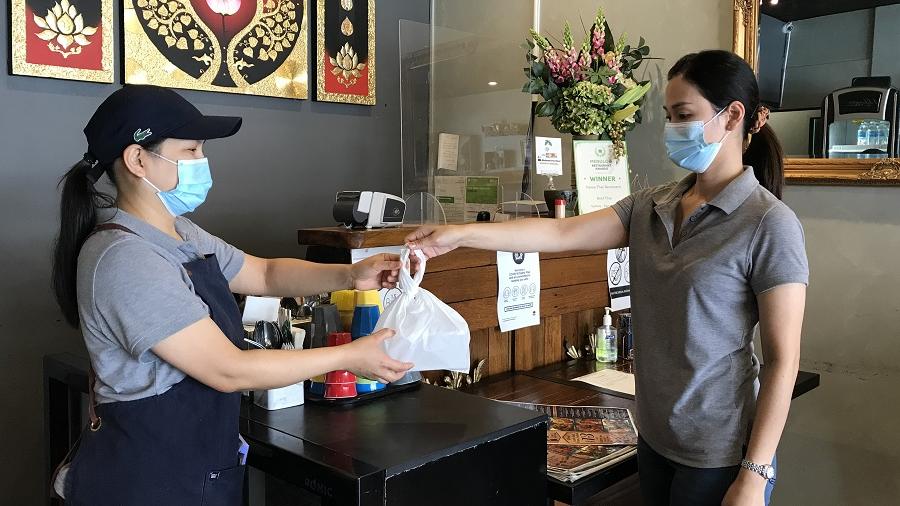 Help is available
Council recognises that the current situation with COVID-19 impacts our local business community and we understand your concerns around reduced revenue, financial and legal obligations, management of employees, maintaining workplace health and planning around disruptions. Some of the ways we are supporting and promoting local businesses and keeping you informed during COVID-19 include the measures below.
Support for local businesses in Cumberland City
Employ Local initiative
Cumberland City Council encourages local businesses to take advantage of this service and advertise your vacant positions, free of charge on our Employ Local page to attract local jobseekers.
Please use our easy to fill out Local Employment Opportunity Submission Form to add any vacancies you may have.
If you are looking for work check out our Employ Local page to see jobs on offer from local businesses in the Cumberland Council area.
One-on-one Business Advisory Services
Outdoor dining fee waiver and rent deferral options
Council has agreed to waive all outdoor dining licensing fees for the rest of this calendar year, leaving any businesses who have paid up until the rest of this financial year, in credit for future years. Council has commenced the administration process of implementing this decision.
Any lessees of Council properties are also able to contact Council to discuss rent deferral options, to provide them with some certainty over their businesses and their lease arrangements with Council. Council is considering any requests on a case by case basis, and applicants are required to submit further information to Council for a request to be considered.
For any enquiries, please contact Council on 8757 9000 and request to speak to the Property team, or email Council at council@cumberland.nsw.gov.au
NSW Government assistance
NSW Government has a range of supporting measures to help keep business open and employees working. For details visit https://www.nsw.gov.au/covid-19
New changes from NSW Planning to respond to COVID-19
The NSW Government is working with councils to support communities across the state in response to COVID-19. There is a list of Ministerial orders currently in force including
Extended days for construction work
Flexibility for food trucks and dark kitchens
Temporary workers accommodation
Retail trading and operating hours and waste disposal
Home businesses operating hours
Supermarkets and other retail outlets can receive deliveries 24 hours a day
The list will be updated progressively. For details please visit https://www.planning.nsw.gov.au/Policy-and-Legislation/COVID19-response
Cash rebates for eligible small businesses – SafeWork NSW
Eligible small businesses can apply for up to $500 cash rebate when they buy and install equipment to make their workplace safer and also attend a SafeWork NSW webinar.
COVID safe check for NSW businesses
NSW Government has put together COVID-19 Safety Plans help to protect the staff, customers and visitors of your business.
Some businesses will need to complete a COVID-19 Safety Plan under the public health orders, but you can also voluntarily complete one. To find out if you need to complete a COVID-19 Safety Plan, visit the Service NSW website.
Free mediation for small businesses with commercial disputes
Mediation help with rent, retail leases and talking to your agent or landlord.
The Mediation Services of NSW Office of Small Business Commissioner offers mediation services, along with negotiation and procedural advice, to assist in the resolution of small business and retail lease disputes.
Businesses are encouraged to speak frankly with the landlord/contractor about rent and retail lease matters. If after discussion you require further advice, you can contact the NSW Office of Small Business Commissioner's regarding their mediation services on 1300 795 534 or submit an online inquiry via www.smallbusiness.nsw.gov.au/contact
The mediation service is provided to small businesses experiencing commercial disputes, assisting at any stage of a dispute, helping those involved to address key issues and find solutions.
Federal Government assistance
Other supporting resources
Important information about operating food business during COVID-19
In light of the current Covid-19 (Corona Virus) Pandemic, Council would like to take this opportunity to recognise the challenges faced by all food businesses at this time and assist those that are still able to remain open with some information on what you can do as a food business to protect yourself, your business, staff and your customers.
A downloadable version of our Food Safety Newsletter from April 2020 is now available.
Infection prevention and control eLearning modules
Access a suite of eLearning modules have been developed by Australian Commission on Safety & Quality in Health Care.
This offering provides information on the principles of infection prevention and control. Many of these modules are of value to those involved in Aged Care, the community in general and workforce - such as hairdressers. A certificate of completion can be obtained once all modules are completed.
For further information, visit www.safetyandquality.gov.au
COVID-19 electricity and gas network relief package
Small businesses that are temporarily closed due to COVID-19 may be eligible for full electricity and gas tariff relief under a financial support package organized by Energy Networks Australia.
Eligibility criteria apply, including usage figures and time limits.
For more information, visit the Energy Networks webpage.
Cyber security for business
Look after your mental health
Resources to use and share to stay mentally healthy during the COVID-19 Pandemic.