NRL Finals
Footy season is over but we're very proud of our local team the Parramatta Eels. On behalf of Council we extend our congratulations to all of the Parramatta Eels for competing in the NRL Finals. Although they did not come first, they are still winners and I commend the efforts of both the men and women's teams who have had a great season.
We Choose Hope Art Exhibition
I recently attended the 'We Choose Hope' Art Exhibition at Merrylands Library. The exhibition showcased students from Year 3 at Merrylands Public School who have been working with an artist to create their own self-portraits, with the theme of 'Hope' inspiring their creations. For more information visit www.cumberland.nsw.gov.au/we-choose-hope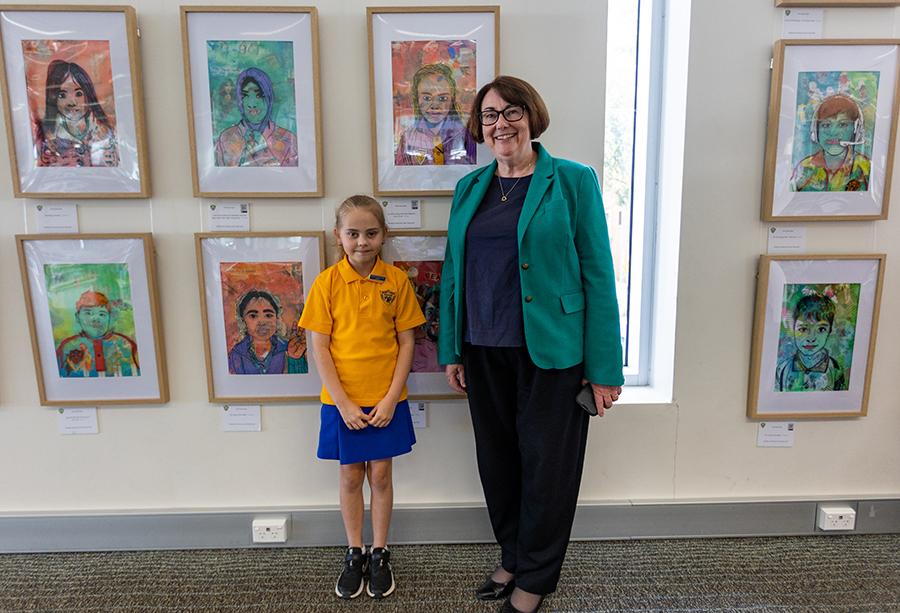 Diwali Celebrations
Diwali celebrations are set to light up the main street of Wentworthville on Saturday 29 October from 5pm to 9pm. Diwali (or Deepavali) is a festival of lights and is one of the major festivals celebrated by subcontinent cultures. Explore the street bazaar, join in the fun at the Bollywood Block Party, try out the range of South Asian and Indian cuisines and get hands on with the arts and cultural activities. Festivalgoers are encouraged to plan ahead and use public transport as there will be multiple road closures and limited parking during the evening. To view programming or for more information visit www.cumberland.nsw.gov.au/diwali
Rise in Stealing from Dwellings
Recently, I have been made aware by the local Police Command that there has been a rise in stealing from dwellings. This relates to people having deliveries such as online shopping and food deliveries stolen from out the front of their homes or from common areas/foyers in apartment blocks or strata managed properties. I would like to remind residents to take care when they are receiving any form of delivery to their home. In the lead up to Christmas, we will see a rise in deliveries, so it is important that you arrange for someone to accept your delivery or redirect your delivery to a post office or a secure parcel collection service, so that your deliveries are not stolen.
Wentworthville Memorial Swim Centre Open Day
And lastly, the Wentworthville Memorial Swim Centre had their open day last week, with the centre now officially open for the 2022/2023 summer season. Over 1000 people turned out to mark the occasion and test out the new facilities including the splash park and the Olympic sized swimming pool. They also enjoyed the inflatable obstacle course, face painting and the BBQ lunch. For more information about our swim centres visit www.cumberland.nsw.gov.au/swimming-pools
Mayor Lisa Lake
8757 9856 | Lisa.Lake@cumberland.nsw.gov.au
Your Rates at Work
---
Council crews are continuing to respond to pothole requests across the LGA and staff are marking out sections of roads which require heavy patching. These works are being programmed with our contractor to ensure our roads are safe. Within the past few weeks, 158 potholes have been reported, both internally and from the public, 139 have been attended to and repaired.
Council has also completed maintenance works at the following locations:
Footpath replacement in Wirralee Street, South Wentworthville
Kerb and gutter replacement on Eldridge Street, Greystanes
1,115km of roads have been swept
Works are scheduled to commence in October for the upgrade of floodlighting at Granville Park fields 3, 4 and 5.
Let us know of any issues in your area by using the Snap Send Solve mobile app which can be found on Council's website: www.cumberland.nsw.gov.au/snapsendsolve
Have Your Say
---
Design Excellence Panel - Expression of Interest
Council is seeking Expressions of Interest to nominate members to the Cumberland Design Excellence Panel which acts as an advisory panel to provide expert design feedback and promote improved design quality within Cumberland City. Submit your expression before: Monday 31 October
Walking and Cycling Strategy
Help us develop a strategy to make walking and cycling in our neighbourhoods safer, more enjoyable and convenient for all ages and abilities. Submit your feedback before: Tuesday 8 November
To find out more visit: https://haveyoursay.cumberland.nsw.gov.au
Wentworthville Community Garden Open Day
---
Be sure to bring your shopping bags as there will be plenty to browse, buy and eat from a range of market stalls, including fresh vegetables, crafts, cakes, jams, pickles and more! Check out the Trash 'n' Treasure of pre-owned items and stay for the sausage sizzle lunch.
Saturday 15 October, 9:30am to 2pm
Wentworthville Community Garden, 73 Fullagar Road, Wentworthville
(behind the tennis courts, access pathway next to canal)
For more information, visit: www.cumberland.nsw.gov.au/garden