d/Deaf led tour of 'Painting Flowers' by Amani Haydar and MsSaffaa - led by Ayah Wehbe
We invite you to participate in our next upcoming d/Deaf led tour of Amani Haydar and Ms Saffaa's exhibition, 'Painting Flowers', led by Ayah Wehbe from Silent Signs at the Peacock Gallery.
'This exhibition presents a series of vibrant still life's that consider the ways in which art intersects with activism. Amani Haydar, in collaboration with renowned muralist Ms Saffaa, explore the effects of violence against women through artistic practice.'
An AUSLAN interpreter will be provided.
All are welcome!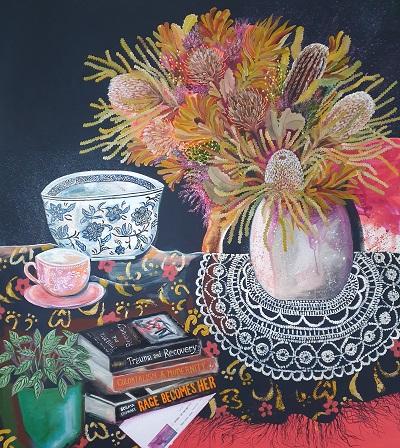 When: Saturday 18 January 2020, 1.30pm to 3.30pm
Where: Peacock Gallery and Auburn Arts Studio, Auburn
Cost: Free
RSVP: Please register for the tour
For more information, contact the Peacock Gallery: 02 9735 1396
---
Year Round Workshops at the Peacock Gallery
Join us to share your ideas, make friends and learn about different artistic mediums and new techniques – no matter what your age or ability.
No need to book, just drop in. Take a closer look at the artwork in the exhibition and then make your own artwork – guided by gallery staff.
Workshops will become available again in 2020.