12 March 2021
---
Clean Up Australia Day wraps up
It's clear that a sense of community spirit is alive and well in Cumberland City, with nearly 50 Clean Up Australia Day activities taking place last Sunday.
During Council-led events, we had the chance to learn all about the Parramatta River Catchment Group's latest gadget, 'the litter vacuum,' which picks up the small rubbish and plastics that gets washed up along the foreshore.
It was also great to meet with local groups including the International Peace Youth Group and the Dawoodi Bohra community. We learned about upcycling initiatives, where a product is transformed and given a new creative use, and saw how motivated some groups are when it comes to cleaning up and conserving our environment.
I passionately believe that reducing litter is everyone's responsibility. We know that Australia's waste challenges can't be solved in a day. But it's important we take pride in our parks, streets and suburbs by keeping them clean. By doing our bit and taking on practical solutions, we can help live more sustainably every day of the year and make Cumberland City a great place to live.
Thank you to Council's environmental team and everyone who participated.
---
Multicultural calendar of events to resume
Our community is a melting pot for one of the most multicultural areas in NSW and indeed Australia. This is what makes our region in Western Sydney unique.
Like many councils and businesses, Cumberland City Council experienced financial hardship as the COVID-19 situation worsened last year.
With our economic position improving, I'm relieved that our calendar of events, which includes cultural celebrations for Ramadan and the Cherry Blossom Festival, will resume in the coming months.
We are also planning to host Diwali and Lunar New Year festivals in 2022, provided we continue to stay on track. Council's events committee will engage with communities and associations for each festival to ensure these celebrations are successful.
I'm proud that the Council I lead could reach this decision, unanimously and reaffirm Council's commitment to celebrate what makes our City so special, our diversity. Importantly, our events will resume in line with the latest health advice and our staff will ensure they have correct measures in place to host COVID-safe events.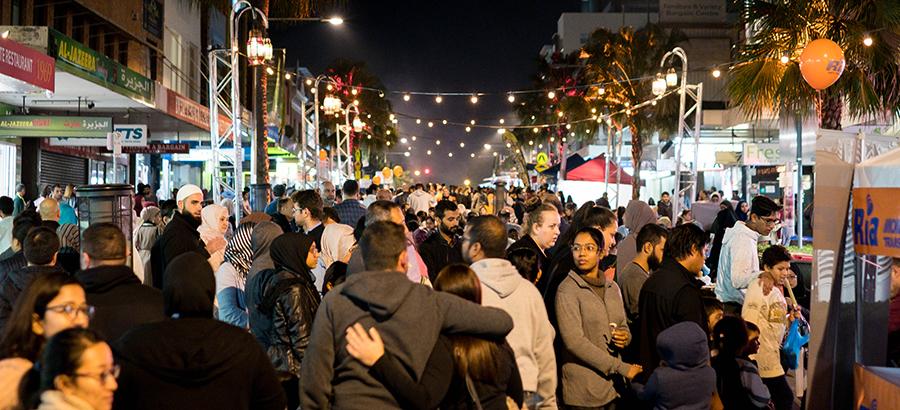 ---
Supporting local business
One of the most rewarding parts of my role as Mayor is being able to support local businesses in Cumberland City.
I recently met new business owner, Ahmed Khair, who has been managing La Rouche Bakery on Rawson Road, Guildford for about a month now.
We discussed how Council can support his business and are in talks with the Traffic Committee to improve parking at his shopfront.
When our local businesses succeed, our communities succeed. Wishing Ahmed the best in his new business venture.
---
Council supports Anzac Day march
I am delighted to hear that the NSW government has increased the cap to 5000 people for this year's Anzac Day march in Sydney's CBD.
This is a decision that will allow people to commemorate our veterans and remember their sacrifice during military operations.
I am proud that Cumberland City Council will support local RSL clubs to ensure that memorial services are delivered in a COVID-safe manner while still upholding our traditions.
This is a day that is central to Australia's national pride and identity, and a day that remembers the courageous soldiers who left us a powerful legacy. I am proud that we can honour this.
---
DAs available online
Anyone lodging a planning application is required to upload their application electronically through the Planning Portal that is managed by the NSW Government.
As a result of these changes, applications can no longer be submitted to Council over the counter or by email.
Further information on how to lodge applications on the portal is available on www.planningportal.nsw.gov.au
For submissions on current development applications visit
---
If you have any issues you'd like me to help you with, please contact me by: