12 October 2021
---
Cumberland boosts vaccination rates over long weekend
I was pleased to see more than 900 Cumberland residents turned out to get vaccinated at Qudos Bank Arena on the October long weekend.
Council worked with NSW Health to offer priority vaccinations for Cumberland LGA residents, specifically targeting suburbs Auburn, Guildford and Merrylands that have lower vaccination rates.
Over the past few months, we've worked with NSW Health to ensure testing clinics and vaccination clinics were rolled out in our LGA and we've been actively promoting vaccinations to pursue the 70% target. I'm so proud of this resilient and responsive community who've turned out in droves to get vaccinated.
---
LGAs of concern in the past
The tag of 'LGAs of concern' has been one that has stigmatised western Sydney. While other LGAs (eg City of Sydney) had higher numbers than some LGAs of concern, they were given many more freedoms than the LGAs of concern. Being named as an LGA of concern meant harsher restrictions, a more profound economic impact and serious mental health consequences. The tag has now served its purpose and needs to be moved to the history books – and I'm pleased to see that will happen 11 October.
It's an important symbolic step to eliminate this term to ensure that we can move forward as a city united.
I put forward a Mayoral Minute asking councillors to support me writing to the new Premier to congratulate him on his new role, but to also ask for the label 'LGAs of concern' to be dropped. I'm relieved that this request is no longer necessary as the 'LGAs of concern' tag will be banished. While this Mayoral Minute wasn't unanimously supported, I thank councillors for their ongoing advocacy for our area.
---
Granville Town Hall – The jewel in the crown restored
Granville Town Hall's $550,000 refresh has breathed new life into a cherished historical monument. The heritage listed site was restored to its former glory after delicate and carefully planned works. The external refurbishment includes stormwater and drainage structural repairs to the building and painting. Oz Harvest has used the Hall for food distribution during lockdown.
It's a rare and intact example of a Victorian Free Classical government building. It is thought to be one of only two intact nineteenth-century council chamber buildings in Sydney's west. Built in 1888 following the incorporation of Granville in 1885, it is an important symbol of the growth of Granville and its sense of identity.
---
Council welcomes best-in-class stadium
We're excited to announce the completion of the state-of-the-art Eric Tweedale stadium in the heart of Granville. The $11.3 million upgrade is a benchmark for sustainable construction with a key focus on an intricately detailed timbre roof structure. We're delighted to make Granville home to community sport and provide residents and visitors with a state-of-the-art sporting venue they can enjoy all year round.
The stadium includes home and away rooms for players and male/female and referees change rooms. We've installed an underground stormwater system, strength training gym, multipurpose function room, canteen and commercial kitchen plus a hearing loop and lift access. The space also boasts a viewing deck on level 1 and 760-seat grandstand.
The project is jointly funded by the Greater Sports Facility Fund and Cumberland City Council. It will be ready for play soon, we can't wait to see you on the field.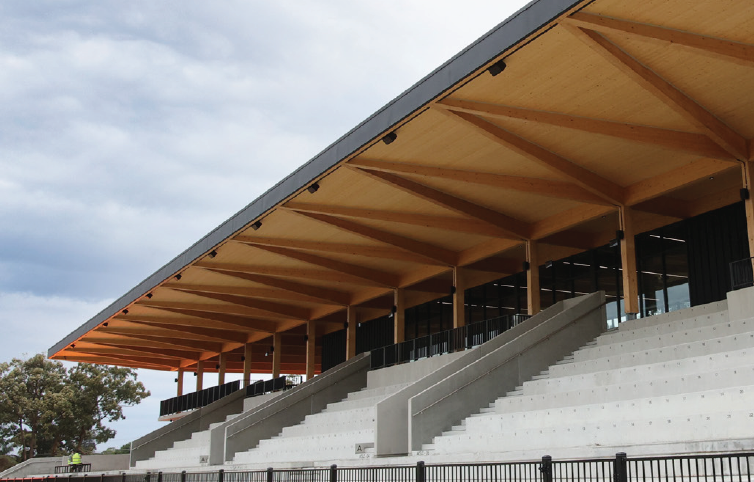 ---
If you have any issues you'd like me to help you with, please contact me by: