14 May 2021
---
Cumberland turns 5 years old
We're celebrating five years since proclamation, with five free BBQS over five days in our five council wards. This is an important milestone as we've come a long way in the past five years to unite two councils and part of a third council into one cohesive organisation. It's been a lot of work by hundreds of staff, but the dedication, determination and resilience has really shone through and is a credit to our community.
The BBQs start from 17 May and I invite the community to come out and celebrate in their local neighbourhood, connect with friends and meet new ones.
Cumberland was formed when the former Holroyd and Auburn Councils merged with part of the Parramatta local government area, forming an area of 72km2, with nearly 250,000 people from over 150 nationalities. Our diversity is our key strength – with people from all walks of life calling Cumberland City home.
For details on the free BBQs, visit Cumberland City 5th Birthday Celebrations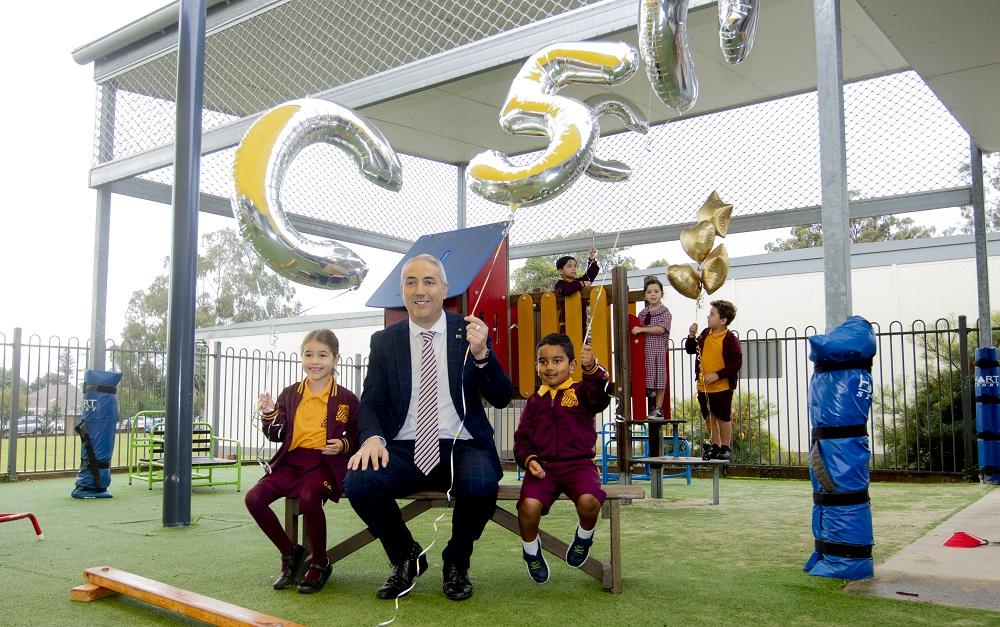 ---
That's a wrap on Ramadan
From street food and community Iftars to competitions for local schools and residents, it was a pleasure to host a Ramadan program which consisted of the outdoor dining experience and the very successful Iftar dinner hosted by Council.
It has been great to witness how prominent faith and community is during the holy month of Ramadan, and the act of fasting is a discipline I admire.
As the holy month of Ramadan ends this week, and you reflect on the wisdom and guidance that for many people comes with faith, I say may your fasting and good deeds be accepted.
As Cumberland City farewells Ramadan, I wish you a safe and joyful Eid Al Fitr Mubarak.
---
Supporting local business
I met Anna Ryburn and her staff from Ryburn Solicitors in Merrylands this week and heard about the migration services they provide to our diverse community including specialised expertise in migration law and assisting with all their migration, visa and citizenship matters. Staff members speak Dari, Farsi, Arabic and Chinese and this is a valuable service as many of our residents come from overseas. I'm a strong supporter of small business so our residents can live and work locally. Find them at 197 Merrylands Road, Merrylands.
---
Migration
Last month Australia suddenly and without warning or notification shut down its Dubai Consulate Immigration Processing Team resulting in numerous visa applications being sent to other locations. It appears large numbers of partner visa applications have been transferred for processing in Amman, Jordan.
Dubai was previously responsible for processing of visas for Afghan applicants. This is creating confusion and has impacted the applications of many of our residents.
I often receive inquiries from residents about immigration issues which I am happy to assist with. This most recent development has been alarming and I will write to the Minister for Immigration. I will continue to advocate on behalf of residents impacted by this crucial matter.
---
Call for palliative care unit in western Sydney
It was great that a motion was finally moved in state parliament to support the 'Westmead Push 4 Palliative Care' campaign. This is an issue I addressed and advocated for last year in a letter to Health Minister Brad Hazzard, advocating for terminally ill patients in western Sydney missing out on acute and holistic end-of-life care.
Westmead Hospital marks more than a decade without a palliative care unit and intervention is needed to re-establish a stand-alone unit staffed with specialist nurses.
About 240,000 people live in the Cumberland area, with 15 per cent over the age of 60 – and that's set to grow over the next decade. I want to see our residents get the best care and resources possible and I will continue to advocate for a dedicated facility. Western Sydney residents deserve quality of care and respect when approaching end of life.
---
If you have any issues you'd like me to help you with, please contact me by: