2 June 2020
---
Greater investment needed for schools in Sydney's west
As an elected representative it's my responsibility to ensure Cumberland City residents don't go without and this includes school children in our community. I've heard first-hand from teachers and parents that Granville South Public School does not have a school hall onsite for assemblies and students need to get on a bus and travel to Granville East Public for this space. Granville South Public School does not have enough classrooms and Hilltop Public School needs assistance with technology upgrades.
This is just a small insight into the bare essentials that are missing from public schools in Sydney's west. They join a long line of schools that need greater support and investment.
We look forward to working with the State Government to make sure our school children don't go without, and that they are engaged in positive learning environments.
I'm regularly approached on issues from housing to transport and education issues, where our residents would like Council's assistance. If there's anything I can help you with, please don't hesitate to contact me on the details below.
---
Community Service Centre open for residents
For me, accessibility is everything and with a lot of councils and their staff, working from home, I know it has been difficult for some ratepayers to get Council assistance, with face-to-face services suspended. Unfortunately, some things you just can't do, sitting behind a computer or in a Zoom meeting so we've opened a Community Service Centre in Merrylands, to help our ratepayers, particularly during the challenging and uncertain times of COVID-19. We are here to assist you and answer your questions.
Cumberland City Council is going to continue to be accessible and ensure this Centre remains open to assist you, particularly during these challenging and uncertain times. If there are any matters that Council can help you with, please drop in and speak with our staff. There's a duty planner available on Monday and Wednesday to assist you with any planning queries. We also hope to have JP services available from this office in the coming weeks. The office is open from 8.30am until 4pm or by appointment, Monday to Friday.
---
Supporting our small businesses
With COVID-19 restrictions easing it is vitally important that we all do our bit to return to some form of normality and support small businesses. Small businesses are the backbone of any economy and our local restaurants and cafes are doing it tough during this unprecedented time.
Cumberland is known for its food and we're blessed to have a variety of different cuisines, which reflect our cultural diversity so be sure to check out a local eatery, order your favourite meal and help support small businesses. If you are a small business owner and facing difficulties as a result of the COVID-19 pandemic, there's a range of government support packages and services available. For more information on Council initiatives, visit: www.cumberland.nsw.gov.au
---
Have your Say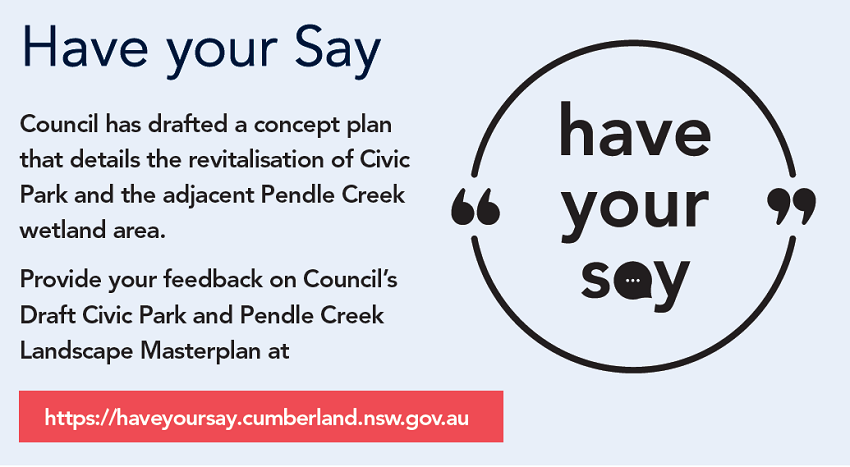 ---
If you have any issues you'd like me to help you with, please contact me on phone 0419 651 187 or email steve.christou@cumberland.nsw.gov.au