20 August 2021
---
Bush and locals support Cumberland through the lockdown
Meat, vegetables and fruit provided meals to families in need this week in a gesture of kindness from the bush to the city. A huge thank you to mid north coast beef farmer Robert Mackenzie from Mackas Beef who donated 300kg of angus beef mince, while Hilltop Fruit Market (Coleman St, Merrylands), LJ Hooker Granville & Guildford, Councillor Joseph Rahme and two anonymous donors provided 300 boxes of fruit and vegetables.
Our professional chefs cooked the meat and vegetables into shepherd's pies and lasagne, while some of the food was provided to families uncooked. The food was packaged at the Holroyd Centre and delivered by defence force personnel to households in need who have been identified by police, local charities and council.
Councillor Joseph Rahme, who facilitated and drove the project, gained the support of Trims Fresh in Merrylands, Woolworths Merrylands and Bidfood Sydney who also donated produce. Confoil Australia donated trays and packaging. Meat and Livestock Australia's Sam Burke and resident Belinda Barakat were also instrumental in the initiative. Bakers Delight Merrylands and local worker Cameron Simpson also contributed.
Families in the area have been doing it tough. With the shutdown of businesses, there have been many families who have no household income, but still have to pay bills. We saw what happens when community spirit comes through in the end. I sincerely appreciate the generosity of everyone involved.
---
Two Blues back in the game
The battle to save the Western Sydney Two Blues rugby team has been successful. I've been vocal in my support of the Two Blues staying in the Charter Hall Shute Shield competition when their existence was threatened by other wealthier eastern and northern suburbs clubs. The Two Blues provide sporting opportunities and a sense of community for western Sydney. It would have been a great loss to our community if they were absorbed by other clubs. As a founding member of Sydney Premier Rugby, the Two Blues provided a rich pipeline of players – particularly from disadvantaged communities.
Cumberland City Council is on the cusp of opening a new $13.5 million field and stadium (The Eric Tweedale Stadium) that will be the Two Blues home ground. They will have premier facilities that will attract new fans, players and sponsors.
I thank the Sydney Rugby Union (SRU) board who acknowledged my support and the support of Cumberland City Council. I'm pleased to see NSW Rugby Union will provide resources and oversight for a rebuilding program to ensure the Two Blues remain the anchor team in western Sydney. Further, an advisory committee will be established to assist the Two Blues board and management through the rebuilding program. The SRU report that roadmap to full compliance is being resourced and a governance model being developed. I see all of this as steps in the right direction to revitalising the team and pledge my continued support and a commitment that Council will continue to provide adequate resources to ensure the Two Blues flourish. I am confident that the Two Blues can rise to be a vibrant and prosperous team.
I congratulate the volunteers, administrators, coaches, players and fans for their dedication and commitment to the Two Blues. I look forward to seeing the team run out for the first game at Granville Park in front of The Eric Tweedale Stadium. The future of rugby is bright and will flourish in western Sydney.
---
More vaccines to boost our fight and supply
I'm so grateful that the Prime Minister has secured an extra 1 million doses of Pfizer from Poland.
Half of these will be sent to NSW and prioritised for the 12 local government areas, including Cumberland, where the outbreak continues to grow. On behalf of Cumberland City Council residents, thank you for hearing our pleas and sourcing additional vaccines that are so desperately needed.
Our area is home to hard working Australians who form the backbone of many blue-collar industries, but we're among the lowest socioeconomic groups in the State. That means the lockdown restrictions hit harder as our community doesn't have the financial buffer that others do. It will also take longer for us to recover.
For months I've called for more vaccines to help ease the burden of lockdown and my calls have been answered. This new roll out of vaccines in western Sydney will help us to move out of lockdown faster and get on the road to recovery. I've offered Council facilities for free to NSW Health for vaccination clinics in the suburbs and that offer remains on the table. We also launched our 'Arms out in August' vaccination campaign in multiple languages to encourage our residents to get vaccinated and to be the first local government area in NSW with an 80% vaccination rate.
Check it out here: www.cumberland.nsw.gov.au/arms-out-august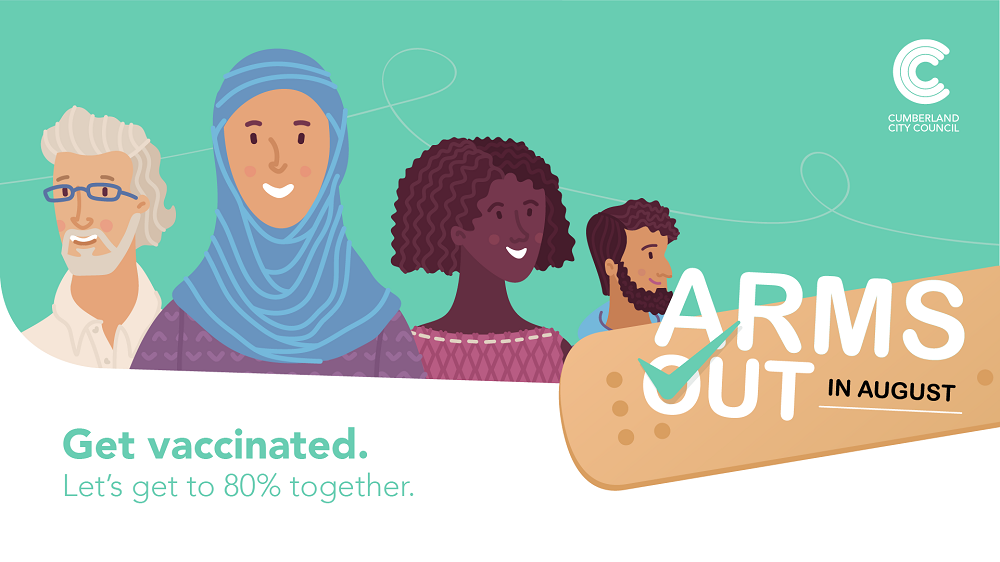 ---
If you have any issues you'd like me to help you with, please contact me by:
---