21 May 2021
---
Restore express train services to the west
Several years ago, the state government ceased running express trains on the Granville line. This is completely unacceptable for residents in our community and has resulted in significantly increased travel times to the city with an average 35 minute commute now taking close to an hour with full trains bursting at the seams.
For the past four years, Council and I have maintained a strong voice advocating on behalf of Cumberland City residents to the New South Wales State Government to reinstate Granville's express train line, however, despite Council's efforts, there has been no improvement for our residents who continue to struggle each and every day for their public transport needs.
As part of the More Trains, More Services program, the NSW Government changed the train routes available to commuters in Sydney's west and south west. This ultimately cut the number of express train services stopping at Granville, Auburn and Lidcombe stations. In July and September of 2019, Council wrote to the government to address the fewer services but in response, Transport and Roads ruled out any urgent changes.
This response is unacceptable and our residents deserve better. Ultimately, this is an issue which this Council firmly requires its local Members of Parliament to drive a strong advocacy agenda on.
As a Council, we have invested heavily in major projects along the rail corridor and take pride in ensuring that you have access to high quality infrastructure and services each day. Clear examples of this include the recently constructed Granville Centre and Council's ongoing contribution to the local area by constructing record amounts of new footpaths, roads and basic infrastructure.
I am tired of Cumberland City being ignored and missing out on basic service improvements that can be provided by the New South Wales State Government, our residents deserve better services and more effective representation. I call upon our local state members to advocate on behalf of our community, remain present and put the needs of this electorate above others. At a minimum, our residents deserve that level of service.
We look forward to working with the NSW Government to progress work on a trial of express train services.
---
Woodville Road Right Hand Turn Arrow needed from Guildford Road
Whilst at one of my many "Meet Your Mayor Sessions", the issue of Woodville Road and Guildford Road right hand traffic signal arrow installation was again brought to my attention. This longstanding state government issue has been a problem for decades. This major roadway intersection is one of the busiest traffic locations across the state. Cars are forced to run the gauntlet and turn right in both directions and take the risk of oncoming traffic as the location is a blind spot. I recently visited the area with local resident Samira Semaan who raised this issue with me. In the space of half hour, we witnessed dozens of cars run a red light to turn right and risk their safety. I call on the local state member to be present and make the necessary representations to the state government.
At a minimum, our residents deserve that level of service.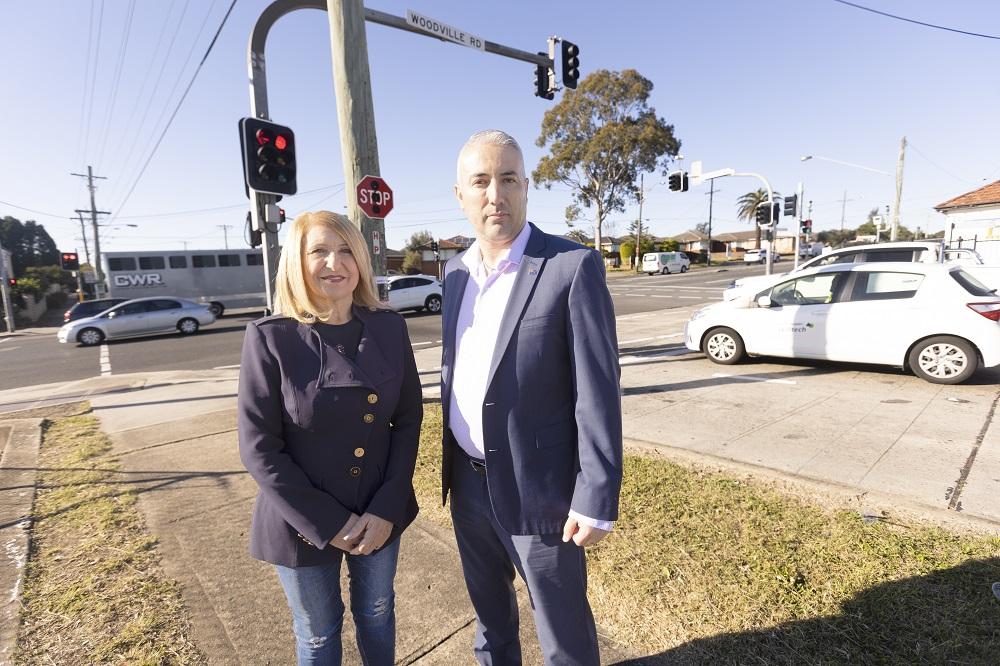 ---
Western Sydney Wanderers captain joins Healthy Kids
One of the projects I am most proud of at Cumberland City Council is the Healthy Kids initiative which I pioneered in 2019. That's why I'm stoked that Western Sydney Wanderers captain, Mitchell Duke is an ambassador for our Council project that promotes active wellbeing. Promoting healthy lifestyles and physical activity is something that our young ones will carry well into adulthood.
The Office of Sport and NSW Health tell us that only 42% of our eligible residents have created an Active Kids rebate voucher that offers $100 towards kids sports.
We've partnered with one of the Healthy Kids initiative providers to offer an 8-week multi-sport program for children ages 5 to 12. The program will run at Guildford Park at a flat rate of $100 per child for the 8 weeks.
Sports include soccer, cricket, basketball, hockey, touch football, AFL, tennis and volleyball. I encourage families to use their vouchers to enjoy 8 weeks of sport for free using their voucher.
To apply for the voucher, visit www.service.nsw.gov.au/transaction/apply-active-kids-voucher
Watch this space for more updates on how you can register for the 8-week sports program coming up in July. For enquiries, contact Rebecca.Reynolds@cumberland.nsw.gov.au
---
If you have any issues you'd like me to help you with, please contact me by: