22 January 2021
---
An update on COVID-19
Last week I visited businesses in Berala and provided information on COVID-19 testing clinics in a variety of languages. We spoke about the new regulations for businesses and their employees and the importance of adhering to public health directives.
I know this isn't easy for residents, or businesses, but I urge you to come forward for testing if you have even the mildest of COVID-19 symptoms. Every person plays an important role in helping contain the spread.
Help us protect our community, your family, and your loved ones by being part of the solution.
It's also a tough time for businesses, so help where you can by shopping or dining local. Whether it's ordering in or shopping from your local grocer or chemist, it goes a long way during this time.
For ongoing updates and translated material on COVID-19 visit, www.cumberland.nsw.gov.au/covid19
---
Stadium's first concrete pour
The first concrete pour of the new stadium at Granville Park has taken place and we're excited our vision is coming to fruition. We're planning to name the stadium after Rugby legend, Eric Tweedale and encourage residents to have their say on the proposal.
It would be a tremendous honour to have Mr Tweedale, a Two Blues club patron and the oldest living Wallaby player, be part of a significant milestone for this first-class sporting venue in Cumberland City.
The long-lived home ground of the Western Sydney Two Blues Rugby Club in Granville is on its way to being transformed into a multi-use community sport pavilion that residents and sporting groups can use all year round.
We are building a facility that will not only attract locals but visitors from across NSW. The upgrade will include grandstand seating, change rooms, a kiosk, referee and medical rooms, a gym, office and social function space.
The stadium is expected to be complete by mid-2021.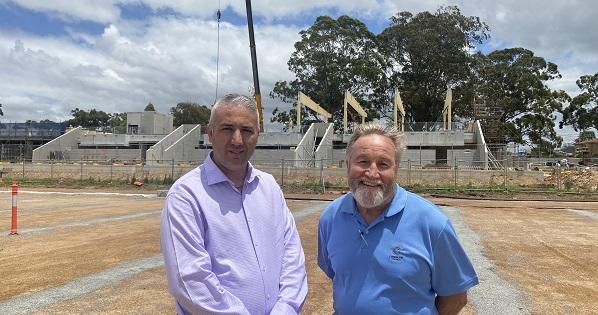 ---
Parramatta Road upgrade
Works have kicked off on Parramatta Road and Cumberland City's 'back to basics' approach is being applied to one of Sydney's busiest roads.
We are investing in the future of our city with a more accessible, safer and beautified environment in our part of the gateway.
This includes an extension of Auburn Park, improved pedestrian and safety across the Stubbs Street Streetscape and a pedestrian cycleway overpass on Melton Street at the M4 creating an access ramp, which will also meet disability access requirements.
Funding for the four projects has been provided by the NSW Government, as part of the Parramatta Road Urban Amenity Improvement Program.
I look forward to keeping you updated on progress for this work.
---
DAs available online
From 31 December 2020, anyone lodging a planning application will be required to upload their application electronically through the Planning Portal that is managed by the NSW Government.
As a result of these changes, applications can no longer be submitted to Council over the counter or by email.
Further information on how to lodge applications on the portal is available on www.planningportal.nsw.gov.au
For submissions on current development applications visit
---
Australia Day
If you have any issues you'd like me to help you with, please contact me by: