Australia Day celebrations wrap-up
It was a pleasure to lead the way this year and be the only major council across New South Wales to hold a full Australia Day events program, marking one of the most important Mayor Steve Christou, Artist D Minor and Deputy Mayor Eddy Sarkis with his daughter. days in our calendar with a successful citizenship ceremony and outdoor celebration event.
Australia Day is one of our nation's most loved holidays, giving people the chance to get together and celebrate what it means to be Australian, regardless of their background.
I was delighted to see so many of you enjoying the music, entertainment and fireworks display and bonding with loved ones. I'd like to commend all the performers, particularly Daniel D Minor and A.Girl on their performances. I look forward to watching them prosper in their artistic careers.
I also extend my congratulations to the winners of the Citizen of the Year and Community Pride Awards that were held in conjunction with a special Australia Day Citizenship Ceremony.
I thank the Australian Government for assisting our event through the National Australia Day Council.
---
Mayor meets local School Captain
It was fantastic to meet Mitchell Pettitt, School Captain at Guildford West Public School at the recent Meet your Mayor session.
We got talking about how much we enjoy helping our fellow peers and communities, and he is well on his way to becoming a great leader.
It's great to see our youth connecting with us and envisioning their future in Cumberland City.
Come and see me at these sessions and share your feedback and ideas about Council initiatives and services.
For more information about times and locations, visit www.cumberland.nsw.gov.au/meet-your-mayor
No appointment necessary, just drop in.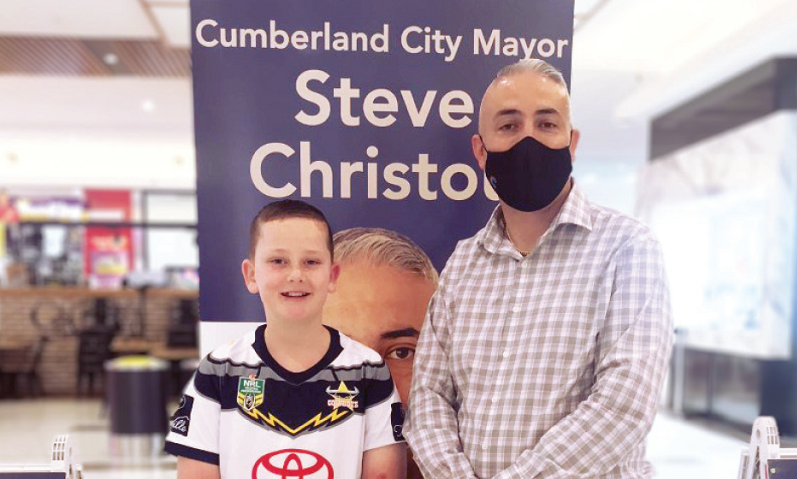 ---
DAs available online
From 31 December 2020, anyone lodging a planning application will be required to upload their application electronically through the Planning Portal that is managed by the NSW Government.
As a result of these changes, applications can no longer be submitted to Council over the counter or by email.
Further information on how to lodge applications on the portal is available on www.planningportal.nsw.gov.au
For submissions on current development applications visit
---
If you have any issues you'd like me to help you with, please contact me by: