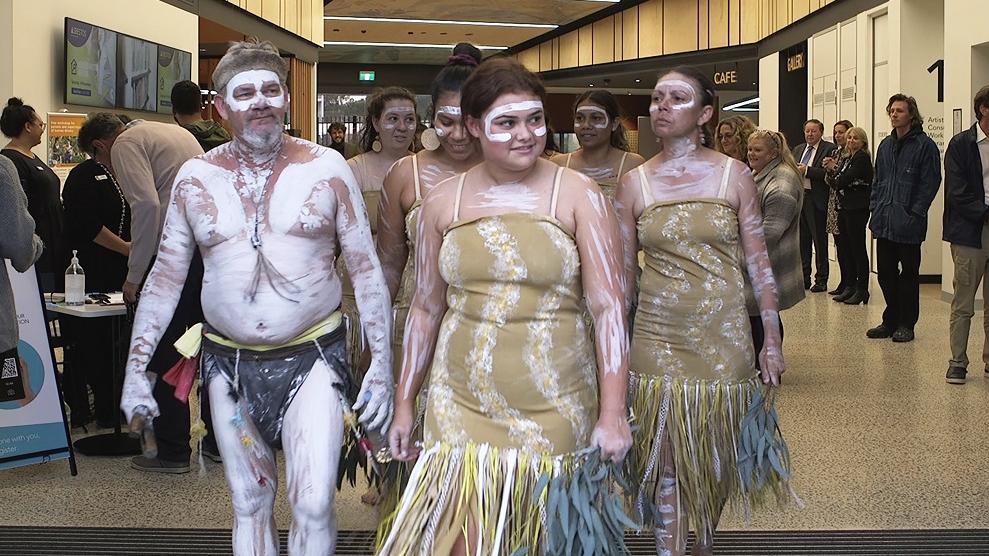 Parramatta Road Urban Amenity Improvement (PRUAIP)
About the Program
The Parramatta Road Urban Amenity Improvement Program (PRUAIP) is a $198 million initiative by the NSW Government to improve open space and active transport links along the Parramatta Road corridor. The program brings state agencies and local councils together to collaborate on projects that will improve public amenity in the corridor and is led by NSW Department of Planning, Industry and Environment. The Parramatta Road Corridor (the Corridor) has been identified by the NSW Government as an important urban renewal area that will be the focus for increased housing, economic activity and social infrastructure.
Public art will play an important role in creating a new sense of place and will contribute to The Corridor's public amenity. The local population will benefit culturally, socially and economically from the commissioning of great public art. An overarching PRUAIP Public Art Framework has been developed for the Parramatta Road Corridor.
First Nations Banner Program Commission
First Nations artist Dennis Golding will lead a series of online creative workshops with local First Nations youth in late November early December 2021 to develop banner designs for the PRUAIP Auburn North precinct.
The workshops will explore ideas and themes that celebrate Country and cultural identity.
The workshops will provide opportunity for students to think deeply about what the themes mean to them and how to present these themes, which are interconnected through their history, experience and connections to place.
As part of the First Nations Banner Program, we are seeking engagement with Darug custodians and or cultural knowledge holder/s to guide and identify key topics for conversation with young participants, including localised stimulus. This may include stories, song or yarning about the themes of Country and cultural identity. It is intended that these discussions will lead the creative workshops and enable young participants to create visual responses to the key ideas and themes explored.
It is anticipated that 3-4 sessions would be needed to support and guide this program, including:
Identify key words/curatorial themes for the First Nations Banner Program to explore.
Provide stimulus for students such as stories, songs or yarning exploring Country, Darug culture and identity.
Provide language suggestions for proposed titles, as explored with the students for the First Nations Banner Program.
Final review of First Nations Banner Program artwork, selected title and description.
Other PRUAIP Public Artwork Commissions
There are several public artwork commissions that are occurring across the Auburn North precinct, including the:
M4 Gateway Commission
Adderley Street West M4 Noise Barrier Wall Commission
Parramatta Road Auburn North Pedestrian Bridge Commission
As part of these public artwork commissions, Council aims to facilitate up to two 'yarning' artists meet and greet sessions, with Darug custodians and or cultural knowledge holders/s to support the commissioned artists learning, respect for and connection to Country.
Artists will present their concept designs for these sites to seek feedback and support from Darug custodians.
Expression of interest invitation
Darug cultural knowledge holder/s are invited to support co-collaboration, consultation and delivery of Parramatta Road Urban Amenity Improvement Program's (PRUAIP) First Nations Banner Program and other public artwork commissions associated with the program
Key dates
Co-collaboration and consultation for the above public artwork commissions would occur between October 2021 to January 2022. Dates and times are to be confirmed in collaboration with the Darug cultural knowledge holder/s, artists and PRUAIP project team.
Darug cultural knowledge holder/s fee
An indicative fee for the cultural knowledge holder/s participation in this program is $6000.
EOI submission
To submit an EOI for participation in this program, please include:
A short (no more than 300 words) response detailing your approach and how you would like to include Darug language, identity and culture into the First Nations Banner Program development and workshops?
A brief outline (no more than 300 words) of your experience in supporting the development of culturally connected First Nations led workshops.
A maximum 2 page Bio and or CV.
Please provide up to 3 images of your previous work, if appropriate.
Documents must be provided in PDF format.
Confirmation of availability to participate in the program as outlined above.
Please submit your EOI to Amelia Corr and Janice Dennis (Aboriginal Programs) via email Aboriginal.Programs@cumberland.nsw.gov.au by Sunday 17 October 2021.
Further information
For more information, don't hesitate to contact Amelia Corr on 0468 614 010 or Janice Dennis on 0447 345 277.