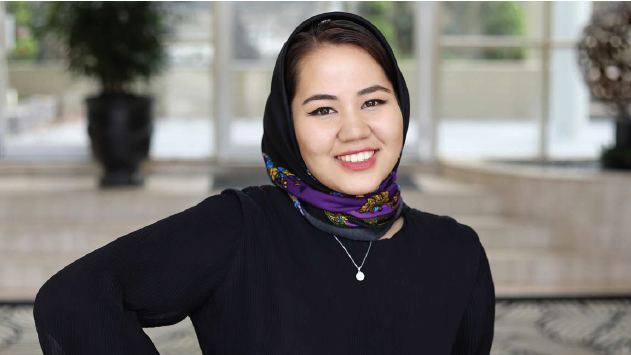 Shaqaeq is full of fire, ambition and spirit.
She came to Australia with 5 siblings from Afghanistan and is now a strong advocate for refugees and asylum seekers.
As an active member of the community, Shaqaeq has spent a lot of time volunteering. She also created an online platform to support newly arrived refugees and asylum seekers - a first of its kind.
The platform is called Directa and it provides a multi-lingual directory that meets the needs of people trying to resettle in the country. The platform was inspired by Shaqaeq's own experiences. She decided to change the traditional mindset of an environment where women were encouraged to take on traditional roles. And more impressively, she was only 18 years of age at the time.
"I want to grow as a Social Entrepreneur and give back to the community to help others just like me. There are so many great opportunities and you can do many things here: you can go to art class or join a sports team," she says passionately.
"Refugees deserve to have the opportunity to achieve what they set out to do - to enjoy their leisure time and to be informed of their rights. Especially after all they've endured."
Shaqaeq is on a mission to live out her dreams in Australia. This includes helping her parents' to settle in a new home and culture, and build on her passions in Social Entrepreneurship, business, and Civil and Mechatronic Engineering.
Since fleeing Afghanistan and then not being able to pursue an education in Iran, she has finished high school, started university, entered the workforce and has a hunger to learn, thrive and give back.