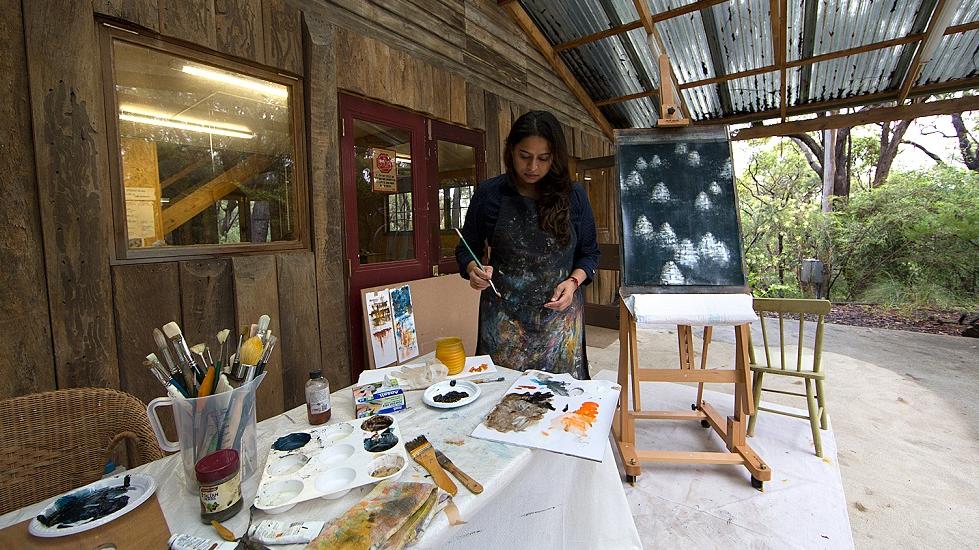 Event details
Created especially for Cumberland Diwali 2021 celebrations, Gauri Torgalkar's Diwali Bloom reimagines Australian native flora from the local Cumberland Plain Woodlands in a format inspired by Indian miniature painting and textiles.
The exhibition includes three key Diwali components; paper lanterns that signify the victory of light over darkness, rangoli artwork on the floor to invite good vibrations, and two flower offerings of 108 miniature cards for salutation and light, as 108 is a sacred number in Hinduism.
See the exhibition in person - Diwali Bloom will be open for public viewing at the Peacock Gallery, Auburn Botanic Gardens. If your are interested in receiving notification of the exhibition sign up for more information
---
About the Artist
Gauri Torgalkar is an emerging visual artist of Indian origin based in Sydney, reimagining Australian landscape as altered through the lens of personal memory and inspired by narratives including Indian textiles, folklore and miniature painting.
As an artist who has relocated several times (India, USA and Australia), her practice explores the intrinsic need of immigrants to make cultural associations in new communities.
Diwali Bloom Programs
Artist Gauri Torgalkar has collaborated with artists FLENK collective to create online activities celebrating the festival of Diwali through:
Sharing stories about Diwali
Learning about and creating rangoli
Guided listening walk of your local environment.
Discover more art activities from FLENK collective during Diwali by following Cumberland City Council on Instagram.
---
Diwali Bloom is supported by the NSW Government through Create NSW Small Projects Grant.