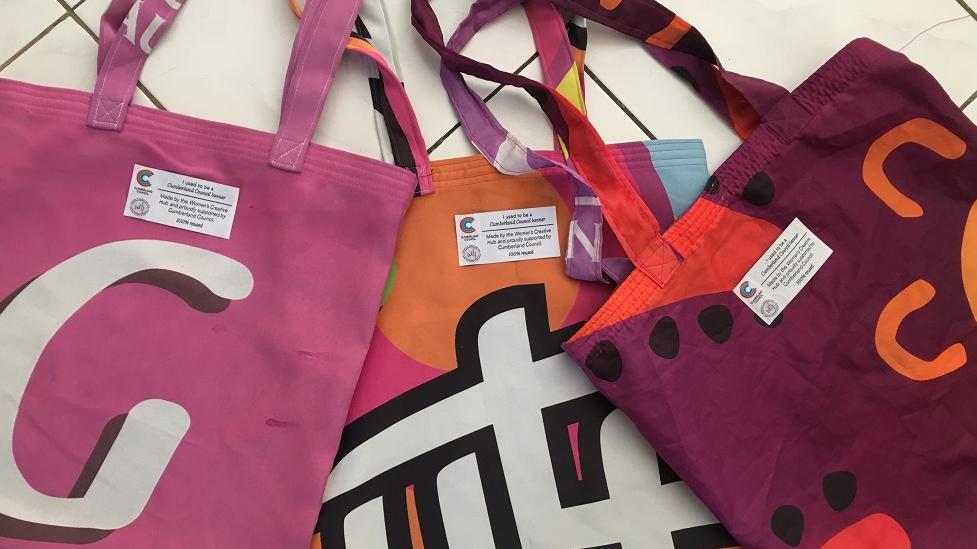 Bags from banners project was initiated by us to repurpose event banners into multipurpose bags with the aim to reduce the usage of plastic bags
Through creative thinking and visionary partnerships within a local social enterprise - Women's Creative Hub, we came up with a practical solution to divert some of our banner waste from landfill by turning it into reusable bags.
'Women's Creative Hub' which is a collaborative and supportive space where women seeking asylum, refugees and women from the wider community come together to connect socially through art and craft, sharing and learning creative skills. We are delighted to be collaborating with a local organisation that share and develop skills to bring the learned skills to the Australian market.
With over 20,000 tonnes of plastic bags dumped in landfill across Australia every year, reusable bags is something we have always advocated for and promoted in our community educational programs. This initiative brought together the community and Council to avoid landfill waste, reduce single-use plastic bags and pass on skills.
This project was initiated in 2019 and since then we have been distributing the repurposed bags at our events and workshops including National Recycling Week, Meet the Mayor sessions etc.
The repurposed bags were widely promoted during Plastic Free July 2020. Plastic Free July was the perfect timing to promote the bags from banners and encourage wider community to support the cause to benefit our environment and the community.
The project is featured on the Plastic Free July website