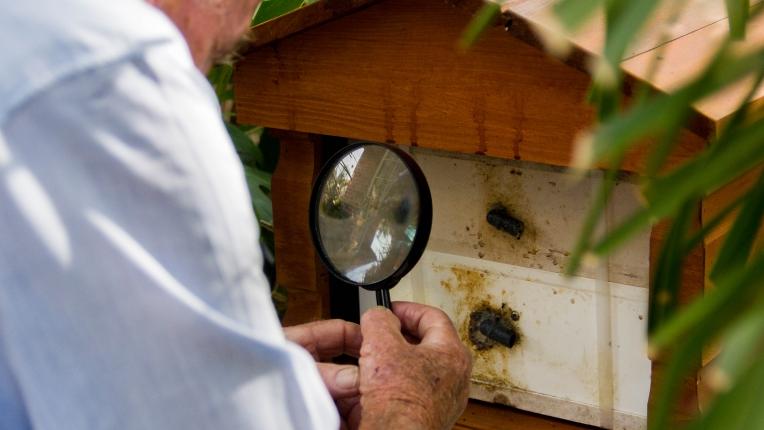 Join an environmental program that makes a difference
Native Stingless Bee Program
We are now taking registrations for next year's spring/summer program 2020.
Native bees are an important part of the local ecology. Joining the Native Stingless Bee program will help our environment.
Australia has over 1,500 species of native bees, with around 200 species living in Sydney. Most live in solitude and nest in small holes in a variety of materials.
The Tetragonula Carbonaria bee is native to the Cumberland area, lives socially and stores very small amounts of honey and pollen in its hive.
To help build the numbers of our native stingless bees (which are important for a healthy local environment), Council is asking residents to host a hive in their backyard. Council will provide ongoing support.
Get involved
To join the Native Stingless Bee program, the following requirements apply:
Site for the hive must be in the Cumberland Council Local Government area.
Homes or duplexes, community gardens or workplace gardens will be considered.
Council will inspect the site to assess it. Alternatively, you can send Council photos of the proposed hive location, along with a completed assessment form.
You have a suitable location under complete or partial shade for the hive. Morning sun is OK.
If the site is approved for the program, you will need to attend a 2 hour workshop on how to take care of your hive and learn how to duplicate your hive by creating a new one. Workshop attendance is compulsory.
You will be required to enter into a Host Agreement which contains the terms and conditions that you need to follow.
After a 12 to 18 month period, you may be asked to duplicate the hive and give a new hive to another resident on the program waiting list - if your hive is healthy.
Once approved for a hive, you will be invited to join the Habitat Stepping Stones program. 
Applying for a Hive
If you are interested in joining the program please:
Further information
For more information on the Native Stingless Bee program, call Council on 02 8757 9000.
Bushcare Volunteers
Bushcare is a volunteer program that encourages residents to get involved. This is a community based program that offers a great way to meet other residents while doing something worthwhile for the environment.
Volunteers are currently needed to help remove weeds, plant native vegetation and maintain our natural areas. Why not join one of the bushcare groups below?:
Canal Reserve Action Group
De-Vine Duck River
Conservation Volunteers Australia
Community Gardens
Community gardens are places where people come together to grow fruit and vegetables, enjoy healthy exercise, meet new people and share fresh food. They allow people to connect with nature and participate in their local community.
In Cumberland, we have 3 community gardens run by volunteers:
Wentworthville Community Garden
73 Fullagar Road
Wentworthville, NSW 2145
Orana Ln, Byron Park,
St Ann St, Merrylands NSW 2160
44A Macquarie Rd, Auburn NSW 2144
Free Plants Giveaway
Cumberland is committed to keeping our area clean, green and environmentally sustainable. By planting trees and shrubs in the area, we can help to improve everyone's health and wellbeing.
Increasing the tree canopy also provides shade, habitats and corridors for wildlife to move from one suburb to another.
Cumberland gives away about 2000 native plants throughout the year at many major events. Simply check Council's What's On section regularly.
Sustainability Workshops
Cumberland encourages residents to live a more sustainable lifestyle. Throughout the year, we host events to teach you how to live more sustainably. Simply check Council's What's On section regularly.
Plastic Free July
Choose to reuse
Plastic Free July is a challenge that gets people thinking about the amount of plastic packaging in our lives and helps find ways to reduce or refuse these items.
Why get involved?
Australians use around 100kg of plastic packing per household each year.
Plastics don't break up or break down in the environment and are mostly unable to be recycled. They will end up in landfill or as litter and pollute our streets, waterways and oceans.
By participating in Plastic Free July you will join the millions of people from around the world making a difference to the planet.
Sign up to the challenge
Take up the challenge and choose to avoid, refuse or replace as much single-use plastic as you can during July. You can register your contribution by signing up to the challenge or visiting the Plastic Free July website.
Easy ways to make a difference
When out and about
Take a reusable coffee cup with you and support coffee shops that provide discounts to customers using a reusable cup

Use a reusable drink bottle – Sydney's water is from natural sources. It's filtered to the high standards set by the Australian Drinking Water Guidelines ensuring it's safe to drink straight from the tap

Straws – refuse to use a straw when eating out or buy a reusable one; either bamboo or metal
Whilst at the shops
Take your own reusable cloth bags when you shop – keep a few in your car or one in your handbag so you always have one ready to go.
Need fruit and vegetables? Skip the plastic bag and pre-packaged fruit and vegetables.
Avoid beauty products with micro-beads.
Choose products in cardboard packaging or glass. Or buy products with the least packaging.
Things you can do at home
Bin liners – see how to use newspapers to line your bin.
Try not using a liner at all and for any food or wet scraps have a sealed container and freeze until bin day.
Alternatively, get a compost bin or worm farm – Cumberland City Council now gives rebates for the purchase of a compost bin or worm farm up to the value of $50
Make your own cleaning products
You can make the same cleaning products that normally sell in bulk containers, and usually packed in cardboard. You've probably got all the ingredients in your cupboard.
Bleach may seem like an excellent cleaner of fungi and mold in the bathroom, however, vinegar is actually a better mould killer in many cases.
Also about a third of household bathroom cleaners sold in Australia feature bleach as an active ingredient. Unfortunately, it doesn't do much to get rid of soap scum.
Want more tips and tricks for making the move to going plastic free - visit the Plastic Free July website
Council initiatives
Reusable coffee cups
The coffee cart at Cumberland City Council sells reusable coffee cups with a purchase of coffee and has signed up to the responsible cafe program.
Visit the coffee cart at Council Chambers or Library at Merrylands to buy your own resusable coffee cup and get an ongoing discount on all future coffee purchases from the cart.
Public water refill stations
Cumberland City Council provides public place water refill stations across 8 locations in the Council area. Fill up your reusable drink bottle there and avoid using plastic bottles.
Water refill stations are located at:
Dirrabari Reserve, Pemulwuy
Central Gardens Animal Exhibits, Central Gardens
Granville Park, Merrylands
Campbell Hill Pioneer Reserve, Guildford
Auburn Botanic Gardens, Auburn
Merrylands Park, Merrylands
Wyatt Park netball courts, Lidcombe
Guildford Park, Guildford
Boomerang Bags Program
Cumberland City Council is planning to create its own Boomerang bags program and we need help sewing our bags.
No experience necessary, just a willingness to help. If you're not interested in sewing but have fabric you could donate, we would appreciate it. Contact Council on the details below for more information.
REDcycle and reading chairs.
Turning waste source into new roads, diverting street sweeping material and stormwater material from landfill.
Close the loop program.