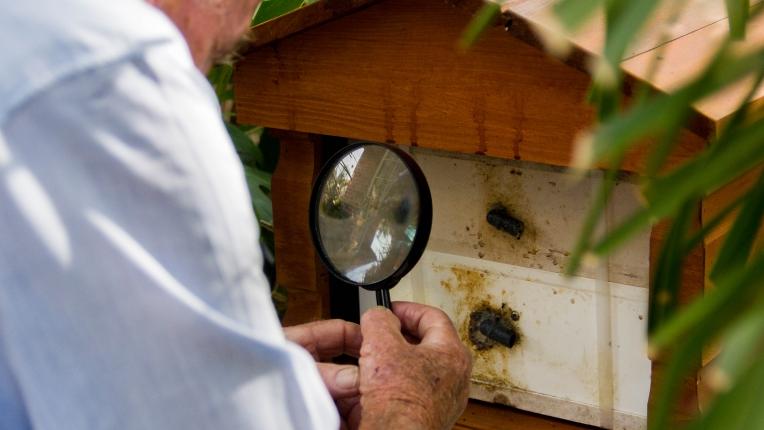 Join an environmental program that makes a difference
Native Stingless Bee Program
Registrations for 2021 are now closed and residents can still register for the program in 2022.
Native bees are an important part of the local ecology. Joining the Native Stingless Bee program will help our environment.
Australia has over 1,500 species of native bees, with around 200 species living in Sydney. Most live in solitude and nest in small holes in a variety of materials.
The Tetragonula Carbonaria bee is native to the Cumberland area, lives socially and stores very small amounts of honey and pollen in its hive.
To help build the numbers of our native stingless bees (which are important for a healthy local environment), Council is asking residents to host a hive in their backyard. Council will provide ongoing support.
Get involved
To join the Native Stingless Bee program, the following requirements apply:
Site for the hive must be in the Cumberland Council Local Government area.
Homes or duplexes, community gardens or workplace gardens will be considered.
Council will inspect the site to assess it. Alternatively, you can send Council photos of the proposed hive location, along with a completed assessment form.
You have a suitable location under complete or partial shade for the hive. Morning sun is OK.
If the site is approved for the program, you will need to attend a 2 hour workshop on how to take care of your hive and learn how to duplicate your hive by creating a new one. Workshop attendance is compulsory.
You will be required to enter into a Host Agreement which contains the terms and conditions that you need to follow.
After a 12 to 18 month period, you may be asked to duplicate the hive and give a new hive to another resident on the program waiting list - if your hive is healthy.
Once approved for a hive, you will be invited to join the Habitat Stepping Stones program. 
Applying for a Hive
If you are interested in joining the program please:
Further information
For more information on the Native Stingless Bee program, call Council on 02 8757 9000.
Bushcare Volunteers
Bushcare is a volunteer program that encourages residents to get involved. This is a community based program that offers a great way to meet other residents while doing something worthwhile for the environment.
Volunteers are currently needed to help remove weeds, plant native vegetation and maintain our natural areas. Why not join one of the bushcare groups below?:
De-Vine Duck River
Friends of Duck River
Lower Prospect Canal
Marrong Reserve, Pemulwuy (Tree planting only)
Youth off the Streets (School group)
Community Gardens
Community gardens are places where people come together to grow fruit and vegetables, enjoy healthy exercise, meet new people and share fresh food. They allow people to connect with nature and participate in their local community.
In Cumberland, we have 3 community gardens run by volunteers:
Wentworthville Community Garden
73 Fullagar Road
Wentworthville, NSW 2145
Orana Ln, Byron Park,
St Ann St, Merrylands NSW 2160
Auburn Community Garden (Friendship Garden)
44A Macquarie Rd, Auburn NSW 2144
Free Plants Giveaway
Cumberland is committed to keeping our area clean, green and environmentally sustainable. By planting trees and shrubs in the area, we can help to improve everyone's health and wellbeing.
Increasing the tree canopy also provides shade, habitats and corridors for wildlife to move from one suburb to another.
Cumberland gives away about 2000 native plants throughout the year at many major events. Simply check Council's What's On section regularly.
Sustainability Workshops
Cumberland encourages residents to live a more sustainable lifestyle. Throughout the year, we host events to teach you how to live more sustainably. Simply check Council's What's On section regularly.