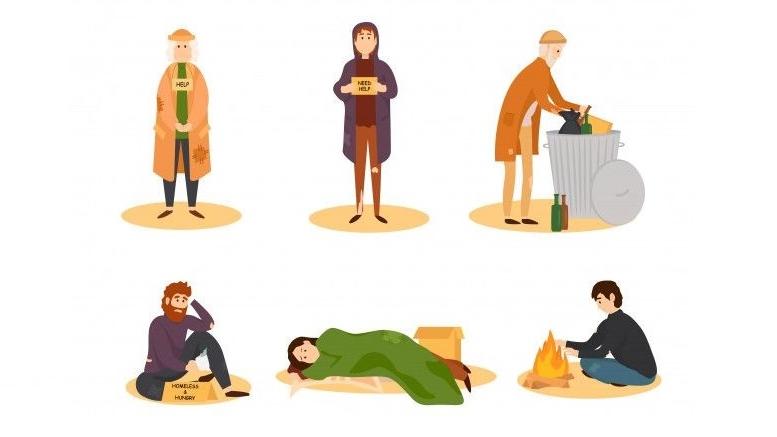 What is homelessness?
International human rights law recognises that every person has the right to an adequate standard of living. This right includes the right to adequate housing.
According to the Australian Human Rights Commission, people experiencing homelessness face violations of a wide range of human rights. Access to safe and secure housing is one of the most basic human rights. However, homelessness is not just about housing. Fundamentally, homelessness is about lack of connectedness with family, friends and the community and lack of control over one's environment.
Homelessness affects a wide range of people from different regions, of different ages and different cultural backgrounds. Homelessness is defined under Australian federal law as 'inadequate access to safe and secure housing'. This exists where the only housing to which a person has access:
is likely to damage the person's health
threatens the person's safety
marginalises the person by failing to provide access to adequate personal amenities or the normal economic and social support of a home, or
places the person in circumstances that threaten or adversely affect the adequacy, safety, security, and affordability of that housing.
Types of homelessness
Primary homelessness is experienced by people without conventional accommodation (e.g., sleeping rough or in improvised dwellings);
Secondary homelessness is experienced by people who frequently move from one temporary shelter to another (e.g., emergency accommodation, youth refuges, "couch surfing").
Tertiary homelessness is experienced by people staying in accommodation that falls below minimum community standards (e.g., boarding housing and caravan parks).
*This definition was adopted by the Commonwealth Advisory Committee on Homelessness in 2001 and is widely used in the homelessness sector. *
Reference
https://homelessnessaustralia.org.au/about-homelessness/
What are some of the causes of homelessness?
Just as there are many different ways in which a person can be affected by homelessness, there are many different causes of homelessness. Poverty and the inability to afford adequate housing are central to the causes of homelessness. These circumstances may result from a number of different experiences, including long-term or short-term unemployment, debt and other financial pressures, and housing market pressures, such as rising rental and house prices and the lack of public housing.
Financial difficulty is often accompanied by other personal or family problems, such as family breakdown, domestic violence, poor physical and mental health, substance and other addictions. The inability to cope with combinations of these problems can push individuals and families even closer to the edge.
Even before a person becomes homeless, they may be living at the margins of the society, with few connections to family and the community. Social isolation can mean that they lack the necessary support to assist them through periods of stress and help them manage ongoing problems.
Reference
Get Help Contacts
Child Protection Helpline
This service is staffed by professionally qualified caseworkers and is available for reporting suspected abuse, neglected or risk of significant harm to a child or young person.
General community – 132 111
Mandatory reporters – 133 627
Lifeline
This service provides 24/7 counselling to people needing emotional support and provides assistance in suicide prevention, crisis support and mental health support.
13 11 14
MensLine
This service provides 24/7 telephone counselling support for men struggling with anger management, family violence, (using and experiencing), addiction, relationship, stress, and wellbeing.
1300 789 978
Mental Health Line
This 24/7 line offers professional health and advice as well as referrals to local mental health services for people who need mental health support.
1800 011 511
Ask Izzy
Ask Izzy is a website directory that connects people who are in crisis with nearby services.
Link2Home
This 24/7 service provides state-wide homelessness information and referrals to supports including temporary accommodation.
1800 152 152
13 Yarn
This 24/7 crisis support telephone service provides confidential, culturally safe, and appropriate assistance for Aboriginal peoples to speak about their needs, worries, or concerns.
13 92 76
1800RESPECT
This service provides counselling, information, and referrals for those experiencing domestic or family violence or sexual violence.
1800 732 732
Emergency Services
This is the primary emergency telephone number to connect to Police, NSW Ambulance, NSW Rural and Fire Service and Fire and Rescue NSW.
000