Embrace Monuments consists of several clusters of highly coloured turned wooden posts, of varying heights and sizes, engaging the community from young children to adults. It provides a sense of discovery and colour in the street and creates a neighbourhood space that is positive and optimistic. The post, totem or column is a universal architectural form used in Western, Eastern and Indigenous cultures. This historical form evokes a sense of place and community familiarity.
Through explorations in colour, ornament, pattern and form Embrace Monuments serves to reflect the diverse cultural connections that people have to the local and broader Cumberland area.
Artist Nuha Saad reflects on their artwork Embrace Monuments! 
How did you come up with the idea for your artwork? And How does it fit into your wider practice? 
I have long been interested in the ornamental and the architectural and see my practice as a type of archaeology of the suburbs as I seek to uncover and highlight the slowly disappearing decorative elements of our suburban and civic architecture. I am particularly drawn to the turned wooden elements of Victorian and Federation era architectural designs with their Middle Eastern arabesque forms and references which resonate with my Lebanese background. In this way, my explorations in colour, pattern and form are reflected in the Embrace Monuments artwork have echoes and resonate with my wider practice.
What did you enjoy about this project? 
It has been great working with Cumberland City Council and the project team and seeing the work come to life. From concept design to manufacture and realisation of the work, the process has been both positive and dynamic with all parties working together to bring about the most positive outcome for the community, a playful and eye-catching artwork that celebrates the community and its many colours.
Any acknowledgements you'd like us to include? 
Nuha Saad would like to thank Kristina Tito from Cumberland City Council, Danella Bennett from Create NSW and Chris Barlin, Sam Horton and Alex Wong from TILT Industrial Design for their enthusiasm and support through the realisation of this project. 
---
Nuha Saad
Nuha Saad works in the areas of sculpture and public art. Saad has exhibited extensively in both solo and curated exhibitions in institutional and commercial galleries and her public works include large scale commissions for Councils, Government Agencies and private developers. Saad completed a Master of Visual Arts at Sydney College of the Arts and a Bachelor of Visual Arts at City Art Institute (now UNSW Art and Design).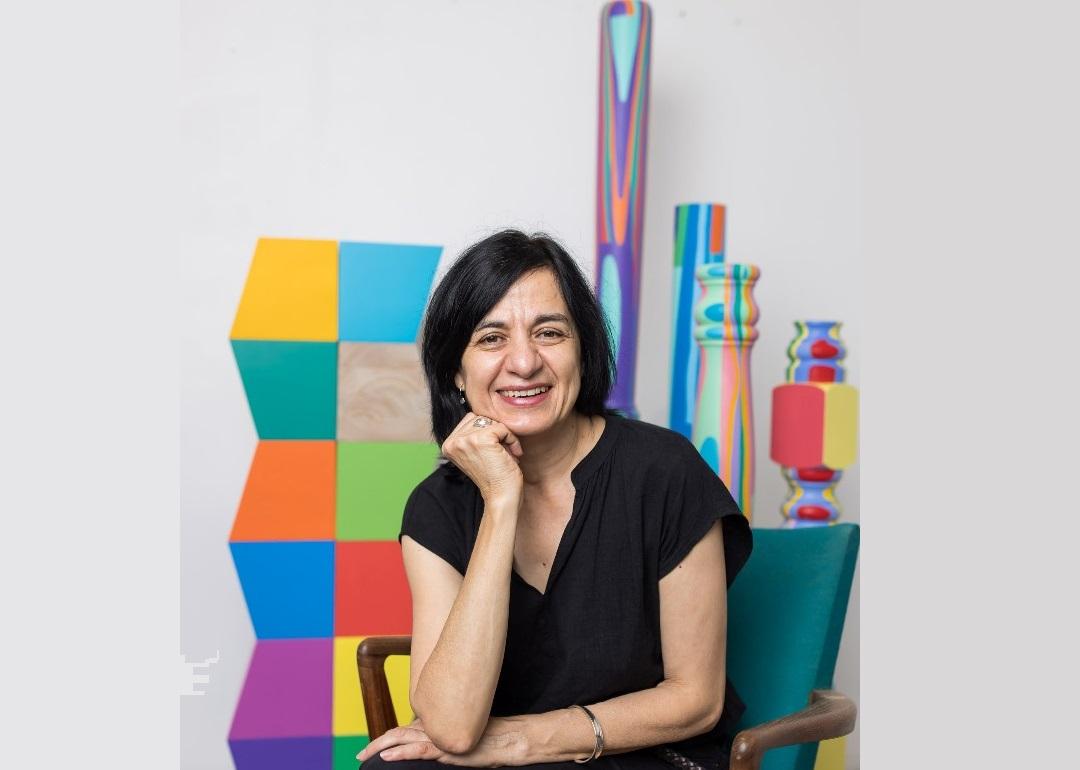 ---
Nuha Saad - Embrace Monuments
Custom turned treated pine, Dulux oil based undercoat and Dulux Weathershield Gloss 2023