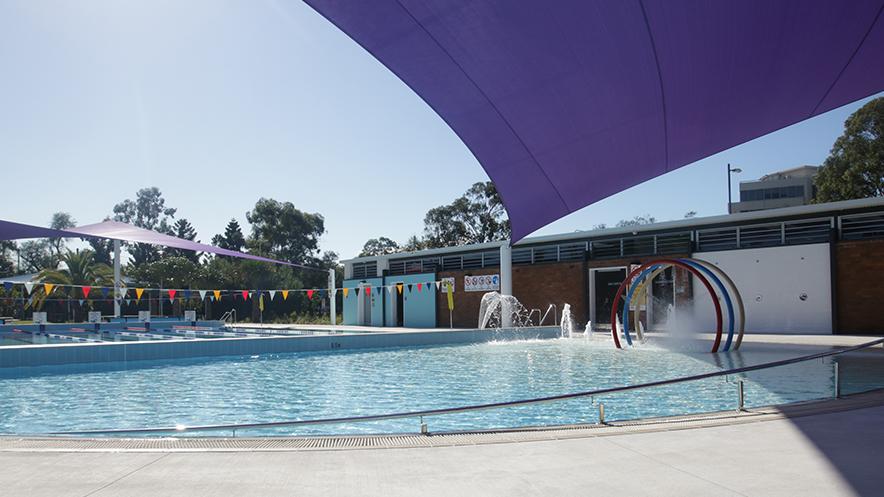 Opening hours
Wentworthville Memorial Swim Centre is closed over the winter season. Granville and Guildford Swim Centres remain open over winter.
The centre will reopen for the summer season on Tuesday 3 October 2023.
Entry fees
Pool entry payment at the gate - Cashless payment on entry preferred.
Adult Entry $7.60
Pensioner and Senior Card holders: $5.60 - every Tuesday and Thursday, Pensioner and Senior Card holders who live in the Cumberland City area, are eligible for free general entry at all our pools, all day.
Spectators – general admission including non-swimmers: $4.40
Children 5 to 15 years: $5.60
Children (4 years and under): Free of Charge
For a full list of fees, visit Swim Centre Fees and Charges
Classes
Swimming lessons
Wonder (parents and babies)
Courage (preschool program)
Active (school age program)
Teenagers
Adults
Private lessons
Facilities
7 lane, 50m outdoor, heated competition pool
6 lane, 25m outdoor, heated pool with beach and ramp entry
Outdoor, splash pad
Lap Lanes
Kiosk
Merchandise - swimming equipment and clothing.
Accessibility
2 accessible parking spots
Wheelchair access into the centre
Accessible toilets and change rooms
Lifts and pool hoists
Slip-resistant surfaces.
Parking
There are accessible car spaces available and free parking for over 100 cars. The Wentworthville Swim Centre is a 5 minute walk from Wentworthville Train Station.
Location
This pool is located at 115 Dunmore Street, Wentworthville.
Further information
Contact the centre on 8757 9050 (Central number for Granville, Guildford and Merrylands pools).