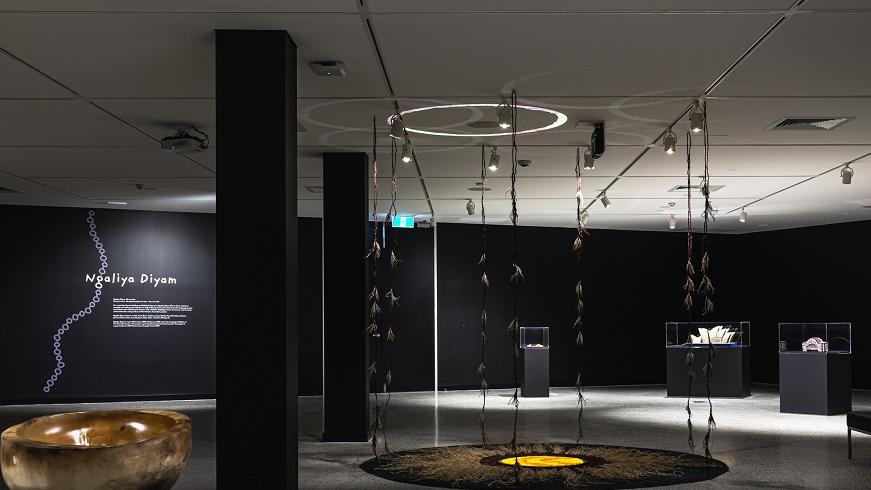 Image credit: Ngaliya Diyam, Room Shot. | Photograph: Document Photography.
---
About the exhibition
'Ngaliya Diyam,' the debut exhibition for the Granville Centre Art Gallery will celebrate cultural resilience and an everlasting connection to Country for First Nations artists Aunty Esme Timbery, Aunty Marilyn Russell, Nadeena Dixon, Jannawi Dance Clan, Lucy Simpson, Shay Tobin and Kirra Weingarth and is comprised primarily of new works commissioned by the gallery for the exhibition.
The exhibiting artists' cultural practices and artistic expressions range from weaving, ceremonial and contemporary dance, photography, installation, drawing, painting and ceramics.
Ngaliya Diyam. We are here. Darug are here, Aboriginal peoples are here – they never left
When: 6 November 2020 to 24 January 2021
Where: Granville Centre Art Gallery - 1 Memorial Drive Granville NSW 2142
Opening times:
Tuesday to Friday - 10am to 4pm
Saturday to Sunday - 11am to 4pm
Monday closed
Further information
For more information contact The Granville Centre on 02 8757 9027 or email gcag@cumberland.nsw.gov.au