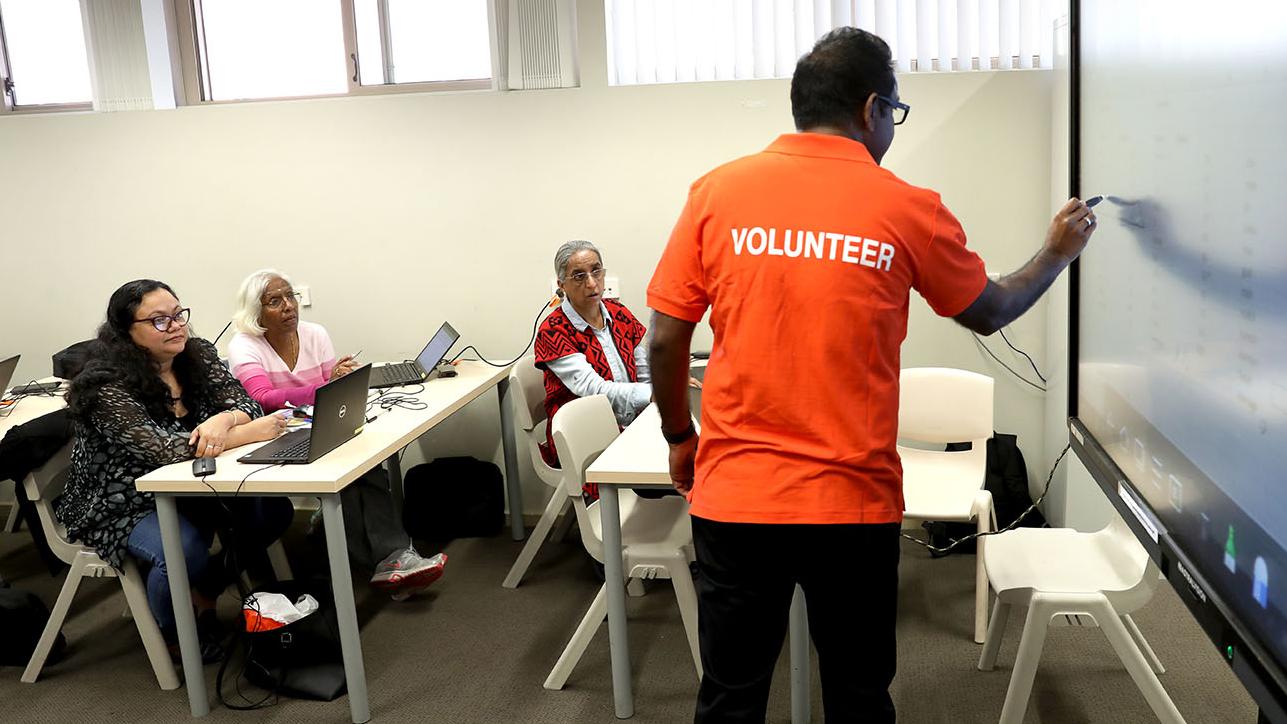 Latest update
Volunteering with us has recommenced, however a number of COVID-19 safety measures have been implemented to ensure risk of exposure is minimised. All volunteers will need to undertake a new induction outlining these changes.
Please see links below to the program summary and COVID-19 factsheet. When you are ready, make contact with our Volunteer Officer by phone 02 8757 9252 or email volunteer@cumberland.nsw.gov.au.
Being a volunteer brings benefits
Volunteering can provide you with valuable work experience, a chance to contribute to community life, the chance to meet new people and allow you to learn new skills.
Current positions available
Social Inclusion
Transport Assistant for Social Inclusion Team
Shopping Assistant for Social Inclusion Team
Nutrition
Drivers and Volunteer Delivery Assistants ('Runner') for Nutrition Services
Centre Based Meals Program Volunteer for Nutrition Services
Disability
Programs Assistant for Lifestyle and Leisure Links Program
Essential criteria
Commitment to working with elderly people and people with disabilities
Ability to conduct duties of position or ability/willingness to learn
Commitment to work within the guidelines/legislation relevant to this position
Commitment to maintain confidentiality
Knowledge of, and commitment to, the person-centred approach (or willingness to learn)
Trustworthy, patient, reliable and completion of a Criminal Record Check
How to become a volunteer
Step 1 – Think about what's involved
Before you apply for a volunteer position we ask that you consider the following questions
Are you at least 16 years of age?
What is your motivation for volunteering how will it benefit you/others?
Do you have some time available to give to the activity?
Are you willing to make a commitment to see the project through?
Are you prepared to undertake the training necessary for the role?
Are you prepared to undergo a Working with Children check as a requirement in some of the roles?
Are you prepared to undergo a National Criminal check as a requirement in some of the roles?
Step 2 – Finding the right volunteer position
Read through the Volunteer program summary and select the one that you feel most suited to.
A Working With Children Check number is required for applicants 18 years and over, apply online for one.
Step 3 – Complete and send in your application form
Download and complete the Volunteer Application Form. Please include any details on volunteer roles you're interested in, skills you can bring and skills you would like to learn. This helps in finding you a suitable position.
You'll receive a confirmation email that your application has been received.
Attend a volunteer information session. This is an opportunity to meet the Volunteer Coordinator and talk more about your application.
Submit the form
Post: Cumberland City Council, PO Box 42, Merrylands NSW 2160
In person to: Civic Centre, 1 Susan Street, Auburn 2144 or 16 Memorial Avenue, Merrylands 2160
Fax: 02 9840 9734
Email: volunteer@cumberland.nsw.gov.au