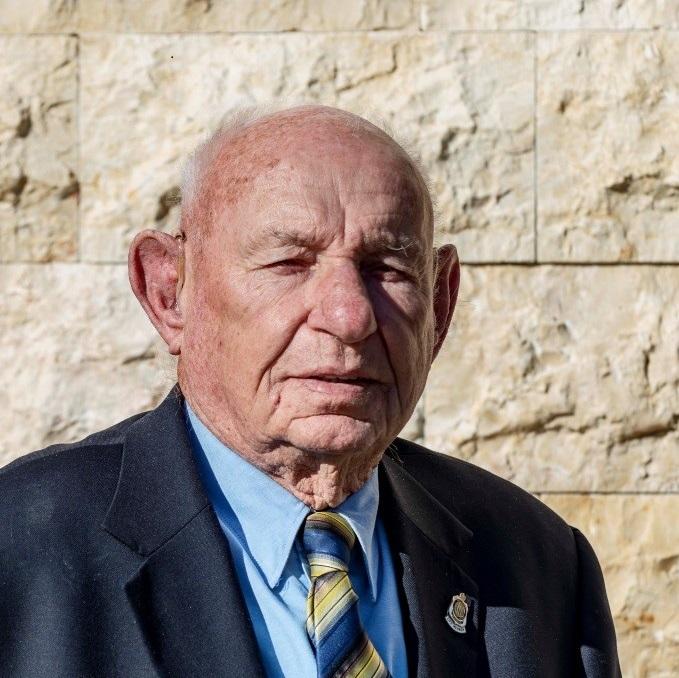 You can hear the Oral History recordings in the Tony Maston Room, Merrylands Library
The Oral History Project also includes interviews with local residents, community workers, and business people.
Their verbal memories have been digitally copied and are available in the Tony Maston Room, Merrylands Library.
Interview logs, summarising some of the interview contents are also found in the Tony Maston Room.
Interviews were recorded by the Cumberland Senior Citizens Week Committee in conjunction with Merrylands Community Health Centre, between 1990 and 1992.
Rights issues prevent Cumberland Council from making these recordings available outside of the Library building.
If you or a relative took part in the project, please contact the Merrylands library to discuss making recordings accessible online.
Council is expanding the Oral History collection. To contribute please contact Council's Local Studies Librarian on (02) 8757 9375.
Interviews with locals
Charlie's story
Charlie was born in 1924 to Harry and Alma Munnery in Sarina, Queensland. When war was declared in 1939 Charlie was working at a sugar mill in Sarina which was given protected status due to its role producing products for the war effort. This meant that staff who enlisted had to wait until the end of the crushing season before they were allowed to go to war.
Despite the protest of his father, a World War I veteran who had suffered with undiagnosed Post Traumatic Stress Disorder, in 1942 Charlie enlisted to join the army. Charlie fought in the Pacific War in New Guinea and returned to Australia in 1947. Charles experienced great loss and many struggles but also formed lifelong friendships with other soldiers.
Charlie moved to Merrylands to visit relatives, got a job as a floor tiler, joined the Merrylands football team and met his future wife, Betty. Charlie and Betty were married in Granville in 1950 and built their lifelong home in Paton Street, Merrylands West. Charlie joined the RSL in 1947 and has since dedicated his life in different roles to the community including RSL President for 14 years, until 1974 when he resigned. 
Download the transcript of Charle Munnary's recorded interview
Listen to tape 1:
Listen to tape 2:
Listen to tape 3:
Listen to tape 4:
Eric's story
Eric Tweedale was born in 1921 in Lancashire, United Kingdom and moved to Australia in 1924 where his family settled in Merrylands. Eric attended Guildford Public School and then high school in Parramatta. After leaving school at the age of 14, Eric worked in the city and then for Shell Oil Company.
When World War II was declared his father broke down, having suffered through World War I in the British Army. He died shortly afterwards at the age of 56. Eric joined the navy in 1941 and served for 4 years as a convoy signalman. In May 1942, Eric was due to serve in the Atlantic when the Japanese midget submarines attacked Sydney Harbour. He was a pallbearer at the military funeral for the deceased Japanese soldiers.
Eric was first introduced to rugby in 1937. He played at Cumberland Oval at representative levels and eventually for the Australian Wallabies touring New Zealand, Europe and North America in the 1940s. Eric has also been involved with Merrylands RSL since 1957 and assisting Charlie Munnery with starting up the RSL Youth Club.
Download the transcript of EricTweedale's recorded interview
Listen to tape 1
Listen to tape 2
Fred's story
Fred Walker was born in 1928 to James and Annie Walker in Crown Street, Surry Hills. After his mother died when he was 10, Fred briefly lived with his Aunt in Merrylands and attended Wentworthville Primary School before moving with his Aunt to Leichhardt. Their house was the headquarters for the local ARP (Air Raid Precautions) unit during World War II as they were one of the few houses that had a telephone.
In 1944, Fred joined the Merchant Navy following in the footsteps of his father and cousin. Fred and his wife Betty bought a block of land in Richmond Street, South Wentworthville where they brought up their 3 sons Glen, Brad and Scott who all attended Hilltop Road Public School and Greystanes High School.
Fred had a 46 year career with the Merchant Navy from 1944 to 1990 and spent time on a range of ships including the SS Mangana. On ANZAC Day 2018 Fred was presented with 4 medals of war service from Cumberland Council Mayor Greg Cummings.
Download the transcript of Fred Walker's interview
Listen to tape 1
Listen to tape 2
More stories
You may also enjoy a new book called The Prospect and Sherwood Soldier's Memorial, which has been released by the Holroyd Local History Research Group.
It will be made available in Cumberland libraries or for purchase from the Holroyd Local History Research Group.
The book includes stories of the 51 local service men whose names are inscribed on the World War I memorial in Remembrance Park, Merrylands.