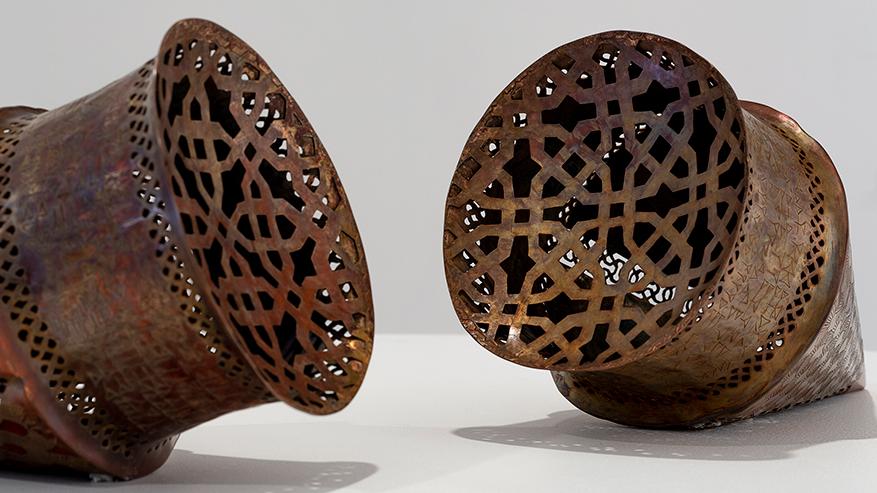 Details
Exhibition: Destiny Disrupted curated by Nur Shkembi
When: 10 February to 1 May 2022
Where: Granville Centre Art Gallery, 1 Memorial Drive, Granville NSW, Australia
Participating Artists
Abdul Abdullah (NSW), Abdul-Rahman Abdullah (WA), Hoda Afshar (VIC), Safdar Ahmed (NSW), Elyas Alavi (SA), Khadim Ali (NSW), Phillip George (NSW), Khaled Sabsabi (NSW), Omar J Sakr (NSW), Shireen Taweel (NSW), Hossein and Nassiem Valamanesh (SA and VIC).
"it is a commitment to see the history of art in conjunction with the history of humanity — a proposition that is humble, self-evident and audacious." i
~ Geeta Kapur
Destiny Disrupted ii holds within it the spirit of Kapur's words – in the artist we find the documentation of history, as well as the revolution and revelation of it folded into the cultural landscape through the material manifestation of the artist's practice. The role of the artist as witness, maker, agitator, disruptor and social agent readily occupies the space found at the intersection of art and humanity. In the act of such disruption, we find the innate desire to grapple with our destiny, an action which breaks open the possibilities of the future, and in doing so reinvigorates the importance of art and of artists themselves.
Nur Shkembi
---
i Geeta Kapur from a transcript of the keynote lecture 'Recursive narrative: ways of producing art history' held at Haus der Kunst, Münich, Germany 14th October, 2016. Published source. Accessed online 28th February, 2021.
ii The exhibition Destiny Disrupted, draws its title from a pivotal text titled Destiny Disrupted: A History of the World Through Islamic Eyes, written by Afghan American historian Tamim Ansary, published in 2010 by Little Brown publishers.