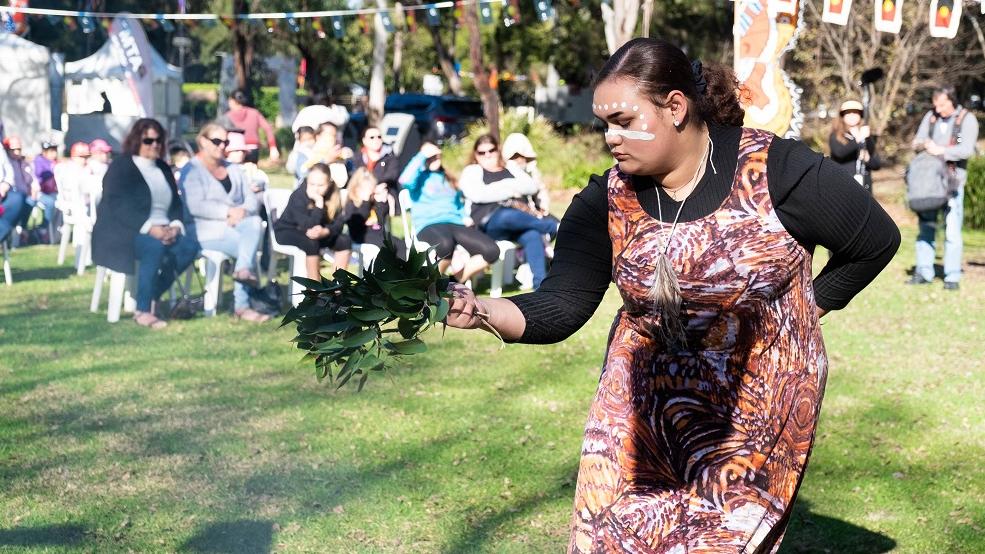 Sites include:
Auburn area
This region was used by Aboriginal people as a marketplace for the exchange of goods, a site for ritual battles and a 'Law Place' for ceremonies. Close to Auburn, visitors can see evidence of Aboriginal settlement in Millennium Park where 4 scar trees are preserved.
The Duck River
Following the arrival of Captain Arthur Phillip at Homebush Bay, a party explored the Parramatta River and a tributary upstream of it. At the start of the tributary, they landed on the shore near Clyde. Ducks appeared to be rising out of a swamp and the waterway was named Duck River. These were not ducks, however, but Eastern Swamp Hens.
Prospect Hill
On 3 May 1805, a group of Aboriginal women and a young free settler, John Kennedy, arranged a reconciliation meeting on Prospect Hill. This involved Darug Aboriginal leaders and European settlers headed by Rev John Marsden. It was the first recorded act of reconciliation between Aboriginal people and Europeans in Australia and it ended the ongoing conflict in Parramatta and Prospect.
Prospect Creek
Prospect Creek was a traditional travel route connecting the Darug and D'harawal people. The creek now forms the border between Cumberland and Fairfield City Council.
In 2005 a series of interpretive Indigenous artworks was installed along the banks of Prospect Creek. The project consisted of 4 sets of artworks and path markers, showing the flora and fauna of Prospect Creek, as seen by the Darug.
4 stories along the creek tell of:
Yandel'ora – the Ravens and the Crows, created by Jean and Jon South
Mananga The Eagle Warrior, created by Clive and Jason Groves
Dahl'wah – The Casuarinas, created by Clive and Jason Groves
The Sisters Boo'kerrikin - The Story of the Local Wattles, created by Joe Hurst
Pemulwuy
The Pemulwuy suburb was created in 2004 on the historic Prospect Hill. It is named in honour of the Bidjigal clan leader who fought against the European colonists for his people's right to live on their land. The suburb name was nominated by the Aboriginal and Torres Strait Islander Consultative Committee of the former Holroyd City Council.
Pemulwuy carried out a guerrilla war against the European settlers from 1790 to his death in 1802.
After atrocities carried out by John McIntyre (Governor Phillip's gamekeeper) against the Bidjigal people, Pemulwuy attacked McIntyre with a death spear on 9 December 1790. McIntyre confessed his crime to Watkin Tench and died 3 days later.
In March 1797, Pemulwuy led 100 warriors on a raid causing the third settlement of Toongabbie to be evacuated. This concluded with the Battle of Parramatta, in which Pemulwuy was shot 7 times and captured. He later escaped and continued the war until his death in June 1802. His son Tedbury continued the struggle for their country.
It is believed that Pemulwuy used Marrong (Prospect Hill) in his struggle, as it is the highest point in the Sydney Basin.
Ritual Conflicts and Corroborees near Old Prospect Road
It became common for Aboriginals to re-enact specific conflicts during rituals, for up to 45 years after settlement. These were recorded by Reverend James Hassell in 1833 and reflected conflict records from 1790s. These rituals were conducted near Old Prospect Road.
Granville and Merrylands areas
Two important Aboriginal sites can be found in Union Street, Granville, and Carhullen Street Merrylands. Evidence at these sites identify the areas as 'Paiendra', meaning members of the inland culture who specialised in hunting possum. The evidence suggests that these Darug members had links with the Dharawal and Gundungurra tribes of the south and south-west.
Suburbs and Street Names
Council is recognising its Aboriginal past by using Darug and D'harawal names for streets and parks.
Many streets in Pemulwuy are named in Darug, including Butu Wargun Drive (meaning Black Crow: Clan Leader, Pemulwuy's Totem). Others are named after early Europeans, including Watkin Tench Parade - one of the first Europeans to climb Prospect Hill.
Some suburbs with Aboriginal origins were named in the early twentieth century after Indigenous words, including Toongabbie, Girraween, and Yennora.