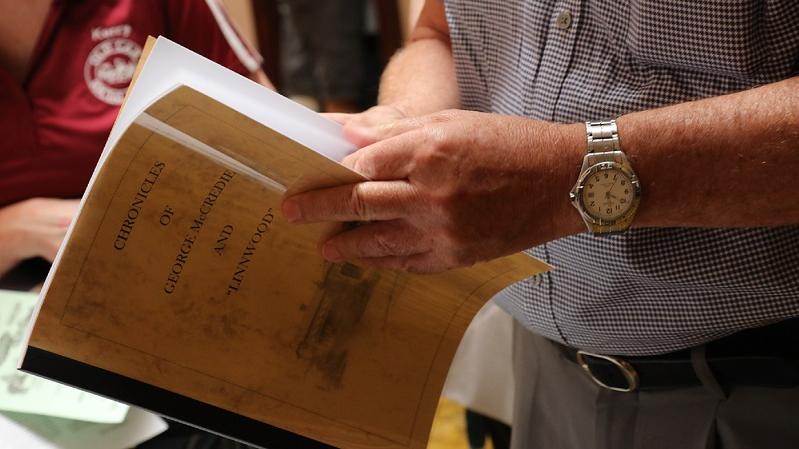 Local history collections
A summary of Cumberland City Library Service's Local History Collection can be viewed in Local History Resources for Cumberland City Council Area.
At Auburn Library, you'll find a vast range of historic government documents, files, reports, and newspapers for the local area. You can also access Auburn Triennial Reports and photos from this page. Additional photos can be seen at the Tony Maston Room in the Merrylands library. 
Some historical information is only available within the library, however, some items can be copied for research purposes on request.
Available to view at Auburn Library
Newspapers
The Auburn & Lidcombe Advance (1925 to 1939)
Auburn & District News (1929)
The News (1945 to 1975)
The Auburn Review (1960 to present)
Auburn News (1975 to 1976)
Council documents
Publications
Local Histories, including schools and churches
Heritage Reports
Environmental Studies
Development Records
Triennial Reports
Download digitised reports from Auburn and Lidcombe Councils:
Available to view at Merrylands Library
Tony Maston Room
Tony Maston (1911 to 2006) was a long-time resident and keen photographer who photographed much of Holroyd's history since 1929 – along with neighbouring suburbs.
The room is located on Level 3 of the Merrylands library next to the Public Computer Centre. It contains information on CDs, Microfilm and Microfiche to help research family history.
Learn more about the Tony Maston Room. [link to Tony Maston Room page]
View over 300 of Tony's photos on the Library's Flickr page
Oral History Project
Hear what the region used to be like from those who lived here. The Cumberland Oral History Project provides digital recordings of older locals telling their stories.
Available for listening to in the Tony Maston Room
Interview logs are summarised and itemised in a dedicated folder
Interviews involved local residents, community workers, business people, students and volunteers discussing lifestyle, structures and the natural environment of the past
Interviews were recorded on audio tape by the Cumberland Senior Citizens Week Committee in conjunction with Merrylands Community Health Centre, between 1990 and 1992
Tapes were digitised in 2007
Recordings are unavailable outside the library building
Add to our history
Cumberland Council is expanding its Oral History collection and is looking for contributions from residents, business owners, workers or volunteers from the region, past and present.
If you would like to describe what the suburbs, homes, schools, businesses, transport and people were like in the area, please contact Council to contribute to this project.
For more information about Oral History Project, or to take part in an interview, please contact Council's Local Studies Librarian on 02 8757 9375.