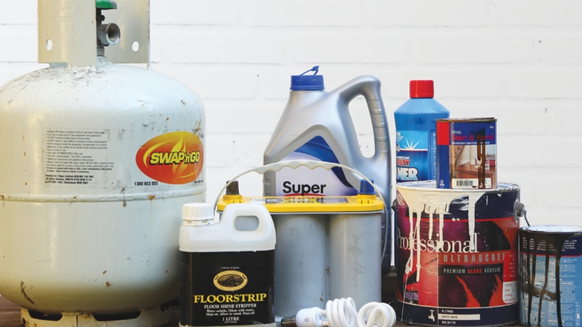 The safe way to dispose of potentially hazardous household chemicals is at a Household Chemical CleanOut event. These events are free services held across NSW on specified dates. Use CleanOut to safely dispose of household chemicals that could cause harm to human health and the environment if not disposed of correctly.
What can I take to a Household Chemical CleanOut event?
You can take household quantities of the following household chemicals and items – up to a maximum of 20 litres or 20 kilograms of a single item.
Solvents and household cleaners
Floor care products
Ammonia-based cleaners
Pesticides and herbicides
Poisons
Pool chemicals
Hobby chemicals
Motor fuels
Fluorescent globes and tubes
Acids and alkalis
Smoke detectors
Paint and paint-related products
Gas bottles
Fire extinguishers
Car and household batteries
Motor oils and cooking oils
Disposal of business related and commercial quantities
Business-related and commercial quantities of chemicals are not accepted. Please inquire with a commercial waste operator or visit business recycling for commercial waste disposal.
Find your nearest recycling centre
Find your nearest Community Recycling Centre or upcoming Chemical CleanOut events where you can drop off household problem waste for free.