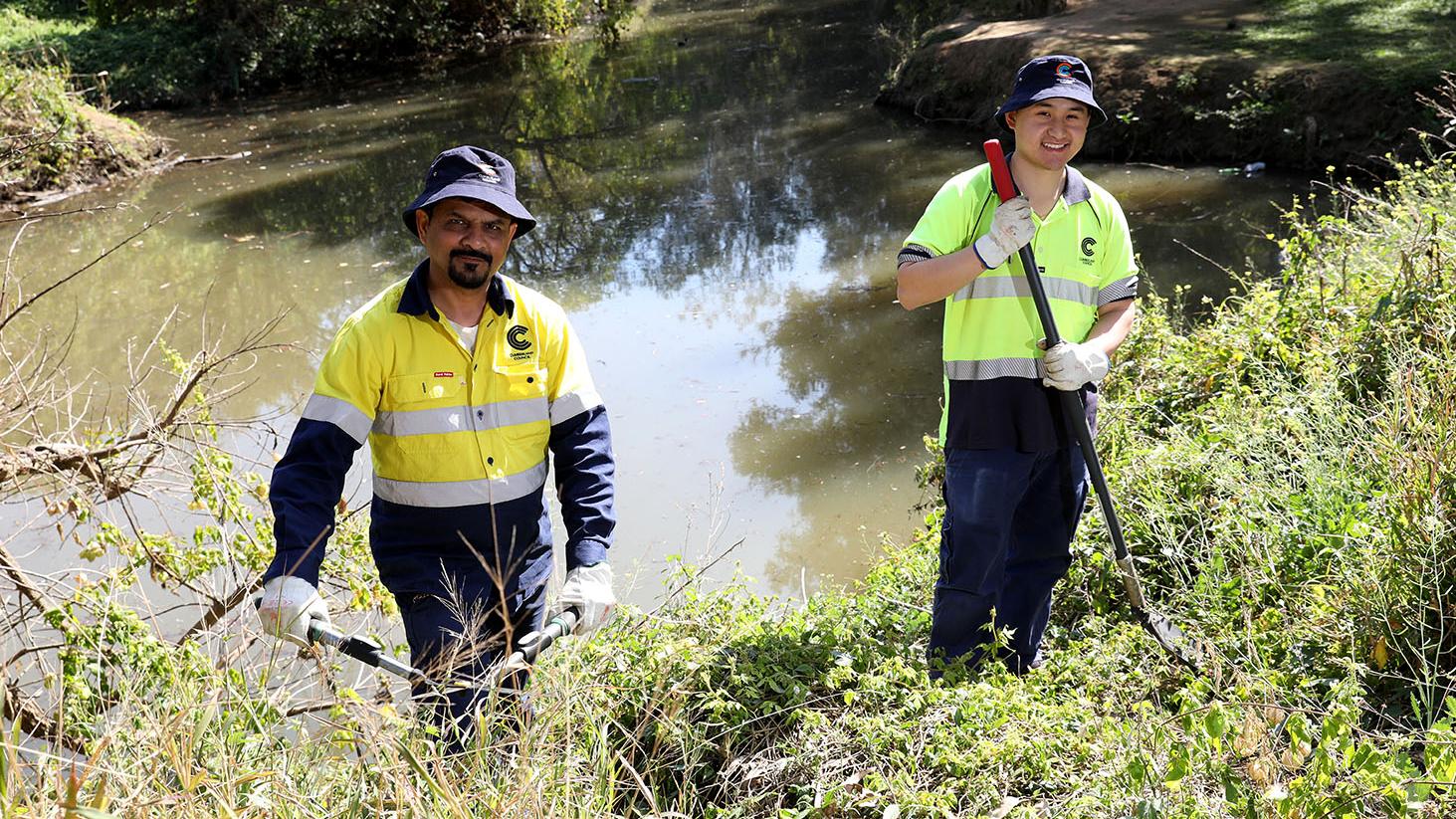 How Cumberland is reducing energy and water use
Reducing energy and water use across the Local Government Area helps the environment and cuts costs for residents and businesses.
How Council is saving water and energy
Installing solar power systems across many of its facilities
Participating in the Light Years Ahead project – which is replacing approximately 13,000 high emission mercury vapour street lights with low emission LED or equivalent lights
The installation of energy efficient lighting and HVAC in Council administration buildings, childcare centres, libraries, community centres and CBD car parks
The replacement of car park lighting with over 500 LED lights with motion sensors, resulting in a reduction in energy usage of 60%
The installation of 21 energy efficient hot water systems (solar and heat pump) across 12 park amenities blocks, youth centres, community centres, function centres and administration buildings
The installation of 100kW of solar panel systems on youth centres, libraries, function centres, children's centres and community centres
The replacement of 940 old mercury vapour streetlights with energy efficient LEDs
The establishment of an internal innovation and efficiency team to steer projects and investigate opportunities
Energy Savings Action Plan
In 2018, Council undertook a comprehensive review of its energy use at 12 of its key facilities.
The purpose of the Energy Savings Action Plan 2018-2022 is to find opportunities for energy savings at the selected sites and facilities.
This plan identifies energy costs and consumption, provides details of energy use patterns and includes findings and energy saving recommendations for key Council sites.
Where energy is used in the home
Using energy at home and how much a household consumes depends on many different factors.
How many people live in the household and the appliances they use
Whether the home uses electricity, gas or renewables
The energy efficiency of appliances
The energy efficiency of the building In general, most homes energy usage is split into 5 main categories.
In general, most homes energy usage is split into 5 main categories*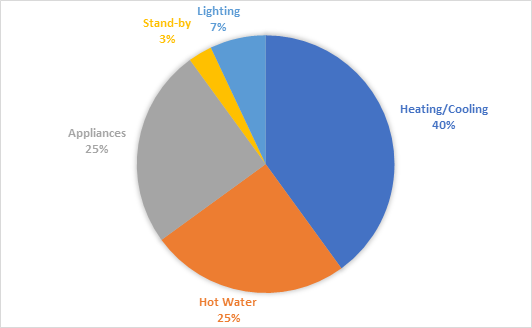 *Source: Energy Made Easy Website, accessed 25 February 2021,<https://www.energymadeeasy.gov.au/>
Tips to reduce energy consumption costs at home
Install Insulation in your roof, and walls
Seal gaps and cracks around windows and doors and use draft excluders (door snakes)
Use fans before air conditioning. Fans only cost 2 cents per hour to run
Use fans to circulate hot air (try using ceiling fans in reserve airflow setting)
Heating – gas is no longer the cheapest option you may be able to save by switching to reserve cycle air conditioning
Air conditioning split systems are the cheapest systems to run
Replace air conditioning system that are older than 7 years to newer more efficient models – look for energy rating
Turn appliances off at the power or use a power board with a power off switch that can turn off multiple appliance at once
Switch to energy efficient lighting as such LEDs
Find out more visit:
Energy plans and shopping around for the best deal
Shop around for the best deal, it's easy to switch and could save you hundreds of dollars
---
Service NSW: Cost of living program
This program can help you save on your electricity bills and find out if you are entitled to any current household rebates
Visit https://energyswitch.service.nsw.gov.au/ or for a one on one appointment phone 13 77 88
Service centres, Blacktown, Auburn, Castle Hill, Parramatta
---
Online comparison site
Visit https://www.energymadeeasy.gov.au/ to find and compare electricity and gas plans
---
Energy Offer to Residents and Local Small Businesses
Cumberland City Council understands that the cost of electricity in these challenging times is a burden on us all. We are determined to help the community manage the cost of that burden on you and your families as residents by assisting you to obtain a competitive energy plan.
Visit https://www.tangoenergy.com/ to compare competitive energy plans.
Water Management
When Sydney region experiences long dry periods, everyone needs to reduce water consumption to make sure there is enough water to go around.
In general, gardens account for the largest proportion of water use. By planting drought-proof plants native to the Cumberland area, and drought tolerant grasses, you can greatly reduce your garden's water consumption.
Learn how to be water wise in your house at Sydney Water.
Water Savings Action Plan
Cumberland City Council's Water Efficiency Plan aims to improve water efficiency across Council's facilities and assets. The Plan reviews water usage at key sites and looks at more opportunities to reduce water consumption.
How to reduce water use at home
Discover what greywater is and how you can use it in your home.
Turn off the tap while cleaning teeth, shaving or peeling vegetables.
Take shorter showers.
Make sure you have a full load before you put on the washing machine or dishwasher.
Use water-saving devices (such as aerators) that attach to taps. These are available at hardware stores.
Reduce the water used by the toilet: Place a brick or toilet flusher saver (available at hardware stores) inside the toilet cistern.
Water early in the morning or late in the afternoon. If you water in the middle of the day the sun will evaporate most of the water before the plants receive it.
Water near the roots of plants, for longer and less often.
Mulch around your plants to prevent moisture loss, with pebbles, woodchips or grass clippings.
Install a rainwater tank so this can be used to flush your toilet and water your garden.
Further information
For more information contact Council on 02 8757 9000.