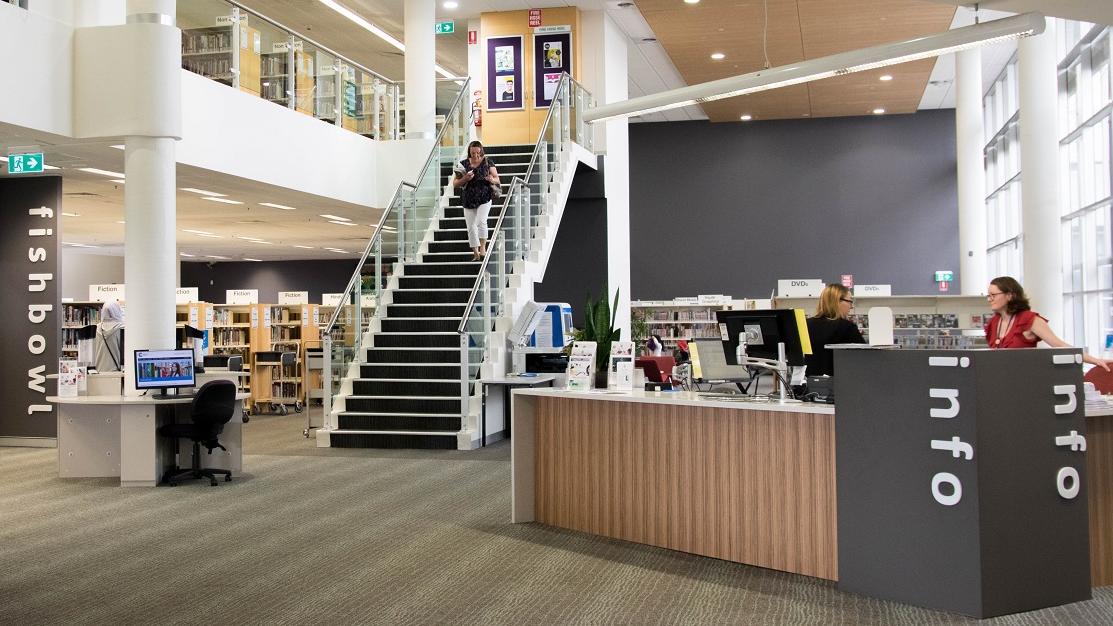 Joining your local Cumberland City Council Library is free. You can also take out temporary membership online and enjoy interactive Library services. Many items and material can be searched for and booked online using the Library Catalogue.
Using the Library
How to join
By joining Cumberland City Council Library Service online, you'll be given a temporary membership with immediate access to our online resources and reservations. You can also request up to 10 items. Conditions apply.
Simply complete the Join Online on the Library Catalogue
All fields must be completed.
This temporary membership will expire in 90 days.
For full library privileges, visit a branch of Cumberland Library Service to confirm your identity.
When applying:
Membership applications must be signed by a parent or guardian if the applicant is under 16.
Registrations for minors (under 18 years) must also provide a Medicare card or proof of family relationship
ONE current form of identification must be supplied that shows your full name and residential address. This can include:
Driver's Licence
Current Health Care Card
Rates notice
Telephone, electricity, or gas bill less than 3 months old
Bank statement less than 3 months old
Rental agreement less than 3 months old
Government agency letter
Library staff may ask for variations of identification as required.
Conditions of membership:
Membership of the Library is free (except for the Toy Library) and available to anyone living, working or studying within the Sydney metropolitan area
The Library will send reminder, overdue and reservation notices to you via post, email or SMS.
Library membership will be considered inactive if not used for 2 years.
Membership applications must be signed by a parent or guardian if applicant is under 18.
Parents/guardians agree to monitor young people's selection and use of Library resources, including print, audio-visual, and the Internet
Library staff do not provide supervision for any children in the Library
If children are left unattended the relevant authorities will be notified
As a Library member I agreed to:
Pay any charges that apply if library material is lost or returned damaged
Abide by all Cumberland City Council guidelines, procedures and policies. I agree to abide by the Library Act (1939) and Library Regulation 2010.
Abide by Copyright Laws when accessing Library materials and equipment.
Ensure that the information given on the application form is correct and that I will inform the Library if my details change. I will provide the required identification.
Abide by the Library Customer Code of Conduct, and understand that repeated or serious breaches of the code may result in suspension of my membership and/or legal action.
Take full responsibility for all activity on my library card, and agree to immediately report if my card is lost or stolen.
Cumberland Council Privacy Note:
Information provided to Council in correspondence, submissions or requests, including your personal information, may be made publicly available, including on Council's website, under the GIPA Act. Please notify us if you object to the disclosure of your personal information.
You may make an application for access or amendments to your personal information held by Council under the Privacy and Personal Information Protection Act 1998 (PPIP Act) or the Government Information (Public Access) Act 2009 (GIPA Act). You may also make a request that Council suppress your personal information from a public register. Council will consider any such application in accordance with the PPIP Act.
Online access
To access our online services and your account, use your Library card as your log in ID. Your password is your date of birth entered as YYMMDD.
Using the Library Catalogue
With the Library Service online Catalogue, you'll find a wide range of Library resources:
What is available in our Libraries
Place items on hold
Renew items
Request or reserve items, including through Inter-Library Loans
Access online resources, such as e-books and audiobooks
Discover suggested reading lists, including recommended children's books and the latest best-sellers
Requesting and reserving items
You can request an item to be 'held' using the Library's Catalogue. Any items not currently available at the Library can be requested as an Inter-Library Loan or you can recommend that we add it to our collection.
Inter-Library loans (ILL)
Inter-Library loans allow you to have items transferred from other libraries if your library doesn't stock it.
Need to be submitted online using the Inter-Library Loan Request module on the Library Catalogue or by talking to Library staff at one of the Library's service points.
Inter-Library Loan items usually arrive within 3 to 5 weeks. Hard to locate or rare items may take longer.
The library may attempt to purchase newer (less than 2 years old) or 'high-demand' items rather than placing an Inter-Library Loan request.
The library may be unable to complete requests for microfiche, serials, reference works and rare items.
Loan period is 3 weeks, with one renewal permitted subject to approval from the lending library.
You can have up to 5 Inter-Library Loan items on your library card at a time.
Renewals can be done by the customer in person at any library service point or by phoning one of the library branches.
A $5.30 fee is charged for each item request if you are not a Cumberland City Council resident. Charges may apply to items acquired from institutions outside the NSW public library network.
We will inform you of any applicable charges before placing a request
Recommend to purchase
If you would like to suggest an addition to your library's collection, complete the online suggestions form. If the item is purchased for the collection*it will be placed on hold for you.
* The library will only consider purchasing items that fall within the Library's Collection Development Guidelines.
Books in your language
Cumberland City Council Libraries support local multicultural communities by providing collections in languages other than English.
Our Libraries are stocked with 9 community languages, which include:
Arabic
Chinese
Gujarati
Hindi
Korean
Persian
Tamil
Turkish; and
Vietnamese
We can also request books in 43 languages from the State Library of NSW. This is a free service - contact your local library for more information.
Home Library Service
Cumberland City Council Library Service offers a warm, friendly and free Home Library Service to residents of the Cumberland area who are unable to personally visit the library and borrow items for themselves, either by reason of age, illness or disability.
Lost, stolen or damaged items
You will need to pay the replacement fee for any lost, stolen or damaged items that you have borrowed.
Loan conditions and how many items you can borrow
All items, except Toy Library items, can be borrowed for 3 weeks.
The following collections have lending limits:
10 State Library items per card
10 magazines per card
Toys as per subscription
You are allowed to have 10 items on hold per card. Items will be held at your selected branch for 7 days.
---
Library eNews
Receive information on the latest news, events and activities delivered straight to your inbox Sign up to Library eNews