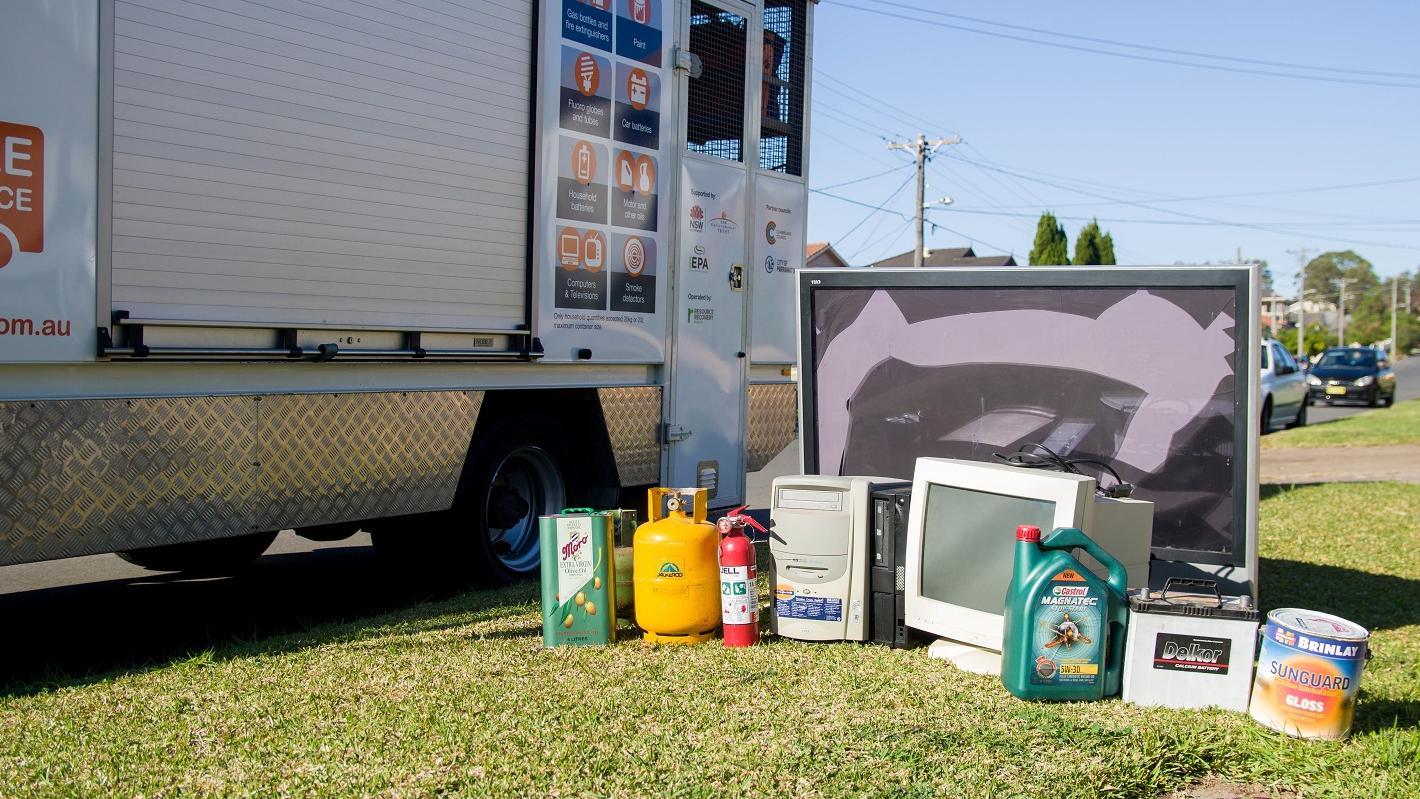 Hazardous waste can badly damage the environment if not disposed of properly
To prevent chemicals from poisoning local soil and waterways, Council encourages you to use the Mobile Community Recycling Service.
The Mobile Community Recycling Service collects:
Motor oils and cooking oils
Large batteries, such as car and motorbike
Household batteries
Paint
Mobile phones
BBQ gas bottles and fire extinguishers
Fluoro light globes and tubes
Smoke detectors
Electronic waste, known as E-waste, such as computers, TVs, DVD players, microwaves
No asbestos (in any form) will be collected with this service. For advice on asbestos, contact Council on 02 8757 9000.
Mobile Community Recycling Service
The Mobile Community Recycling Service is run by Cumberland City Council, Parramatta Council, and the Environment Protection Authority (EPA).
Book a pick up online, or call Cumberland City Council on 02 8757 9000.
Things you need to know
Please keep e-waste items to a minimum of 5 items per pick up
All together, the items must NOT exceed 45kg
Delete all personal information from any computers, laptops, tablets or phones
E-waste items that can NOT be collected include:

Rear projection TV's
Large white goods – fridges, washing machines, dryers and freezers
CDs, DVDs and video cassettes

Please keep e-waste items to a minimum of 5 items per pick up
No asbestos is allowed. For more details about how to dispose of Asbestos properly, visit Asbestos Answers
Find out more
For more information about Council Waste Collection services phone 02 8757 9000 or read about Council's Waste and Resource Recovery Strategy 2018 to 2023
Disclaimer
The online materials provided by Cumberland City Council are intended for general information purposes only. Council does not warrant or make any claim regarding the accuracy, completeness or authenticity of the Material. Any person using or relying upon the Material does so on the basis that Council shall bear no responsibility for any errors, faults, defects or omissions in the Material. Council will not accept liability for any loss or damage directly or indirectly suffered as a result of any use of, or reliance upon, the Material.