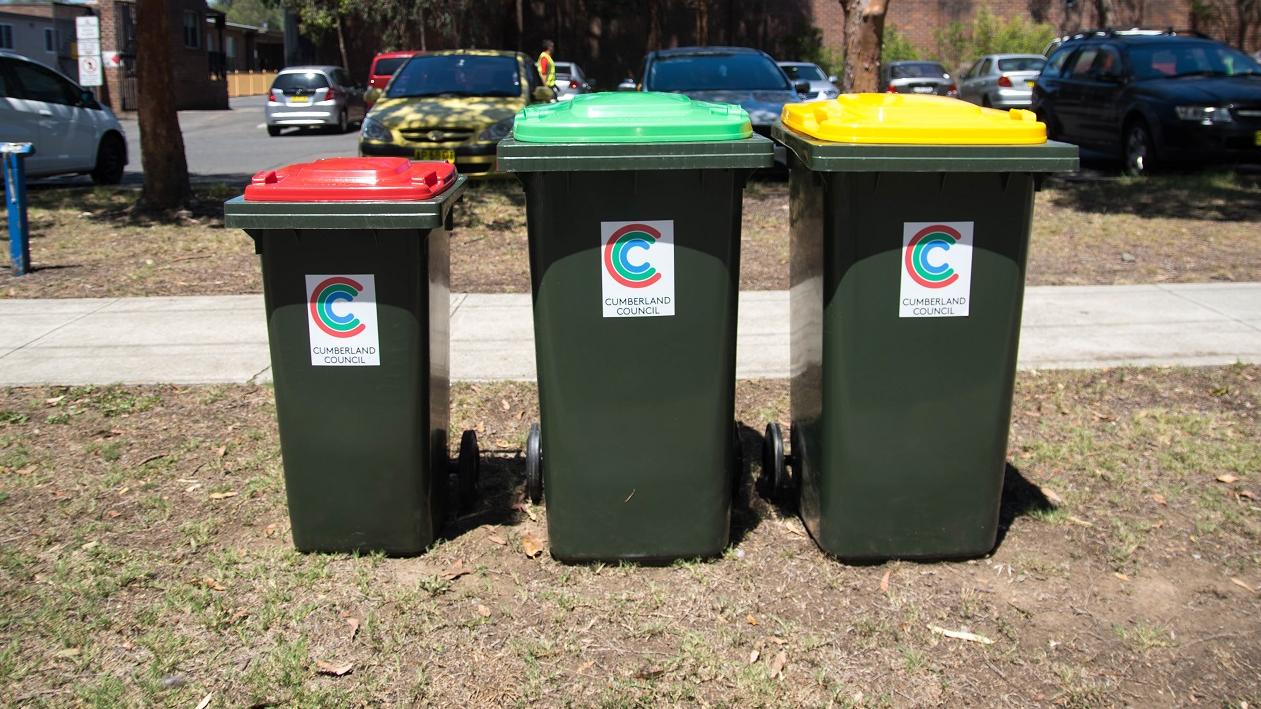 Find out when your bins will be emptied
Use the map tool to locate collection days in your suburb and learn what does and does not belong in your bins.
If you live in a unit or apartment, please phone Council on 02 8757 9000.
If you live in a house, or a townhouse, find your bin days by entering your address into our Bin Day Map Tool.
Bin Day Map Tool
You will need to search for each bin type separately:
What to put in my bin
Your red garbage bin is for general waste and is used for small, everyday household items that are broken or need to be thrown away. Please throw away as little as possible.
Your yellow recycling bin is for glass, plastic and metal containers from the kitchen, bathroom and laundry. Please make sure these are empty. If in doubt, leave it out.
Your green garden bin is for grass clippings, leaves, twigs and small branches. Not for food waste.
Things you should know
How to use bin maps
Enter your address into the top left hand corner of the map tool and select from the drop down addresses supplied.
Match the colour of your area to the dots on the right hand side of the map tool.
Friday
Monday
Thursday
Tuesday
Wednesday
Download yellow and green bin calendars
The calendar for your yellow and green bin days can be downloaded after you have entered your address into the Map Tool.
Look for the link in the Map Tool on the left-hand side underneath where you entered your address.
Early collection
We recommend putting your red garbage bin, yellow recycling bin and green garden bin out the night before collection days.
Ensure bins get emptied
Make sure the lids shut easily and your bins are placed on the kerbside.
Their fronts must be facing the road. If the bins are overfull or in the wrong place, they may not be emptied.
Order a new or additional bin
To request a new bin service for a new property or an additional service please download, complete and return the following form to Council.
Additional information
Bin stickers, posters and flyers
You can order bin lid stickers and flyers from Council to help with recycling and waste management at home.
If you live in a unit and would like some brochures to help residents with recycling, and other waste management issues, call our Resource Recovery Team on 02 8757 9000.
The cost of waste removal
If you own your property, you will notice a Domestic Waste Charge (DWC) listed on your rates notice from Council. It covers:
waste and recycling collection
general clean up collections
treatment and disposal of waste
How your waste is treated
Garbage
Once collected, your garbage goes to the Eastern Creek Resource Recovery Park
It then goes to UR-3R, an Alternative Waste Technology facility, for sorting and treating
Only waste that decomposes safely goes to landfill
Waste that does not decompose easily gets special treatment and is disposed of properly
Recycling:
Once collected, items in your recycling bin go to VISY's Material Recycling Facility in Smithfield. They are separated into categories and go to different facilities for reprocessing and to be sold.
Garden waste
Once collected, your garden waste goes to the Suez Organics Facility at Eastern Creek and turned into compost.
Interesting local statistics for 2017 to 2018
46 tonnes of asbestos was removed from 136 households
50 tonnes of problem and hazardous waste was collected
19,875 household collections were provided
65,489 tonnes of garbage was collected
5,678 tonnes of clean up waste was collected
1,605 tonnes of specialised waste was dropped off or collected
750 residents joined community waste workshops
Find out more
For more information about Council Waste Collection services phone 02 8757 9000 or read about Council's Waste and Resource Recovery Strategy 2018 to 2023
Disclaimer
The online materials provided by Cumberland City Council are intended for general information purposes only. Council does not warrant or make any claim regarding the accuracy, completeness or authenticity of the Material. Any person using or relying upon the Material does so on the basis that Council shall bear no responsibility for any errors, faults, defects or omissions in the Material. Council will not accept liability for any loss or damage directly or indirectly suffered as a result of any use of, or reliance upon, the Material.