Message from Mayor Lake
---
Draft Operational Plan and Draft Fees and Charges 2023-2024
Council's Draft Operational Plan 2023-2024 and Draft Fees and Charges 2023-2024 are now on public exhibition. These documents outline Council's projects and programs to be undertaken over the next 12 months, as well as details of the annual budget, capital works, rates, and fees and charges. I encourage you to review these documents and give your valuable feedback. To have your say visit, https://haveyoursay.cumberland.nsw.gov.au/operational-plan-2023
Car and Property Theft
A reminder to all residents to be vigilant when parking and leaving your car. There are a few precautions that you can take to secure your car and prevent car theft and the stealing of property, from your car. Be aware of your surroundings when parking your car, ensure that your car is parked in a safe location, is locked properly and always take your valuable belongings with you. It is important to report any suspicious activity or incidents to the Police.
National Simultaneous Storytime
To celebrate National Simultaneous Storytime 2023, Council will be hosting a special Storytime and activities at the Auburn Centre for Community Friendship Garden for children aged 0-5 years and their families on Wednesday 24 May. Paint Cumberland REaD's Poppy the Possum will be at the reading of this year's book 'The Speedy Sloth' by Rebecca Young and Heath McKenzie. National Simultaneous Storytime promotes literacy and togetherness by encouraging children all over the country to read books at the same time. Bookings are not required, for more information visit, www.cumberland.nsw.gov.au/national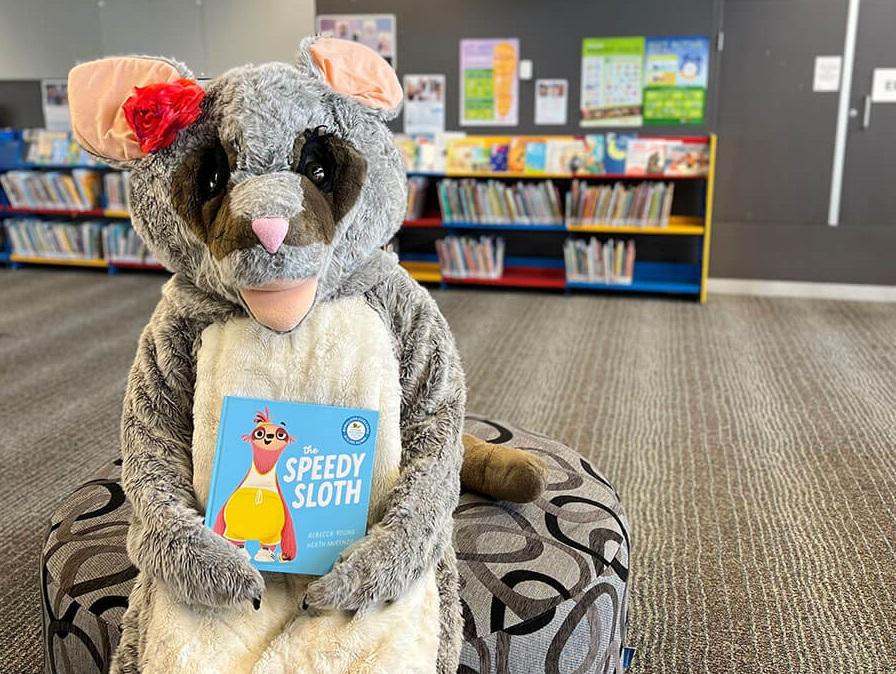 National Volunteer Week
This week, Council is recognising the vital work of our volunteers during National Volunteer Week. Held from 15 - 21 May 2023, it is an important time to recognise the work of those who volunteer their time and contribute to our community. If you are interested in becoming a volunteer visit, www.cumberland.nsw.gov.au/volunteer-week
Your Rates at Work
---
Compostable Dog Dropping Bags
Crews have installed new compostable dog dropping bags at all of Council's off-leash dog parks within the Local Government Area, these locations include:
Coleman Park, Berala
Dirrabari Reserve, Pemulwuy
Gardenia Parade Park, Greystanes (also known as Percival Road Dog Park)
Little Duck Creek Reserve, Guildford
Hampden Road Reserve, South Wentworthville
Scout Memorial Park, Granville
Webbs Avenue Playing Fields, Auburn
Ringrose Oval, Wentworthville
Wyatt Park, Lidcombe
---
Let us know of any issues in your area by using the Snap Send Solve mobile app which can be found on Council's website: www.cumberland.nsw.gov.au/snapsendsolve
Children's Clothing and Toy Swap
---
Back by popular demand. Exchange clothes and toys your child has outgrown, for something more fitting. All clothes and toys must be clean and in good condition.
Tuesday 6 June from 10am to 11:30am
Grevillea Room, Wentworthville Community Centre 2 Lane Street, Wentworthville
Registrations essential
Register now or find out more information: www.cumberland.nsw.gov.au/swap-meet
Learn to Swim
---
t's never too late to learn to swim! Council's swim centres run weekly swimming classes and enrolments are open throughout the year. Granville and Guildford Swim Centres as well as the Auburn Ruth Everuss Aquatic Centre in Lidcombe are open all year round.
---
To sign up or to find out more information visit: www.cumberland.nsw.gov.au/swimming-pools
2023 Sydney Cherry Blossom Festival Stallholder EOI
---
Sydney's most Instagrammable and favourite flower festival is returning to the Auburn Botanic Gardens this August.
Council is inviting food vendors who specialise in Japanese food or Japanese influenced food, and retail vendors to join the 2023 stallholder line up.
Applications close: Sunday 4 June 2023
---
To apply or to find out more information visit: cherryblossomfestival.sydney