Message from Mayor Lake
---
The Voice Referendum
On Saturday 14 October, Australians are going to be asked in a referendum whether Australia's Constitution should be altered, in recognition of Aboriginal and Torres Strait Islander people as the first peoples of Australia. It is proposed that a body called The Aboriginal and Torres Strait Islander Voice be established which may then make representations to the Federal Parliament and Government on matters relating to them. In December last year, Council resolved to support this very practical and simple call because after 60,000 years of continuous culture, it's time that our first people were recognised in Australia's Constitution. This is an important historical moment for Australia, and I encourage you to join with Council in supporting this meaningful change. For more information about the Voice to Parliament, visit www.voice.gov.au
44th Holroyd Community Prayer Dinner
Last week, I had the pleasure of attending the 44th Holroyd Community Prayer Dinner at Merrylands RSL Club, hosted annually by Holroyd Combined Churches. The event brought together community and church leaders as well as residents to pray for the community. We also heard Pastor Sam Abalo share his story and the journey he took when coming to Australia from Ghana. Since its introduction in 1978, the Holroyd Community Prayer Dinner has seen over 5,000 residents, clergy, politicians and members of Council come together to listen to many prominent speakers deliver the Christian message and how it relates to their experience in public life.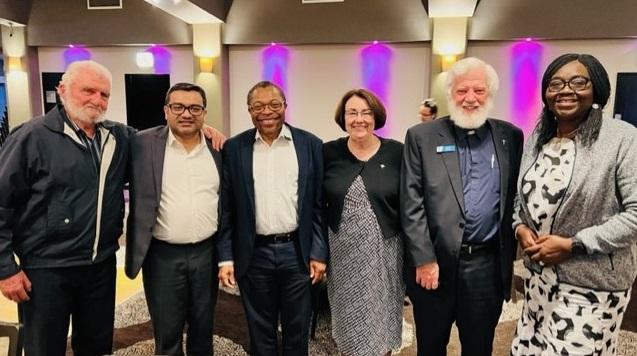 Western Sydney Malayalee Association Onam Celebration
I recently attended the Western Sydney Malayalee Association (WeSMA) Onam Celebration, held at the Redgum Function Centre in Wentworthville. The event featured many traditional performances, music and entertainment that represented the Malayalam culture. On the night, WeSMA also celebrated its 15th anniversary. Onam marks the first month of the Malayalam calendar, Chingam, and commemorates the appearance of Vamana, the avatar of Vishnu and the subsequent homecoming of the legendary King Mahabali. Thank you to WeSMA for inviting me to be part of this important celebration.
Your Rates at Work
---
Pemulwuy Community Garden
Council has recently completed the construction of Pemulwuy Community Garden ahead of its opening on Saturday 28 October 2023. Once open, the garden will provide a space for the community to care for their own garden beds and more opportunities to connect with other locals.
Open Space Works
Council has also begun to prepare local sporting fields ahead of the upcoming Spring sport finals which will be taking place in the coming weeks.
---
Let us know of any issues in your area by using the Snap Send Solve mobile app which can be found on Council's website: www.cumberland.nsw.gov.au/snapsendsolve
Have Your Say
---
Duck River Parklets
Council is seeking community feedback, ideas and thoughts on concept plans for two new parklets located at the end of Seventh Street and Mimosa Street in Granville.
Submissions close: Monday 18 September
Duck River Active Transport Link
Council has prepared concept plans to extend the Active Transport Link between Heath Street and Horlyck Reserve in Granville and is seeking community feedback.
Submissions close: Monday 18 September
Berala Spring Fair - You're Invited!
---
Thursday 28 September, 10:30am to 2pm
Berala Community Centre
98 Woodburn Road, Berala
Bring along your family and friends for a FREE day of community, activities, food and fun! For more information, visit: www.cumberland.nsw.gov.au/springfair
Great Granville Garden Show
---
The Great Granville Garden Show Exhibition is still open at The Granville Centre Art Gallery, located at 1 Memorial Drive in Granville.
Inspired by local history, this exhibition highlights connections to gardens including our local community gardens.
Visit the exhibition: 11am to 3pm, Wednesday to Saturday, until 11 November.