NRL Grand Final
Cumberland has been in footy fever following the NRL Grand Finals over the weekend. It was great to see the support for Parramatta around the LGA with businesses and residents getting into the spirit with blue and gold merchandise along our streets, buildings and offices, all for our great local team. The Eels have a long-standing connection to Cumberland with roots dating back to 1908 when Parramatta formed part of the Central Cumberland Club and the team participated in the first Sydney Rugby League Premiership season. At the time of printing this publication, it is not known who wins the 2022 Premiership but I would like to extend my congratulations to the Parramatta Eels. Both the mens and womens teams have made us proud and we look forward to celebrating with you over the course of this week.
New Deputy Mayor
Cumberland City Council is pleased to welcome a new Deputy Mayor to its chambers following an Ordinary Meeting of Council on Wednesday 28 September. Councillor Suman Saha has been elected as the new Cumberland City Council Deputy Mayor and takes over the position from Councillor Kun Huang who will remain a Councillor for the Regents Park Ward. The motion was actioned in accordance with section 231 (1) of the Local Government Act 1993 and the term is now in effect from 28 September 2022 to September 2023. Councillor Suman Saha is a Wentworthville Ward Councillor and has lived in the Cumberland area with his family since 2005. He was first elected as a Councillor in 2017 and since then has been working closely with many of our multicultural communities, especially our subcontinent groups. Congratulations to Deputy Mayor Saha, I look forward to working closely with you and seeing the work you do in our community.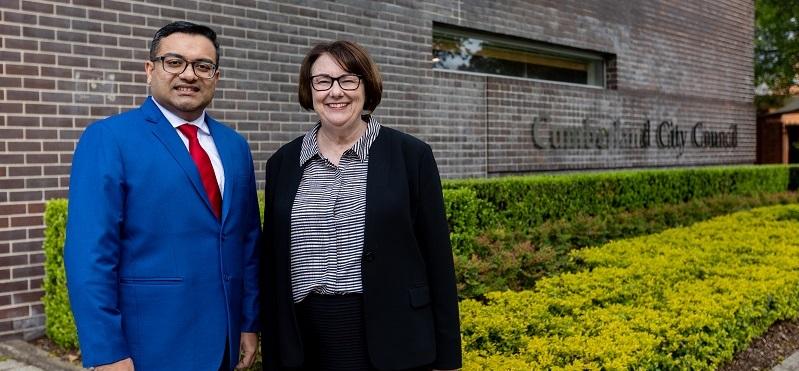 Police Remembrance Day
Last Thursday was Police Remembrance Day. Each year, on the 29 September, we pause to honour officers whose lives have been cut short while performing their duty as a police officer. This important day is also a time to remember police officers who have lost their lives through illness or other circumstances. I thank all police in Cumberland for their service.
Woodville Golf Course 7th Hole Upgrades
I was given the opportunity to tour the newly renovated 7th Hole at Woodville Golf Course. Works and upgrades on the course were made as part of the Capital Works Program that is run by Council. The upgrades, including new tee, green construction and drainage as well as an additional garden bed, provide new and returning players a chance to take advantage of the renovated course as they show off their golfing skills. For more information about this public Golf Course, visit our website www.cumberland.nsw.gov.au/woodville-public-golf-course
Mayor Lisa Lake
8757 9856 | Lisa.Lake@cumberland.nsw.gov.au
Calling all NDIS participants
---
We are rolling out the new October to January Program for Seniors & Disability Services (Lifestyle & Leisure Links Program), providing inclusive opportunities for people with disability to reach their goals and aspirations.
For more information, visit: www.cumberland.nsw.gov.au/lifestyle
FREE Motorcycle Rider Safety Workshop
---
New and experienced motorcycle riders are invited to join us for presentations and casual discussions on popular topics to help motorcyclists reduce risks and make every ride more enjoyable.
Thursday 6 October, 6pm to 8pm
Motorcycle Accessories Superstore,
321 Parramatta Road, Auburn
Free entry, bookings essential.
Book now or find out more:
Web: www.cumberland.nsw.gov.au/rider-workshop
Phone: 0438 163 926
Brought to you by Cumberland City Council in proud partnership with Motorcycle Accessories Superstore and Survive The Ride Association of NSW.
Have Your Say
---
Planning Proposal Request - 25 South Parade, Auburn
Give feedback on the early consultation to facilitate the future redevelopment of the site for additional land uses such as health services facilities, office and business premises and change height controls. Submit your feedback before Monday 17 October.
Walking and Cycling Strategy
Help us develop a strategy to make walking and cycling in our neighbourhoods safer, more enjoyable and convenient for all ages and abilities. Submit your feedback before: Tuesday 8 November
Find out more information visit: https://haveyoursay.cumberland.nsw.gov.au
Your Rates at Work
---
Council crews are continuing to respond to pothole requests and are marking out sections of road that require permanent heavy patching to be completed by contractors to ensure our roads are as safe as possible.
Recent works include heavy patching and resurfacing of over 60 square metres at Bridge Road and Toohey Avenue in Westmead.
Let us know of any issues in your area by using the Snap Send Solve mobile app which can be found on Council's website: www.cumberland.nsw.gov.au/snapsendsolve