Message from Mayor Lake
---
Council Welcomes Realignment of Boundaries for Police Area Commands in Greater Sydney
The NSW Police Force, in consultation with the NSW Police Association, has realigned the boundaries for four Greater Sydney Police Area Commands (PACs) to improve service delivery to the community. This means that changes are being implemented to the geographical boundaries of Cumberland PAC. This will assist with improving customer service through a faster and more efficient response to our community. Based on these changes, the Cumberland PAC will now cover a smaller geographical area, which will enhance the level of service for local residents and businesses by enabling officers to manage their workload, crime trends and community needs more effectively. To find out more about how these changes affect you or to find your local PAC visit www.police.nsw.gov.au/about_us/regions_commands_districts
Cumberland Local Heritage Awards
The Cumberland Local Heritage Awards ceremony was recently held at the Holroyd Centre in Merrylands. The awards celebrated the people and heritage of our local area. It also recognised those who demonstrated an interest in learning about local history and playing an active role in preserving and maintaining our heritage. Well done to all the winners on your efforts and contributions to the Cumberland Community. To find out more information about Cumberland Local Heritage Awards, visit www.cumberland.nsw.gov.au/cumberland-local-heritage-awards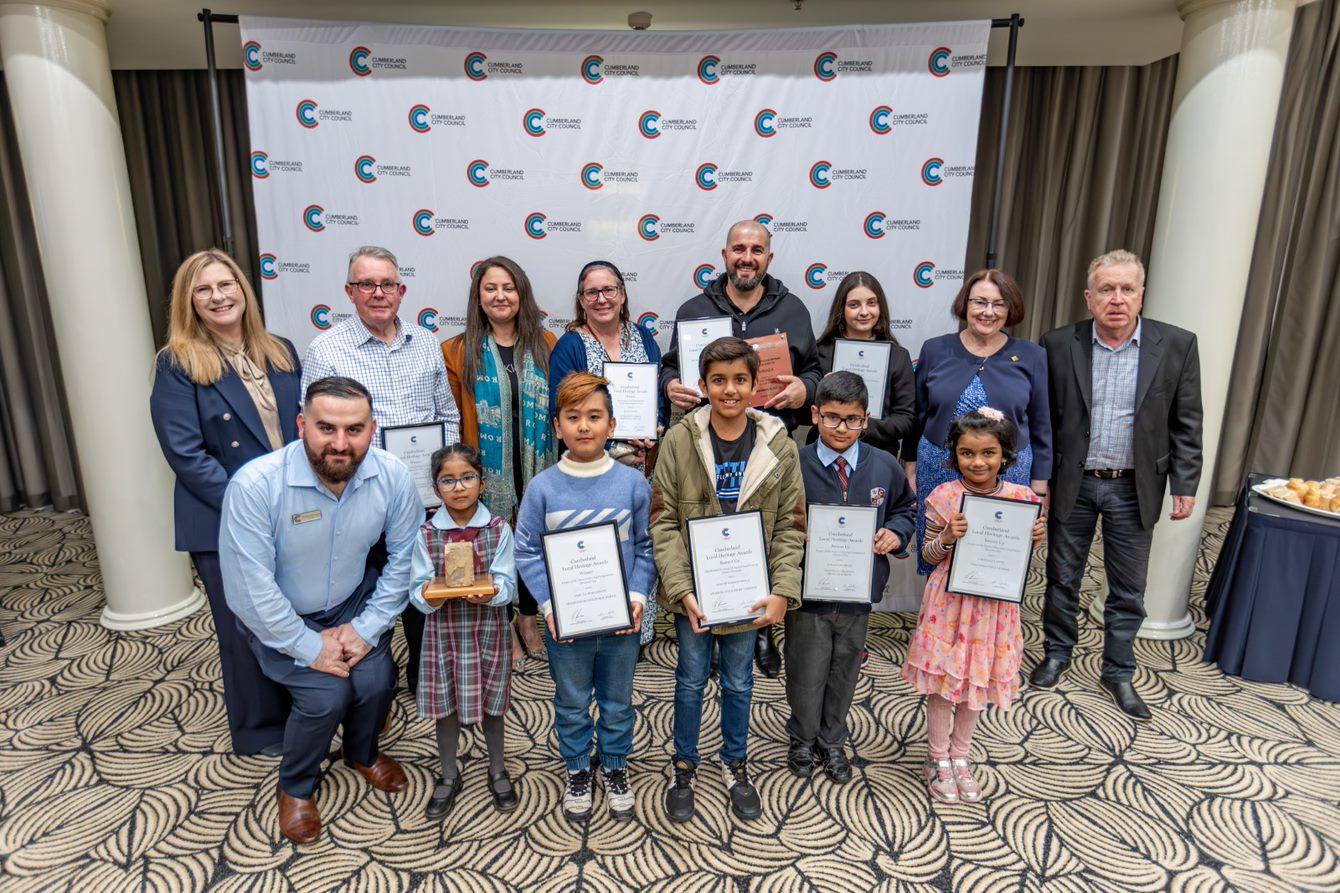 Rotary Club of Granville 67th Changeover Celebration
Recently I had the pleasure of attending the Rotary Club of Granville's 67th Presidential Changeover Celebration at the Eric Tweedale Stadium. The event saw Sanjeev Goyal become the new President for 2023-2024, taking over from former President Mary Ghribian, the youngest Rotary President ever. The Rotary Club of Granville is one of the most multicultural Rotary Clubs in Australia, providing ongoing support and dedication to the community for over 67 years. Congratulations Sanjeev on your new role!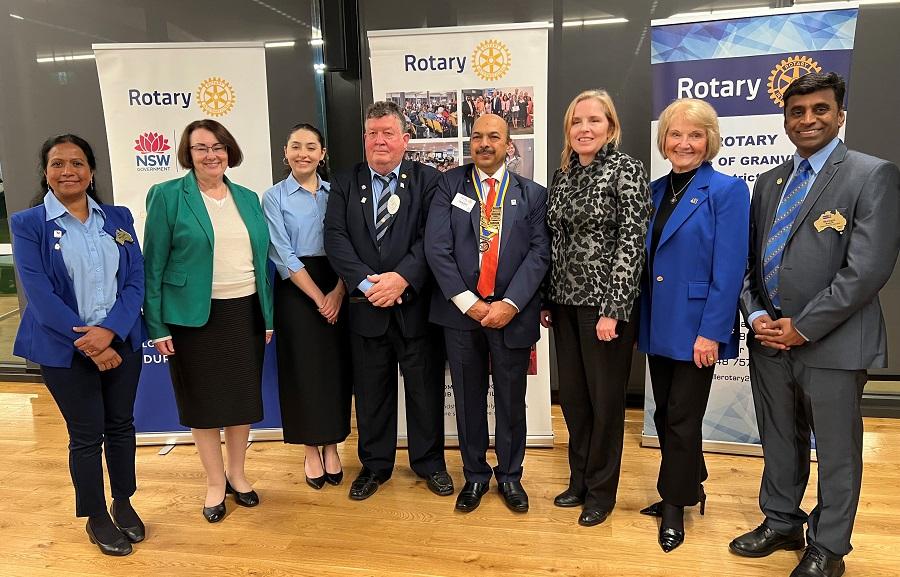 Western Sydney Leadership Dialogue Forum
I recently attended the second Western Sydney Leadership Dialogue Forum held at the Holroyd Centre. The forum heard from the Central City District Commissioner, Peter Poulet, and Member for Granville, Julia Finn MP, on the important role of the Central City District and opportunity for growth in Merrylands. The forum discussed the potential for more investment in affordable housing, critical infrastructure, cultural celebrations and sporting events to unlock opportunities in the area. Merrylands is growing rapidly and is set to become the next major strategic centre due to its close proximity to Parramatta and Westmead.
Your Rates at Work
---
Guilfoyle Park Shade Sails
Council has installed new shade sails over the playground at Guilfoyle Park, Regents Park.
These shade sails will help in providing some protection from the sun's UV rays and help keep the playground cool during summer.
Let us know of any issues in your area by using the Snap Send Solve mobile app which can be found on Council's website: www.cumberland.nsw.gov.au/snapsendsolve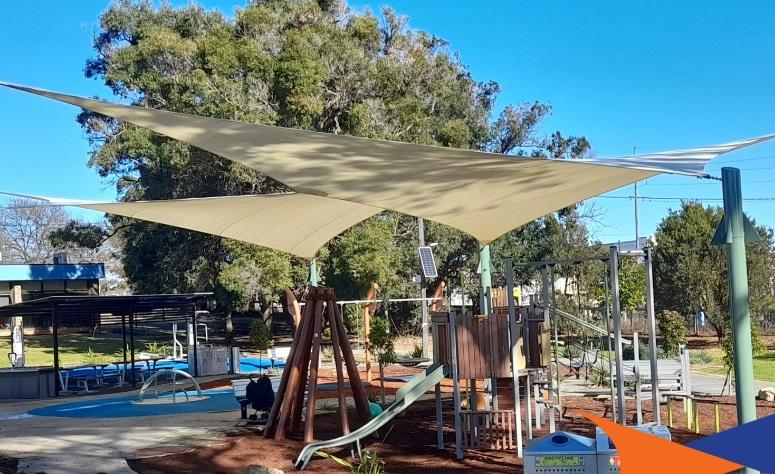 Have Your Say
---
New name for Merrylands Civic Square
Council is seeking your feedback on the proposed name for the new Merrylands Civic Square.
Your feedback will help inform the decision to name the new site "Dyin Ngurra" (pronounced D-yin Na-gur-ra), a Darug word meaning "Women's Place". It is proposed that this name would designate the Square as a place to acknowledge and honour remarkable local women who have made significant contributions to our area.
Submissions close: Monday 24 July
For more information, visit: https://haveyoursay.cumberland.nsw.gov.au
Dog Droppings
---
Help keep Cumberland clean by picking up after your dog and placing any waste or droppings in the bin.
Bins are located at Council's parks, streets and facilities and FREE dog dropping bags are available to pet owners at all of Council's off-leash dog parks.
Pet owners can be issued on-the-spot fines of up to $275 by Council Rangers, if you don't pick up your dog's waste.
For more details or to find an off-leash dog park near you, visit: www.cumberland.nsw.gov.au/dog-parks
Council Community Centres Term 3 Programs
---
Council is rolling out a series of FREE activities and services for children and adults across Community Centres in Cumberland.
Sign up to basketball, yoga, soccer, martial arts, tutoring and homework help, knitting, gardening and more.
Selected programs are available at Auburn, Merrylands Berala, Guildford, Wentworthville, Toongabbie and Greystanes Community Centres starting from Monday 17 July to Friday 22 September.
To find out more information about Council's Community Centre Programs or to enrol into an activity, visit: www.cumberland.nsw.gov.au/community-centre-programs