Message from Mayor Lake
---
Parramatta Eels (NRLW) Team Partnership
Council is paving the way for women's rugby league after signing a two-year partnership with the Parramatta Eels National Rugby League Women's (NRLW) team, making the Eric Tweedale Stadium in Granville their official home and new training ground. This partnership demonstrates Council's commitment to promoting gender equality in sports and showcases the importance of supporting women's sport in our region by providing equal opportunities and resources for both male and female athletes. The community is invited to attend the Parramatta Eels trial match against the St George Illawarra Dragons at Eric Tweedale Stadium on Friday 7 July from 7pm.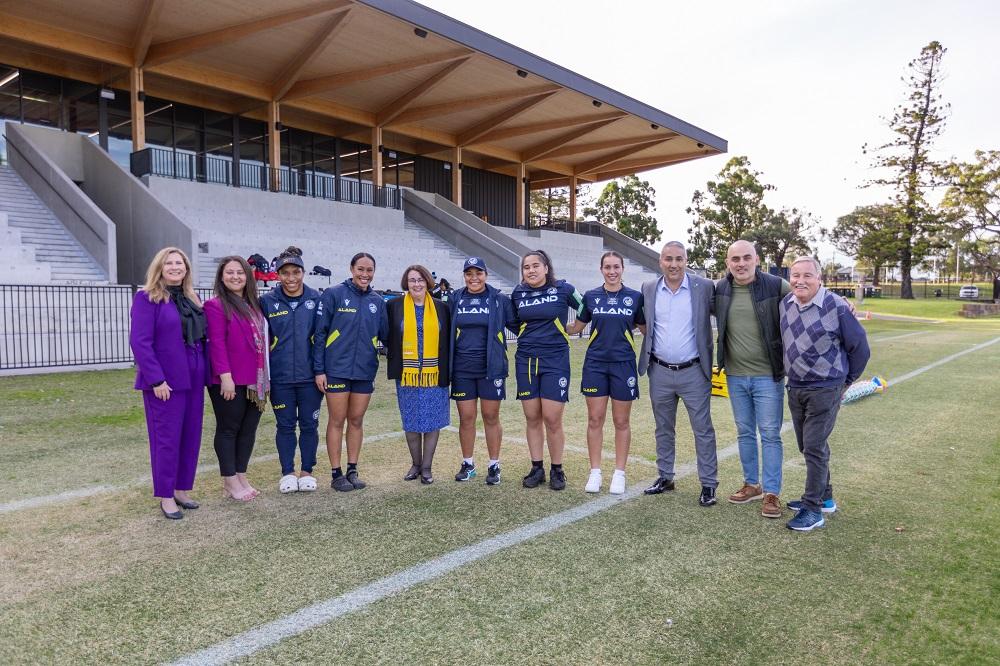 Community Energy Upgrades Fund
It was recently announced that the Albanese Government will be partnering with local government to launch an initiative that will help communities conserve energy and save on bills. The $100 million Community Energy Upgrades Fund will co-fund and deliver upgrades to community facilities including replacing energy-intensive heating in council pools with heat pumps and adding energy efficient lighting and battery storage at sporting fields, libraries and community centres. For more information about the Community Energy Upgrades Fund, visit www.pm.gov.au/media/helping-communities-save-energy-save-energy-bills
Merrylands Civic Square Naming
Council is inviting Cumberland residents to have their say on the new name for the Merrylands Civic Square which is set to open in the coming months. The proposed name "Dyin Ngurra" is a Darug word and means "Women's Place". It is proposed that this name would designate the Square as a place to acknowledge and honour remarkable local women who have made significant contributions to our area. Residents are encouraged to give their feedback by Monday 24 July. To give your feedback or for more details, visit https://haveyoursay.cumberland.nsw.gov.au/civic-square-name
NAIDOC Week
Lastly, it's NAIDOC Week, and Council is busy celebrating our Indigenous culture and history with a series of programs and events for the whole community. This year's theme, For Our Elders, highlights the role Elders have played and continue to play in our communities and families, paying respect to Elders past, present and emerging. To kick-off this special week, Council held its own NAIDOC Week Hoodie competition with 70 winners taking home prizes. Congratulations to everyone that took part! Children can also get in on the action through a NAIDOC themed interactive library talk with Darug Elder Uncle Chris Tobin, while seniors and people with disability can enjoy a coach trip to Echo Point Lookout, craft workshops and the chance to win prizes at First Nations Bingo. To coincide with this year's program, Council has completed revitalising the Warali Wali Trail with a collection of Darug cultural interpretations and First Nations artworks. The 4.7km track, which starts at Gipps Road in Greystanes, is open all year round. For more information about the program, visit www.cumberland.nsw.gov.au/naidoc-week-2023
---
Mayor Lisa Lake
8757 9856 | Lisa.Lake@cumberland.nsw.gov.au
Your Rates at Work
---
Open Space
Council has installed new goal posts at Tait Street Park, Smithfield, to provide more opportunities for junior soccer games. Crews have completed maintenance works which include line marking for school athletics carnivals at CV Kelly Park, Girraween, as well as playground maintenance at Pine Park, Auburn.
Cricket Wicket Upgrades
Council has upgraded the cricket wickets at Wyatt Park, Lidcombe, Pitt Park, Wentworthville and MJ Bennett Reserve, Westmead, in preparation for the 2023/2024 summer season.
Summer Sport EOI
---
Council is seeking expressions of interest from sporting clubs for the upcoming 2023-2024 summer season.
The season starts on Saturday 16 September 2023 through to Sunday 17 March 2024.
Applications close Monday 31 July
---
To register and stay up-to-date on all sporting news, information and events, visit the Cumberland Sports Clubs Portal at: www.cumberland.nsw.gov.au/sports-clubs
Have Your Say
---
Engineering Services Policy 2023
Council is seeking community feedback on the Draft Engineering Services Policy and the Draft Engineering Services Guidelines. The Draft Policy and Guidelines outline best practice engineering solutions and safety, while enhancing the natural and built environment in the community.
Submissions close: 6pm, Monday 17 July
---
For more information, visit: https://haveyoursay.cumberland.nsw.gov.au