Message from the Mayor
Welcome to the Spring edition of our quarterly community newsletter.
The headline news is that the much-anticipated Merrylands Civic Square has now officially opened. It was great to see our community discover and experience this new public space for the very first time. Thank you to everyone who came along to the grand opening. The smiles and positive conversations on the night showed me just how important this Square will be to our community. Finally, Merrylands has a central, welcoming, and inclusive public space for everyone to enjoy.
In an exciting development, Council's ongoing focus on women in sport has now resulted in a two-year partnership with the Parramatta Eels National Rugby League Women's (NRLW) Team. Our great Eric Tweedale Stadium in Granville has now become their official training ground and we look forward to this first-class venue playing a key role in their continuing success. Council's recent outdoor screening of several Women's FIFA World Cup games in public areas drew a crowd and gave everyone an opportunity to experience the thrilling atmosphere brought on by the Matildas' exploits. These ventures show just how popular women's team sports have become and I hope they serve to encourage greater government investment in this sector.
During July, Council hosted several community driven activities including an extensive NAIDOC Week program. This gave locals opportunities to participate in indigenous themed activities, workshops and experiences which helped to further understand the world's longest continuing culture.
Shortly, Australians are going to be asked in a referendum whether Australia's Constitution should be altered, in recognition of Aboriginal and Torres Strait Islander people as the first peoples of Australia, to provide that a body called The Aboriginal and Torres Strait Islander Voice be established which may then make representations to the Federal Parliament and Government on matters relating to them.
In December last year, Council resolved to support this very practical and simple call because it's time that our first people were recognised in Australia's Constitution and the establishment of the Voice is the recognition that they are asking for. This will make sure that our indigenous communities on the ground can give advice to Parliament and Government about the issues that affect them. This is an important historical moment for Australia and I encourage you to stay informed about any news and developments leading up to this vote and join with me in supporting this meaningful change.
In June, the General Manager and I participated in the Vinnies CEO Sleepout, to help raise funds for the homelessness services of the St. Vincent de Paul Society. Thanks to all who donated. We are told that our fundraising efforts contributed to providing 401 meals, 100 beds and 38 individual support programs to the 122,000 Australians that experience homelessness every night.
If anyone you know is experiencing homelessness and looking for help please contact Homelessness Australia on
1800 152 152 or visit: www.homelessnessaustralia.org.au/homelessness-services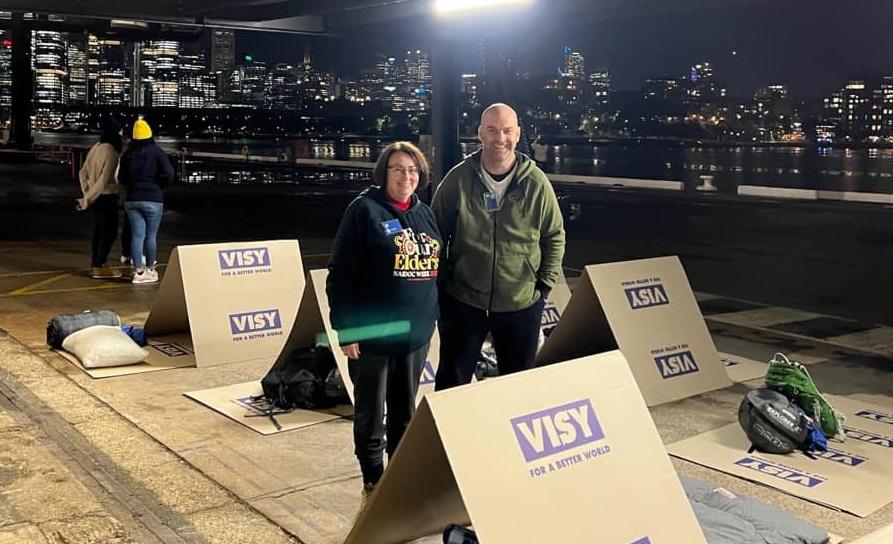 We know that many are currently feeling the effects of inflation, the rising cost of living and the struggle to find an affordable place to live. I am pleased to see the NSW Government appoint Trina Jones as the State's first-ever Rental Commissioner, who will assist in creating a fairer rental market. Eligible households and small businesses can now apply for up to $2,000 in vouchers through the Energy Accounts Payment Assistance Scheme. If you are facing difficulties, don't struggle alone. There are a range of Council and external support services available which can be found at: www.cumberland.nsw.gov.au/assistance
As I write this message at the end of a very busy week, I'm reminded of just how much work goes into the upgrades, new builds, programs and services that Council delivers to the Cumberland community every day. Our area is vast, densely populated and has complex needs. It takes real skill and dedication to ensure that all our plans stay on track and within their allocated budgets. Council's performance report for the six months from January - June 2023 describes 138 different activities being either completed or running on track. That's no mean feat. As Mayor I feel very grateful for those around me who show up to work each day with such passion and commitment. I invite you to appreciate this newsletter as a testament to their efforts.
As always, the Councillors and I are happy to listen to any concerns or queries you may have.
Stay well and see you around.
Lisa
---
Merrylands Civic Square Grand Opening
The grand opening of the longawaited Merrylands Civic Square was held on 4 August with much celebration and fanfare. It was wonderful to see our community discover and enjoy this new public space for the very first time. Thank you to everyone who came along to join in the night's festivities which included live music and performances, family games and activities and great food.
It was a fabulous way to end Local Government Week, which is a time to recognise the contribution of local councils to the wellbeing of their communities.
It is indeed a welcoming and inclusive space for us all to gather, share culture, honour achievement, and foster local pride.
Local artists, including those from the Darug community, contributed to the artworks in the Square which drew inspiration from nature and from our local indigenous, industrial and cultural heritage.
This project was funded by the NSW Government through its NSW Public Spaces Legacy Program and in association with Cumberland Council.
---
Parramatta Eels National Rugby League Women's Team call Cumberland home
Council is paving the way for women's rugby league after the Parramatta Eels National Rugby League Women's (NRLW) Team signed a two-year partnership, making Cumberland their new home.
The state-of-the-art, $11.3 million Eric Tweedale Stadium in Granville, has been named the official training ground for the team, equipped with modern facilities and a grandstand with seating for 760 spectators.
The collaboration between Cumberland Council and the Parramatta Eels NRLW Team extends beyond the playing field. The Eels women's rugby league development programs based out of the Eric Tweedale Stadium are set to engage and inspire the local community.
The Parramatta Eels NRLW Team is part of the Parramatta Eels Club. It is known for its excellence and commitment to rugby league in Western Sydney and showcases top-tier talent and dedication to women's sport.
---
Civic Park and Pendle Hill Wetland Improvement Project
Civic Park in Pendle Hill is undergoing a major revamp with works on the Pendle Hill Wetland Improvement Project currently in progress.
The upgrades to Civic Park are progressing well with the hydraulic works now complete and the installation of light pole footings nearing completion. Works to the concrete walls around the play area, drainage and electrical installations are also now underway.
The wetlands project is also progressing with at least 60 percent of the works to the creek completed, including the installation of one of two bridges, a trash rack and two Gross Pollutant Traps.
The project, valued at over $15 million, has been jointly funded by Cumberland Council and the NSW Government's WestInvest program. It will include improvements to the Pendle Creek wetlands, a new nature playspace and outdoor fitness facilities, picnic areas, half-court basketball, carpark and upgrades to pathways and lighting.
Construction is expected to be completed in March 2024, weather permitting.
---
Her Way Program: Cumberland
Council is putting the safety of women and girls first with plans to improve infrastructure and public amenities around key transport hubs in Cumberland.
As part the NSW Government Safer Cities: Her Way Program, Council hosted a series of focus groups, workshops and engagement sessions to help develop ways to improve perceptions of safety by women and girls while moving and travelling around Cumberland.
These engagement sessions explored women's and girls' experiences and perceptions of safety and helped identify ways to make public spaces around train stations in Auburn, Guildford and Westmead safer.
Council is now working on the design concept for each location with the specific goal of making these areas feel safer and more welcoming for women and girls. We are proud to be one of the first councils to put the ideas and needs of women and girls into the planning process for public spaces.
For more information, visit: https://haveyoursay.cumberland.nsw.gov.au/her-way-cumberland
---
Refugee Week
Council celebrated diversity, resilience and inclusion during Refugee Week held between 18-24 June. Observed annually, Refugee Week celebrates the positive contributions refugees and people seeking asylum make to Australia.
The week also explored the hardships and challenges faced by refugees by highlighting their experiences. The aim was to foster understanding and help forge strong relationships between new arrivals and more established communities.
Council hosted a talk with Oliver, a former refugee from Iraq, who shared his family's journey of resettlement in Australia after they fled their war-torn country.
The theme for this year was "Finding Freedom", which encouraged Australians to think about the millions of refugees who embark on dangerous journeys every day for the sole purpose of finding safety and refuge.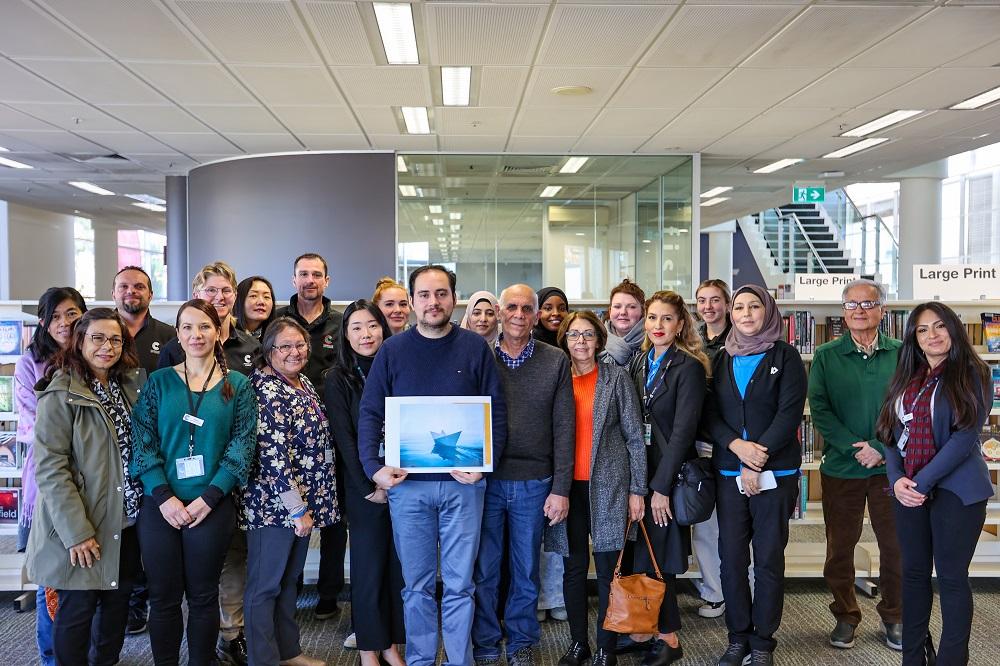 ---
NAIDOC Week
Council hosted a series of community events to celebrate NAIDOC Week between 2-9 July.
Throughout the week, locals were given the chance to immerse themselves in First Nations culture by participating in NAIDOC activities, workshops and experiences.
The program kicked off with a hoodie competition where 66 residents won a special NAIDOC themed hoodie.
Children also got in on the action through a NAIDOC themed Bush School and an interactive library talk with Darug Elder Uncle Chris Tobin. Seniors aged 65+, people with disability aged 18+ and their carers enjoyed a coach trip to Echo Point Lookout where they participated in craft and cooking workshops, a film day and won prizes at First Nations Bingo.
Residents also wandered through the Warali Wali Trail which now has a new collection of Darug cultural interpretations and First Nations artworks.
To stay up to date with Council's events, visit our What's On webpage: www.cumberland.nsw.gov.au/whats-on
---
2023 Local Government Excellence Awards
Council's Audit, Safety and Risk team were highly commended at the 2023 NSW Local Government Excellence Awards for digitising and improving the process of risk assessments. Council's Corporate Planning and Performance team was also nominated as a finalist in Innovative Leadership for their Improving Performance and Culture Program.
The Local Government Excellence Awards celebrate outstanding achievements and promote innovation and continuous improvement within NSW Local Government. Congratulations to the teams on their great achievements!
---
Tommy Raudonikis OAM Plaque at Lidcombe Oval
A sea of fans donned in black and white gathered at Lidcombe Oval for the official unveiling of the Tommy Raudonikis OAM Plaque, on Sunday 18 June, in honour of the late Australian rugby league icon.
Council, in conjunction with the Western Suburbs Magpies Rugby League Football Club, unveiled the plaque which paid tribute to the coach and footballer's life and sporting career. The plaque complements the Tommy Raudonikis OAM Grandstand which opened in 2022, in memory of his dedication and commitment to football and contribution to the Lidcombe community.
The Tommy Raudonikis plaque and grandstand is located at Lidcombe Oval, Church Street in Lidcombe.
For more information, visit: www.cumberland.nsw.gov.au/lidcombe-oval
---
Hector and Wolumba Street Bridge Project
Council joined forces with City of Canterbury Bankstown to help bridge communities in Chester Hill. Upgrades have been made to the Wolumba Street Bridge and the Hector Street Bridge in Chester Hill to allow drivers and pedestrians to commute safely through this area. The upgrades included the widening of both bridges to allow for two generous traffic lanes, the installation of protection barriers and new footpaths, which now provide a safe passage for both motorists and pedestrians. This joint venture received direct Federal Government assistance and has significantly reduced congestion and travel time.
---
Your Rates at Work – Capital Works
As part of Council's Play Space Program, Council is upgrading multiple playgrounds across Cumberland. Playgrounds in Merrylands, Auburn, Lidcombe and Guildford are part of the program which includes upgrades to equipment, seating and pathways for parents with prams, mobility scooters and wheelchairs. Nature play areas were also installed at selected parks to help encourage imaginative play.
The final stage of Merrylands CBD Infrastructure Project is currently underway with the construction of a new major stormwater culvert at the intersection of Addlestone Road and Merrylands Road, Merrylands. Once completed, this project will help reduce localised flooding and help transform Merrylands CBD into a modern and vibrant centre through the creation of future development opportunities, improved infrastructure and public amenities.
For more information, visit: www.cumberland.nsw.gov.au/merrylands-cbd-infrastructure-upgrade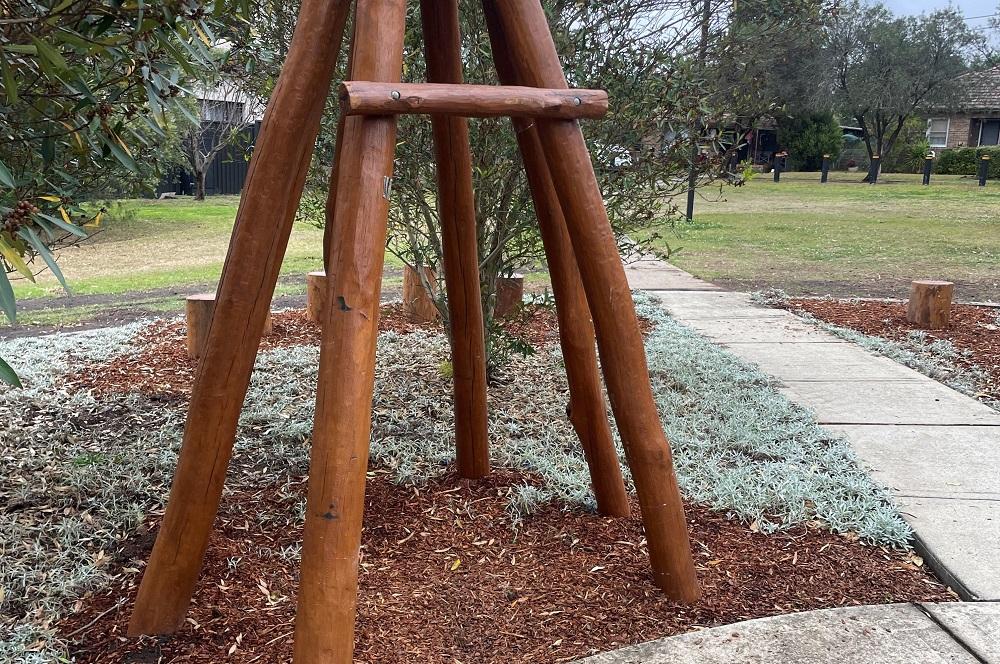 ---
Moon Festival
Saturday 30 September, 1pm to 6pm at Wyatt Park, 49 Church St, Lidcombe
Cumberland Council is excited to celebrate the return of the Moon Festival on Saturday 30 September. Originating in ancient China, the Moon Festival today is a celebration of the moon, thanksgiving, family, friends and community. It is observed in China, with similar celebrations in Japan, Korea, Vietnam and other countries in East and Southeast Asia.
This free family friendly event is set to be a day of traditional and modern cultural activities, great food and more.
Find more details and other events on our website: www.cumberland.nsw.gov.au/whats-on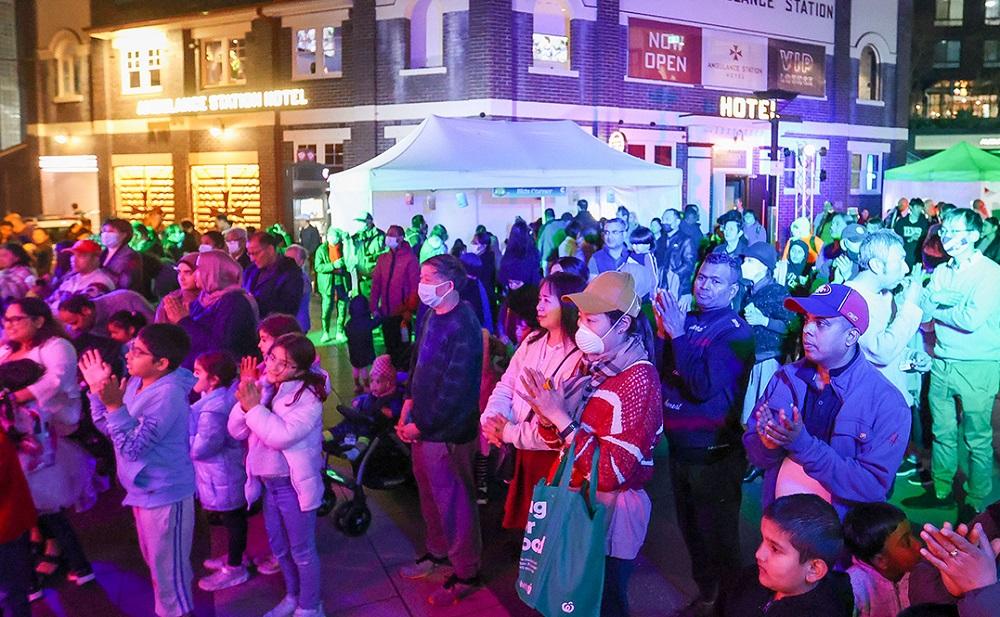 ---
Diwali
Saturday 18 November, 6pm to 9pm - Station Street, Wentworthville
Council's vibrant Diwali Festival will be returning to the streets of Wentworthville this November. Diwali, known as the Hindu Festival of Lights, occurs during spring every year in the Southern Hemisphere. Council's Diwali Festival will feature free entertainment with a line-up of cultural music, performances, activities and a range of cuisines.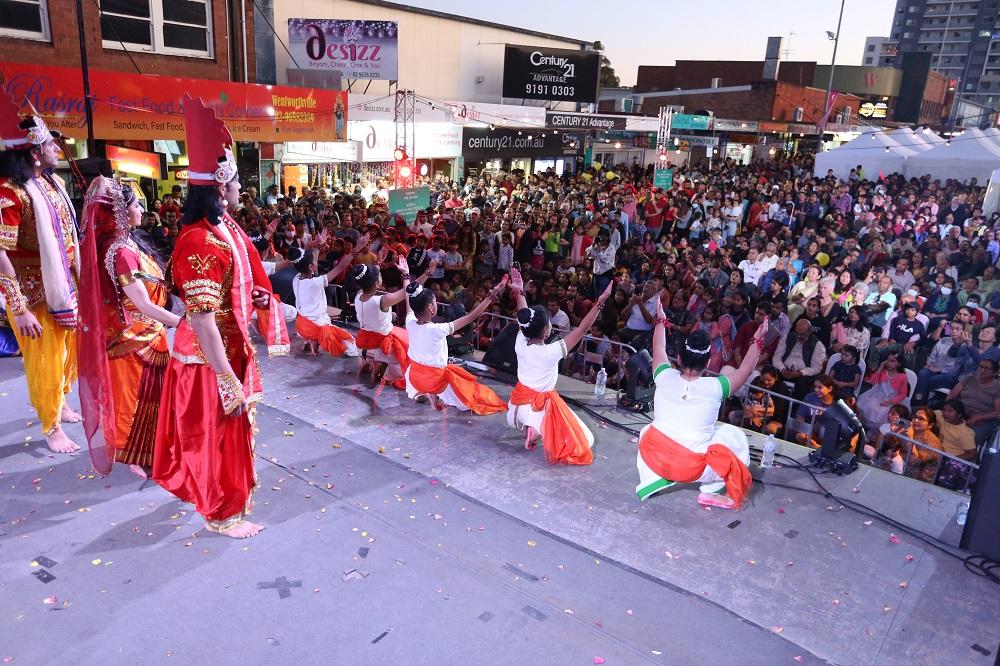 Cumberland Community Pantries
Give what you can, take what you need.
The Cumberland Community Pantries have officially opened their doors to the community, and offer struggling residents and families in need, some relief by providing essential non-perishable items such as pantry staples, toiletries and personal hygiene products.
The Wentworthville Community Pantry is open every Monday between 10am and 12noon at the Wentworthville Community Centre while the Auburn Community Pantry is open every Tuesday between 10am and 12noon at the Auburn Centre for Community.
If you would like to contribute and support this cause, donations of all sizes can be made in person to one of the pantries during operating hours or during normal business hours at either of Council's administration centres at Merrylands or Auburn.
We accept
Pasta, rice, cereal, tinned goods, packaged snacks
Non-refrigerated drinks
Toiletries
Personal hygiene products
Tissues, toilet paper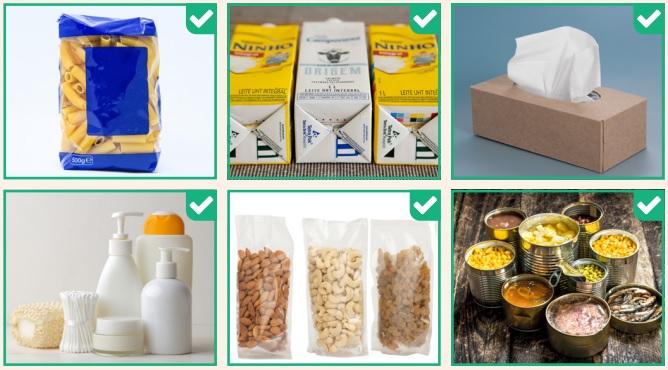 We do not accept
Expired food or toiletries
Open food packages
Toys and clothes
Food with a short shelf life
Sharp items including razors
Household kitchen appliances