Message from Mayor Lake
---
Have your say about renting in Sydney
After 12 years without a voice, renters and property owners are being asked by the Minns government to share their views on critical changes needed to make renting fairer for all. Trina Jones has recently been appointed as NSW Rental Commissioner to oversee reforms and improve conditions for tenants who have been caught in the state's struggling market. The NSW Government is also taking steps to increase housing supply with high-quality new homes to put downward pressure on rent. To have your say on these reforms or for more information, visit www.haveyoursay.nsw.gov.au/improving-nsw-rental-laws
2023 Sydney Cherry Blossom Festival
Tickets are now on sale for the 2023 Sydney Cherry Blossom Festival to be held at Auburn Botanic Gardens from Saturday 19 August to Sunday 27 August. Come along and experience a 'Slice of Japan' as you wander through the iconic Cherry Trail at one of the daily viewing sessions. Explore the Japanese Food Village serving up a range of pink cherry blossom themed dishes and a huge selection of Japanese fusion foods. Play a round of golf at the 9-hole mini golf course and make Origami at the themed workshops. This year, George & Noriko will be taking centre stage with their blend of blues and traditional Japanese music, and there'll also be traditional Japanese dancing, beverages from the Izakaya Bar and more. For more information or to book your tickets, visit www.cumberland.nsw.gov.au/sydneycherryblossomfestival
Screening of FIFA Women's World Cup Game at Granville
The FIFA Women's World Cup begins this week and to celebrate, Council will be live streaming a number of games for FREE on a huge 4.5m x 3m outdoor screen at Granville Park. Bring your chairs and picnic blankets to the park and cheer on the Matildas playing Nigeria on Thursday 27 July from 8pm. I encourage everyone to come along, wear their green and gold, and join in the excitement as we cheer on the Matildas team and show our support for women's soccer. For more information or to view all local live streamed games, visit: www.cumberland.nsw.gov.au/fifa-live
Visit to St Raymond's Maronite Parish, Auburn
At the end of June, I was welcomed by Fr. Charbel Abboud to St Raymond's Maronite Parish in Auburn. After a visit to the beautiful church on Wellington Road and a chat about local issues, I joined parishioners for a delicious lunch where I learned more about the Parish community and the monks of the Lebanese Maronite Order who serve it.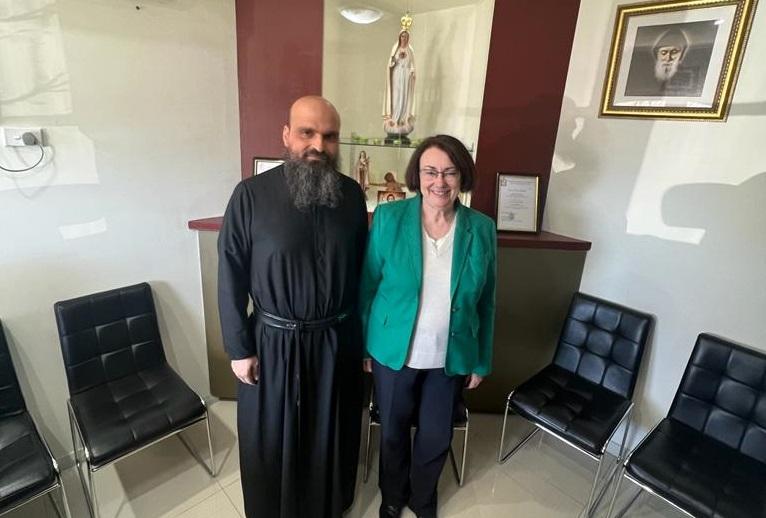 Donations needed for Community Pantries
Council is seeking donations of non-perishable items for the Cumberland Community Pantries and we are encouraging residents to give what they can. The Community Pantry initiative aims to help combat the rising costs of living, offering those in need some relief with essential items such as pantry staples, toiletries, personal hygiene products and more. The Community Pantry operates from the Wentworthville Community Centre every Monday from 10am to 12noon, and from the Auburn Centre for Community every Tuesday from 10am to 12noon. For more information, visit www.cumberland.nsw.gov.au/cumberland-community-pantries
---
Mayor Lisa Lake
8757 9856 | Lisa.Lake@cumberland.nsw.gov.au
Council Chemical CleanOut
---
Safely Dispose of Unwanted Chemicals for FREE!
Safely dispose any of your unwanted chemicals at Council's Chemical CleanOut event. Residents can drop off household items including solvents, ammonia-based cleaners, pesticides and herbicides, poisons, paints and more!
Saturday 19 August 2023, 9am to 3:30pm
Cumberland Council Guildford Works Depot 167 Fairfield Road, Guildford West (Entry via Foray Street)
This initiative is held in partnership with the NSW Environment Protection Authority
---
For more information, please visit: www.cumberland.nsw.gov.au/event/chemical-cleanout
Community Grants Program – First Round Now Open
---
If you have an idea to develop a vibrant, sustainable and inclusive community, you may be eligible to apply for a Cumberland Community Grant. During this round, one-on-one advisory desk sessions will be available for extra assistance.
Submissions close: Friday 18 August
---
For more information, or to apply, visit: www.cumberland.nsw.gov.au/community-grants-program
Have Your Say
---
Walking and Cycling Strategy
Council is seeking community feedback, ideas and thoughts on walking and cycling in our area.
This will help us develop a strategy to make walking and cycling in our neighbourhoods safer, more enjoyable and convenient for all ages and abilities.
Submissions close: Tuesday 15 August
---
For more information, visit: https://haveyoursay.cumberland.nsw.gov.au
Healthy and Active for Life Online Program
---
Build your fitness, knowledge, skills and confidence to lead a healthy and active life with this FREE 11-week healthy lifestyle course! The program includes a weekly group learning session, access to ten online modules, gentle group exercise sessions, healthy ageing tips and more.
If you are 60 years and over (or Aboriginal people who are 45 years and over), live independently at home, can walk independently or with a walking stick and would like to join, please phone Granville Library at 8757 9061 or make a booking with library staff.
Granville Library, 1 Memorial Drive, Granville
Every Wednesday (For 11 weeks, until 20 September), 10am to 12noon
---
To make a booking, please phone Granville Library on 8757 9061