Message from Mayor Lake
---
2024 Local Citizen of the Year Awards – Closing soon!
There are only a few days left until nominations close for the 2024 Local Citizen of the Year Awards. Council is taking nominations for the annual awards which recognises the hard work and achievements of community members who dedicate their time to help and support others in Cumberland.
To nominate someone you know, please fill out a form online before Friday 24 November: www.cumberland.nsw.gov.au/coty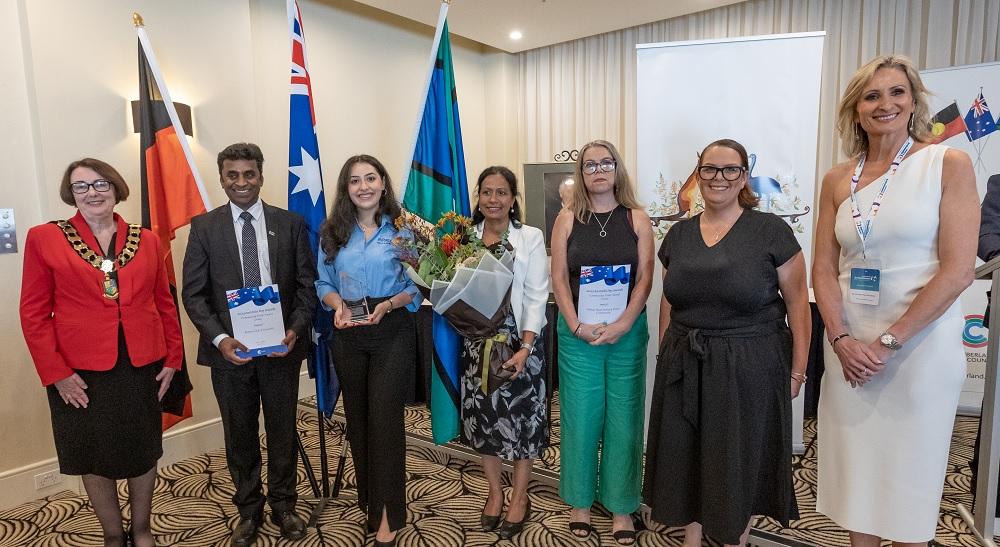 Trade Up to a Better Future – Discovery Day
Council will be hosting Trade Up to A Better Future – Try a Trade Discovery Day at Wyatt Park in Lidcombe on Thursday 30 November from 10am to 2pm. The FREE event is open to women in Cumberland who are 15 years or older and aims to provide information, address barriers and empower women to pursue trade-based professions. The event will include workshops, information sessions, heavy machinery demonstrations and more. Trade Up to a Better Future is a Council initiative under the Connecting Women to Trades Program, which is funded by the Trade Pathways Program - Training Services NSW.
To find out more information, visit: www.cumberland.nsw.gov.au/discovery
Family Festive Fair
Council is bringing the gift of music to Cumberland at its first Family Festive Fair being held at Central Gardens Nature Reserve, in Merrylands on Friday 1 December from 5pm to 7pm. This FREE family friendly event has been inspired by festive songs and will feature a range of children's entertainment, activities and food vendors. Don't forget to bring a picnic rug!
For more information, visit: www.cumberland.nsw.gov.au/festive-fair
NSW SES Headquarters Official Opening & 40th Anniversary
I attended the NSW SES Auburn Unit Headquarters official opening to celebrate their 40th Anniversary. The new building provides garages to house advanced NSW SES rescue vehicles, boats and equipment as well as a new training room, offices, kitchen facilities and amenities. The Unit began in Auburn 40 years ago with a dozen members in a small two-bedroom cottage with a shed out the back. The SES Auburn Unit provides a valuable service to our community and are competent in flood rescue, storm response, urban search and rescue and incident management. Congratulations to the SES Auburn Unit on 40 years of service to the community and thank you to the volunteers for their hard work and contribution to keep us all safe.
Your Rates at Work
---
New laneways
Council has installed a new laneway between Ettalong Road and Darling Street in Greystanes. A new laneway has also been installed on Bradman Street providing access to Greystanes Public School.
---
Let us know of any issues in your area by using the Snap Send Solve mobile app which can be found on Council's website: www.cumberland.nsw.gov.au/snapsendsolve
Update on Development Application DA2023/0130 Proposed Organic Waste Transfer Facility at 109A Church Street, Lidcombe
---
Council is in receipt of a designated development application for a proposed organic waste transfer facility at 109A Church Street, Lidcombe. Notification of the application was undertaken between 29 May 2023 and 14 July 2023, with over 1,900 submissions received. The submissions received will be considered as part of the assessment of the development application.
As an update on the application, Council requested additional information on the proposal from the applicant in August 2023 and this was provided to Council in October 2023. This additional information is available on Council's Development Application tracker, and is also being reviewed by Council officers and State agencies as part of the process. The assessment of the application by an independent planner is also underway. At this stage, it is anticipated that the assessment will be completed in February 2024.
As the application is classified as a designated development for a waste management facility, the assessment and recommendation from Council will be provided to the Sydney Central City Planning Panel for their decision. A public meeting will be held by the Panel prior to a decision being made on the application. Details of this meeting will be provided by the Panel closer to the time
---
If you require any further information, this is available through Council's website www.cumberland.nsw.gov.au/development-application-tracking or by contacting Council's Customer Service on 8757 9000.
Have Your Say
---
Guildford Town Centre Public Domain Plan
Council is seeking community feedback on the revitalisation of the Guildford Town Centre Public Domain Plan.
Submissions close: 6pm, Tuesday 5 December 2023
---
For more information, visit: https://haveyoursay.cumberland.nsw.gov.au/guildford-pdp
16 Days of Activism - March to End Violence Against Women
---
Join us and help raise awareness to end violence against women.
Wednesday 29 November 2023, 1:30pm
Merrylands Oval, Corner Burnett Street and Merrylands Road, Merrylands
---
For more information or to register, visit: www.cumberland.nsw.gov.au/activism