Message from Mayor Lake
---
Slow Down Safety Campaign
Council is rolling out a road safety awareness campaign around speeding, urging motorists to 'Don't Be A Clown, Just Slow Down'. Statistics show that the number of accidents caused by speeding have increased in our local area. It's important that Council raises awareness about road safety and encourages drivers to slow down to reduce the number of speed related casualties and accidents. We all need to do our part to keep motorists and pedestrians safe in and around Cumberland.
For more information, visit: www.cumberland.nsw.gov.au/road-safety-cumberland-city

Speeding ruins lives. Keep yourself and our community safe when driving in and around Cumberland
HIDDEN Rookwood Sculpture Exhibition Launch
I recently attended the launch of the new HIDDEN Exhibition at Rookwood Cemetery. The outdoor exhibition saw Sculptures, Schools and Stonemasons come together in one of the oldest sections of Rookwood Cemetery. Artworks have been installed along the pathways and gardens of the cemetery for the public to explore. During the launch, awards were also presented to the 11 best sculptures in the exhibition. Congratulations to all the artists who were awarded a prize. The exhibition runs from now until Sunday 19 November and entry is free.
For more information, visit: www.hiddeninrookwood.com.au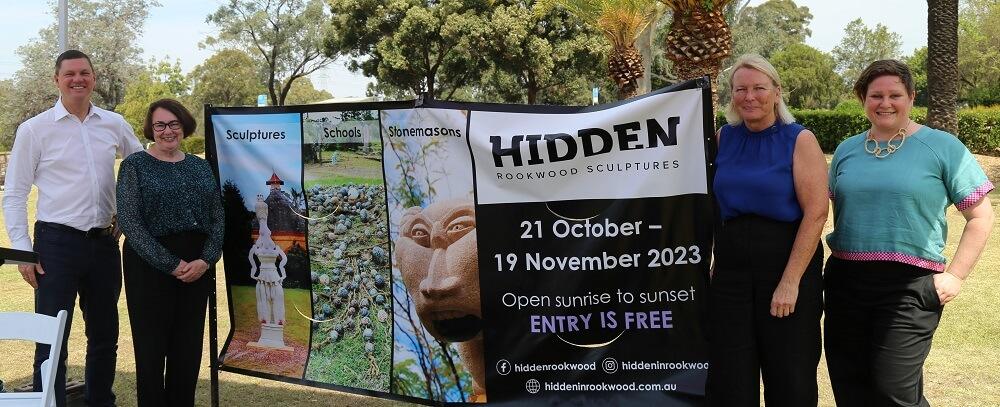 Acceler8
To celebrate Small Business Month, Council, in partnership with the Greater Cumberland Chamber of Commerce, hosted the Acceler8 Cumberland event at Carnarvon Golf Club in Lidcombe. The event saw a range of guest speakers including Senator Timothy Ayres, Assistant Minister for Trade and Manufacturing. A panel of local business owners shared their knowledge and expertise on how small businesses can use their skills and new ideas to navigate the current climate. There are over 30,000 small businesses operating in Cumberland and Council has a range of resources available on our website for new and existing businesses.
For more information, visit: www.cumberland.nsw.gov.au/business-and-economy
2023/2024 Community Grants Program
So far this year, Council has provided $138,000 in funding from the Community Grants Program for 18 projects. These included cultural events, mental health and wellbeing programs, education programs and refugee and community outreach programs. These projects will allow our community to grow socially, culturally, economically and environmentally in line with Council's vision "Welcome, Belong, Succeed". Congratulations to the organisations who received funding. If you are looking to secure funding for your project, the second round of the Community Grants Program is now open and will close on Friday 1 December 2023.
For more information or to apply, visit: www.cumberland.nsw.gov.au/community-grants-program
Your Rates at Work
---
Road Renewals
Council has recently completed road renewals at Antwerp Street in Auburn, Nottinghill Road in Lidcombe, Lance Crescent in Greystanes and Tennyson Parade in Guildford, where over 400 metres of road in each area was resurfaced and new asphalt was laid.
Roundabout Projects
Council has recently installed two new kerb extensions and one speed cushion at the Swete Street and Mary Street roundabout in Lidcombe, to help minimise accidents, prevent speeding and increase road safety.
Have Your Say
---
Draft Westmead South Master Plan
Council is seeking community feedback on the draft Westmead South Master Plan. The draft Master Plan seeks to provide more homes that are supported with shops, open spaces and infrastructure for a more liveable, vibrant and sustainable community for both existing and future residents of Westmead South.
Submissions close: Friday 8 December
---
For more information, visit: haveyoursay.cumberland.nsw.gov.au/westmead-south-masterplan-2023
Asbestos Awareness Month
---
To mark Asbestos Awareness Month this November, Council will be providing free information sessions, Asbestos inspections and collections to help residents safely identify and dispose of asbestos in homes.
An online information session will be held on Saturday 11 November from 10am to 12noon and household inspections will be held on Saturday 18 November.
---
To register, or for more information, visit: www.cumberland.nsw.gov.au/asbestos-awareness-month
Merrylands Civic Square School Extravaganza
---
Friday 17 November, 4pm to 7pm
Bring your children and family along for a day of dance, music and poetry performances from local primary and high school students.
---
For more information, visit: www.cumberland.nsw.gov.au/extravaganza