Message from Mayor Lake
---
Centenary of the Foundation of Modern Türkiye
Sunday 29 October marked the 100th Anniversary of the Republic of Türkiye and a milestone event to celebrate this occasion was held at Wyatt Park in Lidcombe. Council supported a local Türkiye Centenary Steering Committee in the celebrations on the day. The event was a great success with over 12,000 people attending. The crowd enjoyed many cultural and traditional performances, as well as a day full of activities, rides, great food and ended with a spectacular fireworks display. The Ambassador of the Republic of Türkiye, Ufuk Gezer, Consul-General of the Republic of Türkiye, Ali Sevim and the Honorary Consul of Bosnia and Herzegovina, Amir Sahinovic attended alongside local MP's and Cumberland Councillors. Cumberland has a very special bond and unique relationship with the Turkish community and it's wonderful that so many Turkish people have made Cumberland their home.
2023 FIPFA Powerchair Football World Cup
NDIS participants and customers from Council's Lifestyle & Leisure Links Program recently attended the 2023 Fédération Internationale de Powerchair Football Association (FIPFA) World Cup held at Sydney Olympic Park. Following Council's commitment to support FIPFA, the group was very excited to attend and experience the live games. Powerchair football is a modified form of football designed for people who use powered wheelchairs. The games help create a sense of inclusion, competition and community while recognising, supporting and celebrating people with disability. Council is committed to supporting sport and athletes with disabilities and upholds the values of accessible and inclusive practices.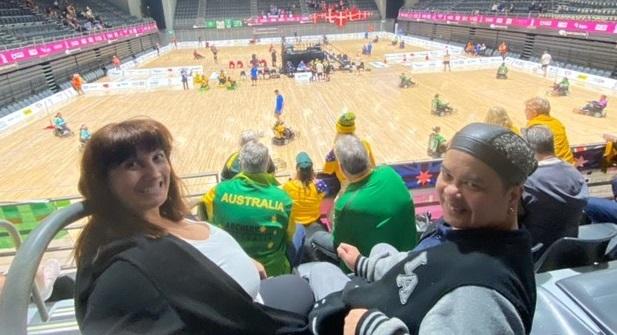 National Asbestos Awareness Month
To mark National Asbestos Awareness Month, Council will be holding a free online asbestos information session plus 45-minute house inspections to help inform residents about the dangers of asbestos and learn how to protect themselves from exposure. Asbestos is a dangerous building material that was once used in houses built before 1990. It poses a significant health risk if the tiny fibres are inhaled and can lead to serious and life-threatening health conditions including mesothelioma, lung diseases and various forms of cancers.
To find out more information on asbestos visit www.cumberland.nsw.gov.au/asbestos-awareness-month
Pemulwuy Community Garden Open Day
A new community garden has officially opened in Pemulwuy providing the community with 16 garden beds consisting of vegetables, fruits and flowers. There are also several accessible garden beds to facilitate access by wheelchair users and elderly persons. I would like to thank the Pemulwuy Community Garden Committee (PCG) who have assisted Council with the establishment of the garden, including several working bees. This project has been jointly funded by Council and the NSW Government.
For more information, please visit www.cumberland.nsw.gov.au/community-gardens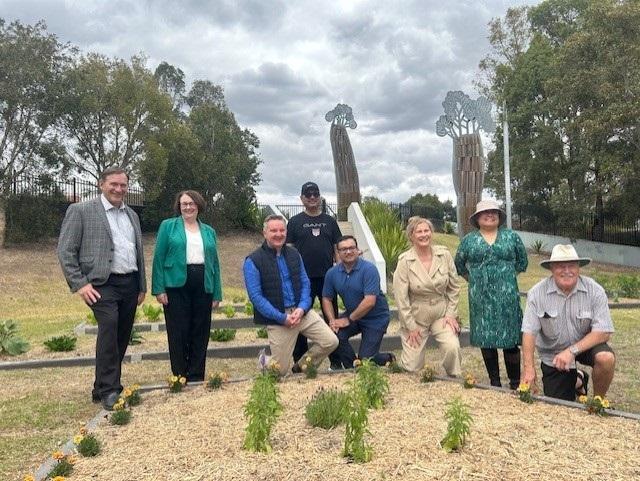 Your Rates at Work
---
Projects
Council crews are working on the construction of a new roundabout at The Trongate and Membrey Street intersection in Granville. Crews have also installed a new footpath at Lockwood Street in Merrylands.
---
Let us know of any issues in your area by using the Snap Send Solve mobile app which can be found on Council's website: www.cumberland.nsw.gov.au/snapsendsolve
Diwali Street Festival
---
Council will be lighting up Wentworthville for the Diwali Festival on Saturday 18 November from 5pm to 10pm. Program will be announced soon.
---
For more information, visit: www.cumberland.nsw.gov.au/diwali
This event is proudly sponsored by Wenty Leagues and Official Media Partner SBS. Funding for this project has been provided by the NSW Government.
2024 Local Citizen of the Year Awards
---
Nominations for the 2024 Local Citizen of the Year Awards are closing soon! The awards honour and recognise the achievements of local citizens who are making a difference in the community.
Nominations close: 17 November 2023
---
For more information, visit: www.cumberland.nsw.gov.au/coty
Feast Up Friday's at the Oakes Centre
---
Head over to Westmead for Oakes Centre Feast Up Friday's, held every Friday in November from 5pm. Grab a bite to eat from the food trucks, discover the fun-coloured furniture and let the kids enjoy the range of free games. Plus, look over and provide your feedback on the Draft Westmead South Master Plan.
On each Friday until Friday 24 November, from 5pm
Oakes Centre, 74 Hawkesbury Road, Westmead
---
For more information, visit: www.cumberland.nsw.gov.au/westmead-south