Message from Mayor Lake
---
NSW Budget 2023-24
Last Tuesday, the Minns Government delivered its first budget focusing on major investment in infrastructure and housing, an investment in schools and TAFE, and more money for teachers and healthcare workers. Drivers commuting from Western Sydney are set to benefit from the $60 weekly toll cap along with energy bill relief extended from 1 July 2024 for eligible families, seniors and households. People buying their first home will save up to $30,000 through an expanded First Home Buyers Assistance Scheme and parents and carers of 3-year-old children in long day care will receive $500 a year in preschool fee relief. The NSW Government has also committed an additional $200 million to expedite the planning and construction of the Parramatta Light Rail Stage 2 for Western Sydney.
For more information, visit budget.nsw.gov.au
Moon Festival 2023
Council will host the annual Moon Festival this year on Saturday 30 September from 1pm to 6pm at Wyatt Park in Lidcombe, and everyone is invited to join the celebrations. This year's event will include a mix of both traditional and contemporary entertainment, an array of fusion-foods, family friendly activities and an outdoor cinema screening of Over the Moon and Kung Fu Panda. You'll even have the chance to meet and greet the fun-loving Po, Kung Fu Panda himself!
For more information or to view the full program please visit www.cumberland.nsw.gov.au/moon-festival-2023
NRLW Player of the Year Awards
Last week, I had the pleasure of attending the Parramatta Eels NRL Women's Player of the Year Awards at Rosehill Gardens Racecourse. The event saw players, club officials and supporters come together to honour the team as they looked back on the previous season. Congratulations to Abbi Church who won the Blue and Gold Army NRLW Player of the Year Award, Shontelle Stowers who took home the NRLW Community Award, Mahalia Murphy who was awarded the NRLW Coaches Award and Cassey Tohi-Hiku for winning the NRLW Players Player Award. Thank you to the Parramatta Eels for inviting me to be part of this celebration
Community Engagement Stalls in Wentworthville
Council recently held two community engagement stalls at Lytton Street Park, Wentworthville and Wentworthville Town Centre. These sessions allowed Council to inform the public on the Wentworthville Public Domain Plan and the Lytton Street Park Landscape Masterplan, and provided an opportunity for the community to give their feedback on the plans in person.
Both projects are still open online for the community to have their say, if you wish to give your feedback or would like to find out more, visit www.cumberland.nsw.gov.au/lytton or www.cumberland.nsw.gov.au/wentworthville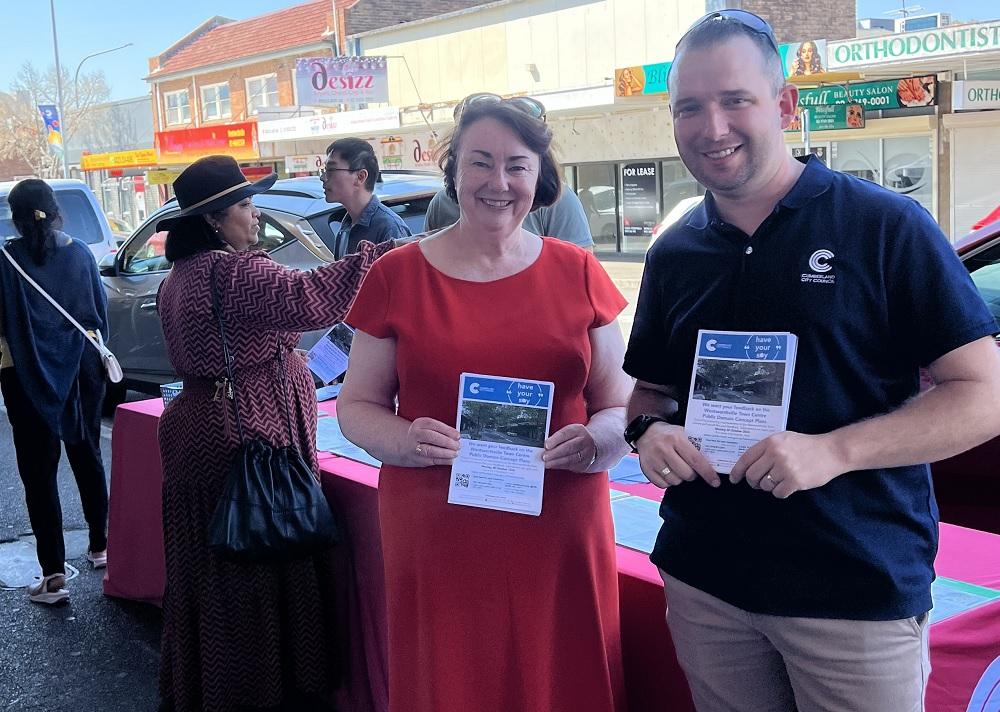 Your Rates at Work
---
Road Renewal Works – Fraser Street, Auburn
Council recently completed road renewals at Fraser Street in Auburn where 410 metres of the road was resurfaced and new asphalt was laid.
Pedestrian fencing – Joseph Street and James Street, Lidcombe
Pedestrian fencing was recently installed in Lidcombe at the Joseph Street and James Street roundabout to improve safety.
---
Let us know of any issues in your area by using the Snap Send Solve mobile app which can be found on Council's website: www.cumberland.nsw.gov.au/snapsendsolve
HSC Quiet Study Spaces – Now open
---
We have established three new quiet study spaces at the Berala, Wentworthville and Allan G Ezzy Community Centres! There will also be extended operating hours at Auburn, Granville and Merrylands libraries.
The spaces are open from 6pm to 8pm every Friday, until Friday 20 October.
---
For more information, please visit: www.cumberland.nsw.gov.au/event/hsc-quiet-study-space
Berala Spring Fair
---
Bring your family and friends along for a FREE day of community, activities, food and fun! A free BBQ lunch will be provided plus a visit from the lovable pirate, Captain Luke N'Silly.
Thursday 28 September, 10:30am to 2pm
Berala Community Centre, 98 Woodburn Road, Berala
---
For more information, please visit: www.cumberland.nsw.gov.au/springfair
Active Ageing Week
---
To celebrate Active Ageing Week from Monday 2 October to Sunday 8 October, we are holding FREE cooking sessions, yoga classes and arts and crafts for seniors. The activities are open to local seniors aged 60 years and over, local Aboriginal and Torres Strait Islander seniors aged 50 years and over and people with disability aged 18 years and over and their carers to explore the benefits of active living.
Bookings close 3 days before each event or once sold out.
---
Spots are limited so book your place now: www.cumberland.nsw.gov.au/active-ageing-week