Diwali Festival 2022
I am excited to announce that the Cumberland Diwali celebrations will be making a return and taking over the streets of Wentworthville on Saturday 29 October. Diwali is one of the biggest festivals in India, a five-day Festival of Lights celebrated by millions of Hindus, Sikhs and Jains across the world. Cumberland is home to many who identify with these faiths, which is why it is vital we celebrate this important tradition. This is the first event we have held for this celebration since 2019 due to the ongoing pandemic and I couldn't be more excited to bring Diwali festivities back to Wentworthville Town Centre. For more information visit www.cumberland.nsw.gov.au/diwali
Australian Citizenship Day
Citizenship ceremonies have continued to occur all over Cumberland to commemorate Australian Citizenship Day. On Tuesday 20 September, I was invited to attend a citizenship ceremony hosted by the Department of Home Affairs at the Auburn Gallipoli Youth Centre where 55 new Australians were welcomed into our community. Federal Minister The Hon Andrew Giles MP (Minister for Immigration, Citizenship and Multicultural Affairs) was also in attendance and presided over the event. I'd like to extend my Congratulations to all the new citizens who have made Cumberland and Australia their new home.

Western Sydney International Airport
I was recently invited to take a tour of the Western Sydney International Airport in Badgerys Creek. The tour, led by the General Manager of the Airport, allowed my colleagues and I, a chance to explore the facility and view the site that is currently being built. The airport will be a fully functioning and full-service airport, delivering international, domestic and freight services to and from Sydney. It will also provide thousands of jobs and opportunities for local businesses, creating pathways and career opportunities for many people. The facility is currently under construction and is due for completion in 2026 and will become Sydney's second international airport.

Wentworthville Memorial Swim Centre Open Day
---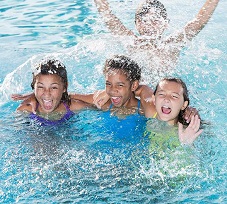 Tuesday 4 October, 6am to 7pm
115 Dunmore St, Wentworthville
FREE entry all day!
Bring your family and friends along for a free lunch, run the giant inflatable obstacle course, play in the splash park plus loads of lucky door prizes on offer.
Pro-Am Golf Tournament
---
Love a good game of golf? Join our Golf Pro-Am Tournament and play among Australia's top golfing professionals at Woodville Golf Course.
Junior Pro Am Golf Tournament Day 1 - Thursday 6 October
Amateur Pro-Am Golf Tournament Day 2 - Friday 7 October
Have Your Say
---
Duck River Parklands Draft Strategic Masterplan
Guide the future vision of the Duck River Parklands. Submit your feedback before: Tuesday 4 October
Planning Proposal - 80 Betty Cuthbert Drive, Lidcombe
Comment on a planning proposal to facilitate the redevelopment of the site for a mix of health, education and residential uses. Submit your feedback before: Wednesday 5 October
Planning Proposal Request - 25 South Parade, Auburn
Give feedback on the early consultation to facilitate the future redevelopment of the site for additional land uses such as health services facilities, office and business premises and change height controls. Submit your feedback before Monday 17 October.
Community Safety Survey
Have your say on local safety and crime to help us develop the new Community Safety and Crime Prevention Plan. Submit your feedback before: Friday 10 February 2023
Find out more information visit: https://haveyoursay.cumberland.nsw.gov.au
Your Rates at Work
---
Council have installed new digital LED signs at Ted Burge Sportsground and Guildford West Sportsground, displaying up-to-date field status and automatic weather forecast information. Let us know of any issues in your area by using the Snap Send Solve mobile app which can be found on Council's website: www.cumberland.nsw.gov.au/snapsendsolve